Who Can Use The IKF or ISCF Name?
Only Those Who SANCTION With US!
A Lesson Chad Mason of Des Moines, Iowa, USA Needs To Learn!
FRIDAY, April 4th, 2003, AT 4:50 PM, PST
IKF & ISCF LEGAL: On March 4th, 2002 we received an e-mail from a Mr. Wally Jernigan who is the Director of the Nebraska Athletic Commission. In the e-mail, Mr. Jernigan asked us how many MMA events we had received a fee for, and sanctioned for a promoter named Chad Mason from Des Moines, Iowa. According to Mr. Jernigan in his mail, he informed us that Mason had testified to him and a room full of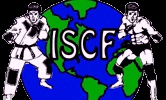 others at a recent Commission meeting that Mason told them that he sanctioned all of his weekly MMA Events in Nebraska and Iowa with our sister organization for Mixed Martial Arts, the ISCF. Mr. Jernigan went on to say that Mason told those in the meeting that he paid the ISCF a fee of $200.00 per event and utilizes the ISCF rules at all of his events. Mason also told everyone that he had been a member of the ISCF for several years now.
NONE of this was True. NONE!
That same day, we received several e-mails inquiring about Mr. Mason and his relationship with the ISCF. All had heard Mason's testimony and questioned it greatly. The meeting was in the city of Omaha, Nebraska and was scheduled because the city was trying to pass a city ordinance to ban MMA in bars where a lot of alcohol is available to not just spectators but fighters as well.
Others who contacted us added more to the story. Things such as Mason's lack of knowledge about the ISCF in regards to exactly where we were located. For example, Mason and his attorney both testified that we were located in Los Angeles... Also present in the meeting was the Omaha city council. Some of them informed us that Mason had in the past, copied the ISCF logo and used at his shows. According to some of the e-mails, Mason had in the past been putting on MMA Events in bars that allowed anybody from the crowd to get in the ring and fight, some of course had been drinking.
On a recorded audio tape of a Commission meeting, Mason stated he paid the ISCF $200.00 per event for sanctioning. How many events? To date, we have on record well over 50. What legal action will be taken? Probably none, since as the saying goes, "You can't get blood from a rock!" Even Mason's attorney who was at the meeting described above, was an Idiot when he discussed the situation with the ISCF during a phone conversation.
We were shocked about some of the claims others made on the recording in regards to insurance for MMA events. On the audio recording, one promoter claims no insurance company will cover MMA, which is TOTALLY FALSE! Our Insurance Company, F.L. Dean does! CLICK HERETo read more!
Another promoter says he uses another "NEUTRAL" non profit Sanctioning body in Missouri called the ISKF for sanctioning of his events. Further investigation showed no such organization exists.
. Mason had been given every possible opportunity to clear this up with the ISCF prior to the posting of this page. In the settlement agreement, Mason agreed to pay a minimul amount for sanctioning of only 20 of his 50 plus events. However, he made a promise to pay, and then broke that promise.The ISCF knows they can't get anything if we sue him, so instead, this is our outcome, for all to read. He was scheduled to meet with IKF and ISCF President Steve Fossum in Cedar Rapids Iowa last month. Fossum was there, but Mason no showed. He was suppose to make payment on a settlement last Thursday, March 27th, 2003, but failed to do so, ignoring phone calls and acting as if we were not taking this serious. The accepted settlement was far less than what the copyright rules require. Still, "HE HAS NO MONEY, and has NOTHING to take or attach" so why go after him!
The ISCF helped him again and extended his "First Payment" date to Tuesday, April 1st. The April Fools joke was on the ISCF, as they actually thought he would make good on his promise. He didn't. His final deadline was 10:30 AM today. Which, as you can all see, he broke this promise as well.
He has not been answering any of his phone calls and won't return any calls or e-mails from the ISCF. He has been in contact with several other people we know. We know this because they have informed us of his ideas of promoting IKF Kickboxing or just any kickboxing. We are making this news to inform you all, "He cannot be trusted!"
Regardless of what he wants to do or talks about doing, Mason's promotional days could be numbered. However, as fighters continue to fight for him and venues continue to allow him to promote there, Chad Mason will forever be one of the Promoters who do MMA more harm than good. We haven't even touched basis about all the other things we discovered about him from not paying fighters, paying amateurs, not having medical staff at his events, using a bad cage that often breaks, never insuring his events and the list goes on and on.
---
THURSDAY, April 10th, 2003, AT 7:15 PM, PST
MMA PROBLEM IN THE UPPER MIDWEST
Des Moines Iowa's Chad Mason Illegal Use Of The ISCF Name...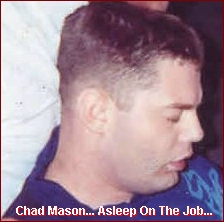 Lucky for Amateur MMA Promoter Chad Mason of Demoines Iowa he is such an integral part of our lives that all we have to do is look for ways to bad mouth him on the internet. At least that's what Mason thinks. Obviously he forgot that he threw the first stone when he claimed to a crowded room of reporters and others that he had sanctioned all of his past MMA Events in iowa and Nebraska with the ISCF. Mason has attempted his own futile defense by trying to explain himself on a local Iowa chat page. However, he continues to miss several issues important to all this... THE FACTS!
Mason wrote on Wednesday April 9th, 2003 at 9:56 AM
"The article on the web site is old news and really dosn't affect me at all. Anyone can post that I owe them 25 million dollars. That statement in itself should tell you how ridiculous this is. I have talked to Steve since then and we are trying to resolve our issues. I don't feel like I have to defend myself, but what the Hell...I'm bored today. I wonder what it must be like to have nothing better to do than to nerd out on the web. See you guys at the OH SO SUCCESSFUL Toad Holler Fight Club."
Obviously Mason has taken our position on this issue as a bluff, but in the upcoming weeks he will see just what a joke all this is. In short, we'll see who gets the last laugh.
The file continues to grow on Mason who will get another chance to speak in front of a crowd when the ISCF sees him in court. He will have 12 very interested people listening to him as he attempts to explain why he told the Nebraska State Athletic Commission he sanctioned all his MMA events with the ISCF.
One thing we found was how many people have offered stories in reference to Mason. Some unpaid purses to fighters, his attempts to shut down other promoters events, owed taxes to the Iowa Athletic Comission, no Doctors at his events,
So how did Mason even know
To use the ISCF Name?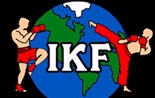 Well, approximately three to four years ago he teamed up with a promoter who "IS" a part of the IKF, Mick Doyle and his partner Kevin Newman of Omaha Nebraska. Stop for a moment here. Neither Doyle or Newman are guilty of anything here so please don't add them to the mix. They are only part of this story. That event was March Manheim, in Hastings, Nebraska, an event that "WAS" Sanctioned by the IKF and ISCF because the city required the event to be sanctioned.
In January 2001, Mason started doing his weekly "BAR" events on his own, renting Newman's Boxing ring. The weekly event grew in popularity and started to draw attention from the media. Mr. Jernigan (Nebraska Commission) attended one of the events and never indicated to anyone that he had a problem with the events and that he just wanted to make sure there was no boxing going on. since the Nebraska Commission choose not to sanction the sport in Nebraska, many of the MMA events there (Mason's as well as several others) ran with no rules, guidelines or regulations and a lot of things that typically shouldn't happen were allowed to happen. Simply put, "No regulations....no rules!"
Mason's Tuesday night events started to pack 450-500 people in to the bar with anywhere from 10 to 15 amateur fights per night. Egos got in the way and another promoter by the name of Jake Kurtz, muddied the waters with the management and Mason. The result was that Mason was asked to leave the bar and Kurtz took over the events. The attendance dwindled and thus the fights stopped for a period of time. Mason stopped promoting the fights in July of 2001 at the Omaha location.
In March of 2001 Mason started promoting similar events in Lincoln, Nebraska on Thursday nights, again renting Newman's Boxing ring again. These events were a huge success however more greed, more envy and more media attention. Yes, no rules, no guidelines and no regulations. There were times when fighters went in the ring that had been drinking. The greed again of Kurtz got the events shut down in Lincoln. Kurtz wanted to compete with Mason on Thursday nights and went to another location in Lincoln that caused the Lincoln Police a lot of problems. The Lincoln Police was told to shut the events down. The Chief came up with a city ordinance that allows him to ticket competitors for mutual consent fighting. Although, he will not ticket football players, hockey players or point sparring martial arts events for the same because he cites that those sports are sanctioned. Additionally, the Chief would most likely have to allow the events to continue if they are sanctioned.
When the fights were shut down in Lincoln, Mason hired a lawyer and challenged the Chiefs position that he had to have a permit. It is tough to get a permit in a State where the State Athletic Commissioner does not regulate the sport. The Chief said that the sport is both wrestling and boxing therefore a permit is required. The judge ruled that the Commissioner had to issue a permit and the state appealed the ruling. No decision has been reached to this day.
In August of 2001, Mason started similar events on Wednesday nights in Des Moines, Iowa. Again, extremely successful. The event is still very strong today. According to our sources, no fighters are allowed to fight if they are determined to be legally intoxicated. Although there are no MD (Medical Doctors) at ringside, he did have EMT's who also administer breath-alyzer test to check for any alcohol content, but not always. Our investigation found several fighters that fought that were allowed to fight because they did not have high levels of alcohol in them, however, they STILL had been drinking before their matches.
---
FRIDAY, January 30th 2004, AT 7:00 PM, PT
Chad Mason Back In Our News!
Toughman's Art Dore wasn't the only one causing problems in the "Fight Arena". There have been "SEVERAL" MMA (Mixed Martial Arts, Ultimate Fighting etc.) Promoters out there that have held events in bars and pulled people from the crowds to fight in them. The IKF tracked down one of these individuals last year named Chad Mason Mason had been telling everyone his events were sanctioned by the IKF or the ISCF to avoid problems with such laws. Just this week the IKF/ISCF was informed that Mason was up to his old tricks again in Iowa where he had started hosting his new "Fight Club" event this past January 7th, of what was to be a continuous weekly event at a Bar called Vieux Carre Night Club. However a call to the Vieux Carre Night Club. and they informed us that Mason was no longer welcomed there or allowed to do his events there. Mason has been making claims that his events there on a Wednesday night would bring in as many as 1000 people but according to Vieux Carre Night Club the numbers were no where close to that.
The Vieux Carre Night Club stated reasons such as Mason's procedures of picking people (Men "AND" Women) out of the crowd to fight. Not just fight anybody, but fight some of Mason's experienced fighters in which the bouts were completely one sided and dangerous. Although Iowa law prohibits amateur fighters from being paid, its common knowledge among the MMA/NHB crowd that Mason has paid fighters in the past which in reality, makes them pros.
Currently Mason is back at his old venue, Toad Holler and according to those we spoke to, "Pulling intoxicated individuals out of the crowd and throwing them into his ring to fight is still happening." As far as the majority of the MMA/NHB crowd is concerned, promoters like Mason and Art Dore are the very ones that are causing all the bans, not to mention the recent changes in everyone's insurance rates. (See article earlier this month) From what we discovered, Mason has not cleaned up his act at all. At the Vieux Carre Night Club he had a young girl fighter lie about her age and tell everyone she was 18 instead of the 15 or 16 years old she truly was. Mason had her fight an intoxicated girl from the crowd with no fighting experience at all (As many of the fighters coming from the crowd are). Mason's "Ringer" girl we discovered had extensive martial arts experience and hurt her opponent real bad in their bout which included kicking the inexperienced girl in the head when she was on her hands and knees.
Due to Mason's recent actions here in January, 2004, the states of Iowa and Nebraska are swiftly moving to now ban MMA/NHB completely. Hopefully the ISCF will be able to step in and assist in some way. One things for sure, Promoters like Mason and Dore will definitely not be on the IKF or ISCF Promoters list!
---
MONDAY, July 11th, 2005, AT 5:40 PM, PST
UPDATE
Mr. Mason never paid the ISCF any past owed fees. As noted above, "He had nothing to pay!" So the ISCF made the decision to just walk away from an already Bad Thing. This information page about him will remain here to address any past or future discussiuons about what actually happened.
---
WEDNESDAY, December 21st, 2005, AT 12:30 PM, PST
MASON As a Fighter?
Mason is no better at fighting either. With 1 Amateur and 1 Pro fight under his belt, he's lost them both. He lost his first amateur fight in 33 seconds of round 1. For whatever reason, he took a Pro fight just last month and lost that one too. His opponent was a fighter who had never fought before named Jason Lanik.
For more info, Click HERE.
---
MORE ON MASON...
Sean Sherk on Chad Mason

Chad Mason: Fight At Your Own Risk...
"I urge everyone to strongly reconsider any dealings with this individual. This sport is still a grassroots community, one with a lot of hope to succeed. It's a shame bad apples have plagued what so many have fought for so I ask you to do the right thing and shun his unscrupulous practices."
Who is Sean Sherk? Sean Sherk is one of the best MMA fighters in the world in his weight class and today he wanted to get this off his chest at MMAWeekly. for more about Sean, Click HERE or HERE or go to his website at www.seansherk.com

Chad Mason Productions vs VFC 5

"Politicians already consider MMA to be too brutal. As a promoter, when you've got a behemoth pro fighter pounding an unconscious little kid bloody before a referee who's just standing there laughing, how is that going to help change their minds? How about when the amateurs are drunk?" Dan Davis
---