Some of you might remember the IKF Mexico National Title Event on October 6th 2001 in Puerta Vallarta, Jalisco, Mexico. It featured 2 Great Mexican fighters, fighting for the vacant IKF Pro Super Middleweight MuayThai Rules Mexico National Title. Adolfo Lozano of Puerta Vallarta, Jalisco, Mexico against Enrique Cuellar of Aguascalientes St., Mexico. After 4 rounds, Cuellar was well ahead and on his way to the title leading 39-36, 38-36 and 40-38. However, Lozano had come out in round 5 almost as if he was just starting the fight fresh. Somehow he had found additional energy from the crowd. Although noticeably tired, his punches regained some snap and power and his legs were hitting with speed and power once again. More importantly, the one strike that won him rounds 1 and 2 so easily was back with incredible accuracy, his knee strikes. Over and over again Lozano landed knees on Cuellar who was still strong with his own knees and hands. Then as the 2 came to a clinch, Lozano, out of nowhere, EXPLODED with energy and opened up a non stop attack on Cuellar. Starting with kicks and punches and moving into the clinch, Lozano backed away and let loose with several strong knees that hit Cuellar in the body and finally the ending 2 had direct hits on their target, Cuellar's face. As the 3rd strike ended and Cuellar's head pulled back, blood shot from his nose forcing referee Ubillado Vega to step in. A wise move as it was clear, Lozano was on a roll and had no plans of stopping his attack. Upon closer look, Vego saw the tremendous blood flow from Cuellar's nose and immediately stopped the bout. The ringside doctor later said if Vega didn't stop it, he would of since it seemed to take him a long time to stop the blood flow after the bout was over.
In the end, Lozano won the title by TKO at 2:05 of the scheduled 3 minute round when Mexico City Referee Ubillado Vega stopped the bout. It was a surprise win for everyone, especially the two Great Fighters.
However, there was much more leading up to this event and a lot more after it that shocked us all. As we all know, there are sanctioning bodies around every corner. Many claim to be helping the sport while others simply drag it down. Well, sadly to say, of all the terrible, unethical and unprofessional things we've reported on in the past done by the more visible organizations like the WKA, ISKA, WAKO and some others, they seem squeaky clean as compared to the 1 organization that has controlled all of kickboxing in the country of Mexico over the last several years.
The organization is headed up by a man named Enrique Flores (Right, Asociación Karate Studio). However, Flores doesn't just run a kickboxing organization where he appoints his own Champions. He also promotes most of the Championship Events and worse yet, he "Controls" most of the fighters of Mexico. In the last 2 years, the world has been able to see or hear about some of Mexico's best fighters through the IKF. Actually, we should say through the great work of IKF Mexico Representative Douglas Dickey and his Mexico associate, Miguel Reyes. Working together from events such as the successful IKF/Mexico Border League events to assisting promoters in making the IKF the first Worldwide Kickboxing Sanctioning Body to sanction a kickboxing World Title in Mexico.
On the event, Mexico got it's first real Kickboxing World Champion, Ivan Silva. Silva of Tijauana, Baja Ca, Mexico won the IKF Pro International Rules World Welterweight Title on December 15th, 1997 in Tijuana Mexico with a first round KO Over Dave Horvath of Winnipeg, Manitoba Canada. After his win, he became known around the World through the IKF. Silva's trainer (Reyes) was forced to retire his title on June 22nd, 1999 after Silva suffered a potentially career ending hand injury while training to defend his title against Danny Steele in Hawaii. However, before his retirement, he had to hear how Flores and others had nothing but negative things to say about him trying in every way to downgrade his great accomplishment. Mexico's own Champion being trashed by someone who has always "Claimed" to be the leader of kickboxing in their country. What a shame.
However Silva wasn't the only one to be trash talked by Flores. Next came some Mexico Super Heavyweight fighters. They included current IKF MuayThai Rules Super Heavyweight Mexico Champion Pedro Fernandez of Tijuana, Mexico. Fernandez, also trained and managed by Reyes and Dickey was trashed by Flores for even leaving Mexico at all to fight in the North American K-1 event. His poor showing against eventual Champion and kickboxing Superstar Rick Roufus was the focus of Flores attack on his skill and talent as a Professional fighter. Keep in mind that this was Fernandez' "FIRST" Pro fight. On of all shows, "K-1!" We'd like to see how Flores' would do against a fighter like Roufus in a chicken pen, let alone in an event with the exposure of K-1!
Next came Super Heavyweight Raul Romerz Gonzalez of Mexico City, Mexico. No one knew who Gonzalez was until he became registered into the IKF World Rankings. Still, he wasn't known by many until he was offered a shot at the vacant IKF MuayThai Rules Super Heavyweight Mexico National Title against Fernandez. Gonzalez use to be managed by Flores so when Flores heard he got the title shot without his help, he turned on Gonzalez claiming he was a washed up fighter who was no good without him in his corner. After Gonzalez lost to Fernandez, it just gave Flores more to work with as he trashed him even more sending out e-mails to everyone in the Mexican kickboxing community warning them that if they leave him (Flores and his organization), this is what will happen. Stay with him and they will win.
However Gonzalez, like the others wanted to expand their competition and Flores never really offered him and many of the others any great competition. It was a simple reason why. Although there were other good Super Heavyweights in Mexico that were not controlled by Flores, (Fernandez as an example) Flores didn't want to match his Champion Gonzalez against them in fear he might lose. However, Gonzalez WANTED to fight them. Instead, Flores wanted to be the trainer who had ALL the Mexico Champions. Gonzalez became frustrated wanting to expand his knowledge and experience as a fighter, yet without good competition, Flores himself was the reason for the decline in Gonzalez' skills, not Gonzalez.
From Flores point of view, Gonzalez' bout with Fernandez was the worse that could happen to his organization since Flores had no control over either fighter. To Flores, the IKF itself and the opportunity for ANY of the Great Fighters of Mexico (not just those controlled by Flores) being able to fight for a title with a Worldwide Organization was the worst threat of all. He feared losing control of the Mexico Kickboxing scene. A sport that he controlled himself for years. Fighters had to bow down to his command just to fight, let alone get a title shot with his own organization. After our research we discovered that EVERY Title Fight in his organization ALWAYS included one of his OWN fighters. This didn't leave much room for other fighters... He never brought in fighters from any other country and as we all know, your as good as your competition. If your a Great fighter, you want to expand your competition, which is what Gonzalez wanted to do. Win or lose, he wanted to get better ring experience.
Lozano and Cuellar were no different. Having been controlled by Flores for years, they wanted to expand their opportunities. Both of their careers had been strongly guided by Flores in the past and Flores had done nothing for them. He never got them any big title shots, no good fight purses and not one offer for them to fight out of Mexico. It was as if he didn't want ANYONE to know of the kickboxing world outside of Mexico.
However, even knowing a lot of the negative issues about Flores and his organization, when the IKF first got involved with their event, out of respect, we told the Promoters that we wanted Flores and his organization to be involved. We wanted the event co-sanctioned with them and we were even willing to allow Flores to appoint all the Mexico officials for the event. Flores of course accepted, but little did we know, he had another plan in mind. His plan was to sabotaged this event at the last moment, and he almost succeeded.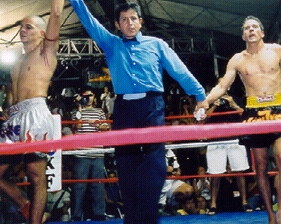 Enrique Flores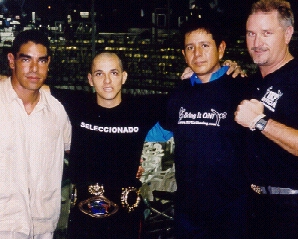 L-R: IKF Southern Mexico Representative Raul Romero Gonzalez
IKF Mexico National Champion Adolfo Lozano
IKF Referee Ubillado Vega
IKF President Steve Fossum
Flores planned ahead to make sure his plan worked to perfection and as you will see, some of it almost did. He clearly wanted the IKF to fall on it's face in his country but he didn't expect the simple fact that the IKF, (unlike Flores' work with his own organization) WORKS to make things happen at EVERY IKF Sanctioned Event. If not for the work of the Promoter, Felix Perez, IKF President Steve Fossum and the Mexico City Team Coach, the event may not have happened at all.

It all started the night of the weigh-ins (Right) when Flores was suppose to send a "Matched" group of fighters from Mexico City to fight the team from Puerta Vallarta. Instead of sending matched fighters as promised, he just sent a group of fighters that had no idea who they were fighting if at all. IKF President Steve Fossum worked with the coaches of the 2 teams to try and matchmake the event at the weigh-ins. Some fighters had to lose weight to make a fight, but all were more than willing to "Make It Happen!" It was clear that all the Mexico City fighters had been sent a pawns of Flores. Why do we say this? Very simple, Flores was suppose to be at the event to represent his organization, instead, he was a NO SHOW!
The fighters from Mexico City were warriors sent to a battle they had no idea about. ALL of them were not only great fighters but "Gentlemen" as well showing nothing but respect and appreciation for being at the event. What was still to happen had nothing to do with them. They came to fight, and fight they did. The wrong doings of Flores are what need to be expressed here because the fighters did no wrong.
The next thing we found out was that although Flores was asked to do so, he didn't send any "Qualified" officials for the kickboxing event, only for the 1 Grappling Bout on the event. His associations logo was there on the poster with the IKF logo, yet he had NO Representatives there and NO Officials. Soon, one of the Mexico Team coaches spoke up and said he was going to be Flores' Representative and at that time, he appointed who he considered qualified officials from the Mexico City Team to be judges. IKF President Steve Fossum decided to also appoint a judge from Puerta Vallarta as well to assure the judging would be fair. In fact, the Puerta Vallarta team made it too fair since 2 judges and the referee were from Flores (The Mexico Team's trainer & Manager) organization and Mexico City. Regardless, they wanted to fight, so they didn't care.
Now missing was a good, qualified referee. Yes... This event had no scheduled referee less than 24 hours before start time. Some quick phone calls were made back to the U.S. where the Promoters had IKF Referee Dan Stell ready to come down the next day from Northern California. However, the Mexico Team Captain (Sorry but we cannot remember his name) and IKF President Steve Fossum finally got in touch with Flores and expresses the situation he had put them in. After several conversations, Flores finally got them in touch with a referee, Ubillado Vega. (Pictured above Right)
Vega was more than proud to be a part of the event. In fact, Vega even offered to do the event for free just to help out. So the promoters paid his travel to the event and to say the least, as we wrote in the article about this event, (HEADLINE: SUNDAY, October 7th 2001, AT 4:30 PM PT: Cuellar & Lozano Wage WAR In Puerto Vallarta, Jalisco, Mexico!) Vega was a GREAT REFEREE and we hope to use him many times in the future. So with Vega saving the day, all appeared well... As we said, "Appeared".
There's a reason this article has appeared here on the IKF pages. Some of you may think it's to boost the IKF name. This is not so. Some may think we just wanted to trash Flores name. This is not so. No the reasons go beyond these. This article is a response to everyone in the Mexico Kickboxing community who recently received Flores' kickboxing magazine. In the magazine, Flores made the foolish error of attacking the IKF and many involved with the recent Mexico event with a load of False Accusations. He went on to attack the fighters themselves and even IKF President Steve Fossum. So without further delay, we will post here the accusations Flores foolishly made in his magazine article and along with them, the IKF's response to each one.
This may be boring reading for those outside of Mexico, but our concern here is for the Great Fighters of Mexico who are basically TRAPPED there by Flores and may never become known to the rest of the kickboxing world. Flores will keep them in his own little world and continue to make money off their efforts in the ring. Hopefully our article will draw attention to what's happening in Mexico because as many know, Mexico's not the only place this happens around the world. Many fighters are held captive by those they consider their leaders. Here's a note to ALL Fighters...
"NO ONE owns you! You are in charge of your own destiny!"
As some of the fighters have already done in the story above, you need to "Make things happen for you rather than wait for a person like Flores to bring you an offer on a silver platter."
Get to know the fight game. Contact other promoters and ask for opportunities.
Here are some of the accusations Flores made in his magazine and the response by the IKF.
Keep in mind, for this posting, some of the responses had explicit comments that we choose to edit out.
FLORES WROTE: Fight line-up was changed at the last minute.


IKF RESPONSE: Only because "You" didn't make the matches correctly. You made the error here and we corrected the problem. You had fighters fighting each other that were 10-20 lbs difference.




FLORES: Made the fighters from Mexico City loose weight so that they could fight in a particular weight class.


IKF: The only fighter that had to lose weight was from Purta Vierta!




FLORES: Let some fighters from Vallarta be 3 kilos (6 & 1/2 LBS) higher than their rivals.


IKF: We challenge you to find 1 mis-matched fight due to the fighters weight! Here are all the bouts and weights each fighter weighed in at and the bout results



Tony Sahagun (83 Kg) Of Puerto Vallarta, Jalisco, Mexico And Mario Meza (85.5 Kg) Of Mexico City, Mexico Fought To A Majority Draw, 29-27 For Meza And 27-27 And 28-28 Even.
Looks Like That One "Favored "Your" Fighter in WEIGHT!



Pedro Camberos (62.5 Kg) Of Puerto Vallarta, Jalisco, Mexico Defeated Arturo Gomez (64.5 Kg) Of Mexico City, Mexico By Split Decision, 29-28 Gomez, 29-27 And 29-27 Camberos.
Looks Like This One "Favored "Your" Fighter, Again!



Rafael Ponce (66.8 Kg) Of Puerto Vallarta, Jalisco, Mexico Defeated Pepe Romero (67.3 Kg) Of Mexico City, Mexico By TKO At 1:29 Of Round 2.
Looks Like This One "Favored "Your" Fighter, Again!



Gerardo Pipino (64.2 Kg) Of Mexico City, Mexico Defeated Ernesto Valdez (63 Kg) Of Puerto Vallarta, Jalisco, Mexico By KO At :46 Seconds Into Round 1.
Looks Like This One "Favored "Your" Fighter, Again!



Clemente Gonzalez 71.5 Kg) Of Puerto Vallarta, Jalisco, Mexico Defeated David Benitez 69 Kg) Of Mexico City, Mexico By TKO At :57 Seconds Of Round 2.
Finally One Where Your Fighter Actually Weighed Less…



David Alcaraz (70 Kg) Of Puerto Vallarta, Jalisco, Mexico Defeated Gerardo Gudino (71.4 Kg) Of Mexico City, Mexico By Unanimous Decision, 29-28, 29-27 And 29-27.
Looks Like This One "Favored "Your" Fighter, Again!



Aron Garcia (70.3 Kg) Of Puerto Vallarta, Jalisco, Mexico Defeated Gabriel Rico Boligoma (67.5 Kg) Of Mexico City, Mexico By Unanimous Decision, 30-27, 30-27 And 30-29.
Gabriel first weighed in way over the weight limit the night of the weigh-ins.
When he re-weighed in, he weighed in at 67.5 kg.
This is the bout with the largest weight difference, however, we "never" said he had to be below 70 kg when he weighed in far above this the night before.



IKF Pro Mtr Mexico National Super Middleweight Title
Aldolfo Lozano (75.2 Kg) Of Puerto Vallarta, Jalisco, Mexico Defeated Enrique Cuellar (74.2 Kg) Of El Dorado, Mexico By TKO (excessive blood from nose) at 2:05 of round 5.
Looks like your wrong "Again!"



FLORES: Used a non-regulation ring.


IKF: The size was fine (Inside, height, edges etc) however the padding could have been better on the floor. We let all the coaches and the referee make the decision on it and no one ever complained or said to us that they had a problem with it.




FLORES: Made the Mexico City fighters (Flores Fighters) change in the restrooms.


IKF: The Mexico City fighters had their bus, A 45' Tour Bus which was a lot better changing area than the other fighters had. We were not pleased with the accommodations of the event location ourselves, but again, no one complained at all. Not even a little. We complained more than any of the fighters.




FLORES: Fighters from Mexico city didn't have time to eat before their bouts.


IKF: The only thing that was happening before the bouts from our understanding was that the Mexico City Team was all planning to leave because you told them to. They all had plenty of time to eat. They set their own schedules.




FLORES: IKF changed the rules to the Vallartans advantage.


IKF: What rules were changed? We challenge you or anyone to tell us where!




FLORES: Then the rules weren't enforced.


IKF: Again, we challenge you to tell us or share with us anywhere this happened. We can assure you, it didn't.




FLORES: Fossum manipulated the referee to be on his side.


IKF: Again, we challenge you to tell us or share with us anywhere this happened. We can assure you, it didn't.




FLORES: Let the rules slide.


IKF: Again, we challenge you to tell us or share with us anywhere this happened. We can assure you, it didn't.




FLORES: Only one pair of gloves were used for all the bouts.


IKF: Actually there were 2 pair, but again, no one complained to us and every bout went fine.




FLORES: IKF prez decided the winners.


IKF: Your appointed official, Jose Antonio Perez judged bout 1. Mr. Fossum did a score sheet as well. Good thing he did. Perez had "no "idea" how" to judge. He scored round 1, 8-7. How is this possible on a 10 point must system? It's not. He scored round 2, 9-6. Again, how is this possible when you are using a 10 point must system? He scored the 3rd and final round, 8-7. And you call this one of your certified judges? One thing to point out here. This bout ended in a "draw". Mr. Fossum scored it a draw, and so did judge Rito. Mr. Fossum was forced to throw out Perez's card since it didn't have even "1" valid score. Each fighter had a knockdown in different rounds. Mr. Fossum had it 10-10 in round 1. 10-8 Meza in round 2 and 10-8 Sahagun in round 3. After this, Mr. Fossum had no choice but to become one of the judges. He was neutral and unlike you when your at an event, none of these fighters were his. He made an excellent replacement for Perez who clearly had no idea how to judge. If you would have showed up as promised, you could have judged.

ADDITIONAL NOTE: Perez's scores got worse and Mr. Fossum continued to fill in for him, while still allowing him to judge to see how he would do. In bout 2, he never gave a 10 to either fighter and had it a draw…however, he couldn't add either. He had Camberos scoring 9, 9 and 7 which he added to be 27….it's 25! He had Gomez scored 8, 8 and 9 which equals 25, not 27 as he scored it… still a draw, but it wasn't added right… In bout 3, it ended in a TKO. Good thing, he already scored round 1, 9 to 7. Again, in a "10 point must system!" In bout 4, he didn't score it because it was a KO at 46 seconds of round 1. In bout 5, it too ended in a TKO in round 2. However, he had scored round 1, 9-8. Again, not possible in a "10 point MUST system! In bout 6, he scored the rounds, 9-8 Gudino, 8-8 and 10-7 Alcaraz. Picking the correct winner, but again, a scorecard Mr. Fossum could not accept under kickboxing rules. In bout 7, there were no standing 8 counts and no point deductions. Yet Perez scored it 9-6 in round 1 for Garcia, 9-7 in round 2 Garcia and 9-7 in round 3 Garcia. Again, the correct winner, but unacceptable scores. Before bout 8, Mr. Fossum tried to explain to him what was meant by a "10 point must system". He did this because he really didn't want to judge a title fight since he wanted to remain neutral among everyone. However, he still judged it anyway. In the bout; In round 1: Perez scored it 9-8 for Aldolfo Lozano. Mr. Fossum scored it 10-9 for Aldlfo and the other 2 judges had round 1 even at 10-10. In round 2, Perez got better scoring both 10-10. Mr. Fossum gave the round 10-9 Aldolfo Lozano and the other 2 judges split. In round 3, Perez scored it 10-8 Cuellar and so did Mr. Fossum and 1 other judge while another scored it 10-9 Cuellar. In round 4, Perez scored it 10-8 Cuellar. Mr. Fossum also scored it 10-8 Cuellar as did another judge while the other, (Tovai) scored it 10-9 Cuellar. As we all know, A referee referred by you (Not the promoters, the IKF or the fighters) stopped this bout giving Lozano the win. Mr. Fossum thought it was a good call and never questioned it. Only you, a person who wasn't there. You questioned the integrity of your own friend and referee.




FLORES: Fossum invented all the judge scoring that he posted on his website.


IKF: We will have no problem sitting down with you or anyone "face to face, in person" to let you see each and every scorecard with every judges named signed to them.




FLORES: Manipulated the referee so that the IKF rep would win the title.


IKF: Your accusation that is tremendously "false" doesn't even deserve a reply. You have not only shamed us in your article, but again, a good referee!




FLORES: Fossum blamed all the event problems on the Mexicans.


IKF: Again, we challenge you to tell us or share with us anywhere this happened. We can assure you, it didn't.



As you can see, Flores has made a strong attempt here to discredit the IKF Name in a Mexico National magazine for the better of his own organization. He didn't think we would ever find out but what he doesn't realize is that we have a lot of IKF supporters in Mexico and many hoping we will sanction more events down there. Many of these people are tired of their kickboxing careers being controlled by Flores who appears to have only his own personal gain in mind. There are a lot of Great Mexican fighters who deserve to be recognized to the rest of the kickboxing world. Staying with Flores will only help Flores and his own little kickboxing world. We here at the IKF want to help these fighters with title opportunities against opponents other than those under Flores wing. We want to help them become noticed by other promoters in hopes that they will receive fight offers to travel outside of Mexico and accept the greater challenges of the sport. We look forward to the next IKF Mexico event and we look forward to many more past that.
The Great Fighters of Mexico deserve much more than they've been offered in the past and we hope to be able to "Make Great Things Happen For Them" in their future careers ahead.
---
Back To IKF Home Page: CLICK HERE