IKF
"MUAYTHAI"
In The Ring With

Kuhn Fred Fitzgerald

WHO Is
Khun Fred Fitzgerald?

Biographical Information for Kuhn Fred Fitzgerald

Kuhn Fred Fitzgerald's first ring sport was American boxing where he had 32 amateur bouts with a record of 32 wins and no losses. He went on to try other martial arts, but they did not have what he was looking for. He had seen a tape of MuayThai and thought it was incredible, so in the early 80s he went to Thailand. MuayThai looked so simple and basic to him, but the more he learned, the more complicated and effective it became. He spent a lot of time in Bangkok in the 80s, and met and married his wife in Thailand.

In the early 90s he was invited to Bangkok by some of the people he had become friendly with. They knew that MuayThai was becoming popular Internationally, and asked if he would represent Thailand, and make sure the proper rules and regulations were taught to as many people as he could contact. They also started training him to be a MuayThai referee.

Since he started refereeing, he has refereed close to a 1000 fights, in five countries, China, Aruba, England, USA and Thailand. He has refereed at the SEA Games, Asian Sports Festival, two King's Cups, the Prince's Cup and the IFMA CUP. He has refereed world championship professional fights in Bangkok, and refereed the first professional woman's fight in Thailand at Rangsit stadium. He has refereed on live television in Thailand, China, and the USA on ESPN and MSG TV.

He is the only American to be certified by the World MuayThai Council to referee pro fights in Bangkok. His final referee test was given by Major General Weeravt Hirunyalekha, the head of all professional referees in Bangkok, and overseen by General Vorayudh Mesommonta, the President of the World MuayThai Council. General Vorayudh has also certified Mr. Fitzgerald to hold seminars world wide, on MuayThai judging and refereeing.
---
MONDAY, September 24th, 2001, AT 11:20 PM PT
OOPS! WE DID IT AGAIN
by Khun Fred Fitzgerald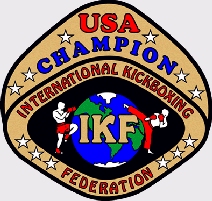 That's right, the 3rd IKF/Ringside National Amateur Championships was far greater than anyone could have anticipated. I would like to bring you back almost four years ago. I was back and forth to Thailand for International events, or to referee pro fights, there was MuayThai in the United States but the standard was not what I was used to seeing.
I received a call from Mick Doyle telling me he had spoken to a Steve Fossum, and that he was impressed by what he had to say. Keep in mind by this time I had been contacted by many groups asking that I advise them, and assist in setting up a MuayThai program, I answered their questions and gave some advise, but that was all I was interested in doing. About a week after Mick's call, I get a call from Duke Roufus, he also tells me about Steve Fossum. I asked Duke and Mick what did they want me to do, they said meet with him, and see what you think.
The IKF was sanctioning an event for Mick in Omaha, so Mick brings me out to referee and I meet Steve. How did the meeting go? Well if we were both younger we might have put on the gloves, I saw in Steve as a passionate, arrogant, serious person going in one direction and he saw in me as an arrogant ego maniac with a one way mind going in the other direction.
Well as everyone knows, I now consider Steve one of my best and valued friends in the sport of fighting. He is honest, generous to a fault, and a brilliant business man, proven by his ability to surround himself with the likes of, Mike Carlson, Johnny Davis, Dan Stell, Brooks Mason, and of course the spectacular Toni Foster, among others.
At our second meeting it was mentioned that Joe Taylor from Ringside and Steve were discussing a national event for amateur fighters. After many meetings and hundreds of ideas thrown around it was decided to give it a try, and Mick Doyle would host the first event. It was an ambitious venture, and it turned out fine, remember a trail was being blazed where there was no trail. Everyone learned a lot, and it was decided to have a similar event the next year.
The second year things were fine-tuned; registration went from about 75 fighters to well over a hundred. When things go right we share the credit, when they go wrong we also share the credit, but what went wrong the second year was the fault of one company UPS. (United Parcel Service) Steve had the magnificent Championship Belts shipped by UPS and the unimaginable happened, the belts never arrived, they were lost by UPS.
We all felt for the fighters that earned but did not receive the precious belts, but believe me, as bad as we felt for the fighters we felt worse for Steve, he felt he had let everybody down, and was in real pain. It took about 1-2 weeks before UPS got the Belts back to the IKF and another week or 2 before each Champion received their Belts. But as all found out, the wait was worth it.
Well we survived year 2 and this brings us to the 3rd IKF/Ringside Amateur National Championships. I arrived at the Holiday Inn in Olathe Kansas, late the afternoon of Sept. 7th after being stranded at the airport because of some serious miscommunication. As I entered the lobby it was full of fighters and trainers, as I was recognized people started shaking hands and grabbing me, I said I am not Fred Fitzgerald wait about an hour he will be here, and it was true I was so angry, it was not me because of the Airport Shuttle Mix-up.
I proceeded to the huge room where the fights were to be held and the weigh-in was going on. In the room were two full size rings, they looked brand new with new canvas covers, all the equipment was first class. Then the full impact of this immense room hit me, it was packed with fighters, trainers, family and friends, over in the corner was one scale for over 220 fighters. There was suppose to be 2 scales but only 1 was there. Steve and Dan were totally immersed in registration forms, medical forms, everyone trying to get on the scale at the same time, and had to do it all alone. The remainder of the IKF Staff was also stranded still at the airport because of the shuttle problems late in the afternoon.
As pissed as I was I knew I had to put it behind me, I went to the room had a shower, changed clothes and returned to do my part in this massive undertaking. After the weigh-in and meeting with the fighters, I did a judges seminar, along with Dan Stell. Let me take this moment to welcome referee Gerald Bush from Atlanta, Georgia to the IKF. I saw him referee at Lane Collyers show in Atlanta, he is a terrific kickboxing referee, also he is a take charge person, before you know it he is on the mike taking charge of business, it is great to have you be part of the IKF Team of officials.
This is also a perfect time to thank all the officials at ring one (The only ring I worked at all weekend for International Rules & MuayThai Rules bouts) that was the ring were Dan Stell and I refereed, Dan the International rules bouts, and I the MuayThai bouts, in ring two, Chuck Wolfe and Gerald Bush did the full contact bouts. Between the four of us, we refereed just over 150 bouts in two days. The judges at ring one were, Gene (Bad Biker ) Fields, from California, Chris (the cannon) Cannon, from New York, Lane (Mr. Clean) Collyer from Atlanta, and someone who I am proud to call my friend, the man who used to go to family reunions to get a date (he's from South Carolina) BROOKS MASON, now from Omaha, my apologies to the wonderful woman who did the time keeping I need to get your name.
The standard of fighting this year was over the top, I don't know if the MuayThai fighters are getting this good, or did they rise to the occasion knowing this is the real National Championship. Duke's fine team took home belts, as did many great fighters, a welcome surprise was the finely trained team of Phil Nurse from New York, this was the teams first time at the IKF Nationals, and from what I saw it won't be their last.
Mick Doyle's team fought well with most fighters getting to the finals. Everyone that came to this event made sacrifices, they made time, trained hard, spent their own money, hard earned money. Well everyone competing at this prestigious event achieved greatness on this weekend, none of us will ever forget, with the attitude you all had, the sportsmanship, and the courage to step in the ring and put in on the line, is what makes winners of all of us in life.
I want to mention the registration fees, I was at the meeting where the fees were discussed, I can tell you, and trust me on this, no one wanted to charge a fee, every possible idea was thrown around and it came down to this, with no registration fee there will be no IKF National Championship event. Steve might edit this, but I know as a fact Steve Fossum personally contributed an amount in the five figures. We are already making plans for next year, I don't know if this year can ever be eclipsed, but I bet it will be. I'll be there, will you, I hope so.
I would like to write about your situation, about the training and sacrifices you made to come and make this event what is was, email me at ffitzgerald@monmouth.com See you in the ring, all the warriors, the champions, don't allow anyone to confuse you with the pretenders and wannabees, that talk the talk, but can't Walk the Walk.
Sincerely, Khun Fred Fitzgerald
---
THUNDER & LIGHTNING In
ATLANTA GEORGIA USA!
By Kuhn Fred Fitzgerald
The weather in Atlanta Georgia the evening of April 6, 2001 was clear, and warm with a beautiful sun starting the set. But in the Flemings Arena, in Atlanta, THUNDER and LIGHTNING was preparing to take place. It is true the crowd could have been larger, but the lucky spectators that did attend will never forget what took place this night. I would recommend to every MuayThai teacher, student, and fan to contact Lane Collyer and get a tape of this event. When you receive the tape, enjoy all the fights, then watch the Cook, Jillian fight over and over, play it in slow motion, stop the action, watch perfectly executed techniques being blocked, and scoring points, it is an education in MuayThai.
Every bout had it's own share of excitement, the amateurs were determined and well trained. The first pro bout, between Pedro Villalobos and Rakarma Young, was a well fought fight, for Young it was his first pro fight with just three amateur bouts under his belt. I know Villalobos is a true warrior, I did not know much about Young, but what I did know was that he was trained by Fairtex, with Alex Gong and Jongsanan in his corner. I was totally impressed by both fighters, Young fought with the assurance of a seasoned pro, and Villalobos was strong and deliberate. The fight went to the judges for the decision, and Villalobos won on a very close win.
There was a kind of positive energy in the arena all night, but just as the main event was to start, the energy took on a life of it's own. Though every one knew this was going to be a very special experience, know one could predict the war that was going to take place.
The first round was a feeling out round, both Cook and Jillian were cautious, the second round started slow then the battle for the IKF North American Junior Middleweight Championship took off, both fighters scoring with brutal power, bone shattering round kicks, beautiful knees while in the clinch. The next three rounds were hard hitting and severe, both fighters feeling each others power, classic elbow techniques were scoring, Jillian opened up a cut under Cook's left eye with a well executed flying punch. The condition of both fighters was superb, you don't last five savagely fought rounds like these fighters did unless you have the best trainers making sure you are ready.
Both camps should be extremely proud of their warriors, I know Mike Miles, Jillian's trainer, and I know Alex Gong, Cook's trainer, these are two very serious people that know how to win. The final bell rings and again it is the job of the very competent judges to render their verdict, the IKF North American Junior Middleweight Champion is Jason Jillian.
Mike Miles could not make it this time, but sent a very qualified Jason Fenton to corner Jillian, Fenton himself a superb MuayThai fighter. Lane Collyer has set a new standard for promoters to follow, maybe because he himself is a fighter he knows how to treat people, but from the first hour of my arrival, until the last hour of my stay, Lane could not do enough to make sure I was well taken care of, maybe it is the southern hospitality. If Lane contacts you to compete on one of his cards, feel honored. Also I have to mention the two great ringside physicians caring for these important athletes. And last but not least, the IKF sanctioning body, Steve Fossum is simply tireless, he is meticulous in his preparation, and leaves no stone unturned in his completion of any task he does. I can see why your IKF is growing, any promoter that is lucky enough to have Steve at ringside knows what I am talking about. He will force you to succeed, and support you all the way. THANKS STEVE ...
No... Thank YOU Fred!
---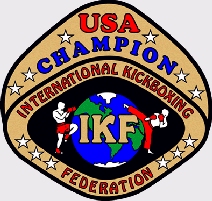 The Best of The Best
By KUHN FRED FITZGERALD
It was a competition for Championships, and a Championship competition, named the IKF/Ringside USA National Amateur Kickboxing Championships. It was held at the magnificent Harvey's Casino Hotel, located in Council Bluffs, Iowa, outside of Omaha Nebraska. This event was the brainstorm of Steve Fossum, Dan Stell, Joe Taylor, and Mick Doyle, who was contacted to host the event. Make no mistake about it, these people had the dream, and then made the dream come true. There were many others who devoted there time, and expertise, just to name a few, Jeff Mullen, Vicki Monyelle, Rob Zbilski, Duke Roufus, Mike Carlson, Kevin Neuman, there are so many others, we thank all of you. Without devoted people like this these highly trained athletes would not have an opportunity to test their skills.
Is this how the Olympics started in 1896, with just an idea and a group of people dedicated to the Martial Arts, willing to pay the price for success? I am sure there are many fighters who stayed away thinking this was just another bogus event that would never happen, well it did happen, and the best fighters in the United States competed on September 2, and 3rd 2000 for the honor of being called the Champion of the USA in their weight class.
If you feel you or your fighter would have won, well get ready now for next year, which will be bigger yet, contact the IKF, find out what is needed for you to enter, we welcome every one, this event is here to stay, if you are a serious MuayThai fighter, or Kickboxer you will want to be part of this historic competition. I will mention some fighters that I might have had personal contact with, either because I refereed them or we were both in the right place at the right time, don't be offended it I fail to mention your name.
Every competitor has a compelling story, Sgt. Ricardo Sanders and the Marine Kickboxing Team, driving half way across the United States to compete, the magnificent Sunshine Fettkether, with her thunderous leg kicks, trained by Bob Karmel. She is destined for greatness. Trisha Hill, who leveled her opponent with the most spectacular technique of the competition. Duke Roufus with his meticulously prepared MuayThai fighters. How about 14 year old Boomer Fischer, who in her other life is probably your average teenage girl, with make up, girl friends and Britney Spears, but today she is sitting having her hands wrapped, by her fine trainer Benny Voyles, preparing for combat, her hard body evidence of hundreds of hours training in the gym, with a focus that says, I will not be denied, she did win the Championship.
How many other fighters would achieve greatness, did the spirit of the Indian Warriors that lived here decades ago influence their performance, or did they just fight better than they ever did before, or are they just that good, I don't know, but what I do know is I have never seen more determination, more heart, than I did in these two days. As an Official I am pleased to tell you, with over 70 fights, over 150 rounds of hard hitting, not one injury. Why? Because the rules were clear and understood, first class equipment, and the best Officials in the USA, who are committed to the safety of the fighter.
The great Officials who live and breath this sport are: Dan Stell the head of IKF Officials, simply the best Kickboxing Referee, Terry Storm, the best woman Referee in the USA, Mike Storm who controls the ring with sheer power, Carlton Duncan who has achieved the confidence he has been looking for, Scott Weeks, who has the competence to do what ever he puts his mind to. I have left out many of the fine Judges, there is Colleen, Tony, and I know there are more, please send your names to me.
A special thanks to the physician at ringside the celebrated neurologist Dr. Reyes. As I said, I have left out many important names, of fighters and trainers, please fax or E-Mail me (ffitzgerald@monmouth.com) with your personal story, it will be very important to me, my fax number is (732) 918-3333. See you next year.
---
Needless Over-Reaction or Dangerous Under-Reaction
By Kuhn Fred Fitzgerald
Let me preface this article, by saying that, the Referee must consider the advice of the ring Doctor when evaluating any injury. That being said, there is much mis-information concerning injuries in the ring,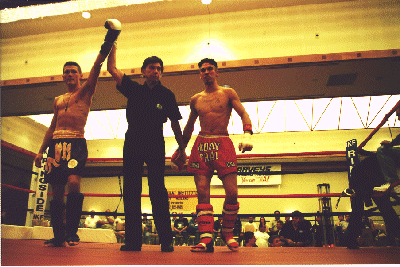 needless over-reaction or dangerous under-reaction can alter the action and effect the outcome of the bout, the Referee must decide between a minor or a major injury.
As a Referee my concern level raises dramatically when I see one fighter receiving multiple head blows, I will then observe the fighters defensive skills (have they diminished ?), I will see if his or her footwork has slowed down, head blows scare me. A fighter can be on the receiving end of many hard unblocked head blows, with little concern, yet if blood appears from a minor cut, everybody wants to stop the fight, including the ring Doctor. Cuts are readily fixable if understood properly, head injuries are dangerous and lasting.
Don't freak out by the sight of blood, a minor cut in the facial area can bleed profusely. The location of the cut is important, underlying structures can be damaged. Blood impairing vision, can hamper the fighter. Check with the Doctor.
CUTS to the face of a fighter, are quite different than cuts made by a knife, a cut made by a knife is an "outside-inside" cut, a punched facial cut is an "inside-outside" cut, the skin bursting injury begins with deeply damaged tissue. The cut is caused by the skin being stretched and crushed against underlying bony ridges. The cut you see on the surface is only the tip of the iceberg.
A serious cut must be sutured deeply, then externally. Wound healing time is approximately 30 days for 20% strength, 60 days for 50% strength, 1 year for 80% strength. A scar is never as strong as normal tissue.
This information comes from Refereeing over 1000 fights, also from my good friend, Dr. Joseph Estwanik, a sportsmedicine physician, and orthopedic surgeon. He has been at ringside for more than 10,000 bouts, I consider Dr. Joseph Estwanik to be one of the finest ringside Doctors in the world.
---
CONGRATULATIONS IKF, DUKE and SCOTT
February 26, 2000 made history for MuayThai in Milwaukee.
2-27-2000 By Kuhn Fred Fitzgerald
The new venue was immaculate, with excellent facilities for fighters and fans. To put together an international show of this quality is an awesome task. Duke Roufus has had the foresight to see the future in MuayThai. But more than that he is doing it in the present. He has a very qualified work force that know what they are doing. I hope in the future I can mention all the fine people that donate their time and effort in putting on these events. But now I want to tell you about a man that never ceases to amaze me, he constantly is doing ten things at once, speaking on two cell phones at once, directing people setting up the seats, handling the media, checking on ticket sales, making sure everyone gets picked up at the airport, and at the hotel, seeing that everyone eats. He even was at the weigh-in solving problems, his name is SCOTT JOFFE. Not only does he accomplish all these duties competently, but he does them with a smile and a great sense of humor. Scott, thanks for everything.
Now about the fights. Rachel Thomas who fought a great fight two weeks ago in Canada but lost a close decision, was in top form in her home town, winning over Tracy Kuschel from Omaha. I refereed the last Downey, Zaniga fight, that was called the best amateur fight of 1999, here I was again bringing both fighters to the center of the ring for final instructions. Both fighters looked in great shape physically and mentally, Downey just back from a great win in Bangkok. This was to be Zaniga's first pro fight. Fighters back to the corners wait for the bell, I signal George Buse, timekeeper, (who by the way is one of the best officials I have had the pleasure to work with) to start the fight. The first round was fought with both fighters showing each other respect, come round two, no more respect, Zaniga starts inflicting some brutal punishment on Downey, these round kicks the body are brutal, in the clinch great knee action, this is MuayThai, I see Downey is hurting but at no time did I consider stopping the assault, Downey was still strong and dangerous though he was being hurt. Round three, the assault continues, now Downey's defense is weakening and "blam" a ferocious kick by Zaniga to Downey's ribs, he goes down, I go down with him and stabilize Downey so he doesn't move, I am thinking broken rib, Doctor David Neimann jumps in the ring and takes over, Downey is ok just bruised ribs and feeling very bad about the loss, why when he fought like a warrior and will be back in the gym on Wednesday, preparing for the next battle. Anyway this was a furious battle, and Dave Zaniga fought like a true NOKMUAY, he has my respect.
Next KONGNAPA and SHAKUTA, will this be just another walk in the park for Kong or a serious test of his extraordinary skills, we will see. Round one, Kong dominates with punches and very strong round kicks, I know when something happens it will happen fast, so I stay close to the fighters, suddenly a Kong hits Shakuta with a smashing punch, Shakuta goes down stunned for the moment, he gets up and I finish the eight count, Kong finishes the round very strong.
Round two Kong is strong scoring at will, seems Shakuta is still to get into the rhythm of the fight.
Round three, same as one and two except, Shakuta has come alive and starting to show why he has such an impressive record, he begins to land hard punches and kicks, and perfect slashing elbows, though most of the elbow strikes are blocked expertly by Kong.
Shakuta dominates round four and five, Kong seems tired and cannot get off as he did in the first three rounds. Shakuta is strong, fearless and confident. The bell sounds for the end of the bout, the crowd is roaring, and excited waiting for the decision. Two judges have it for Kong, one judge has it even, Kong retains the title by a majority decision. Great fight by two talented fighters, maybe the two best at that weight in the USA.
Later that night, Steve Fossum and I, meet with team Belarus and go to the party at the first class Charcoal Grill in Milwaukee, where we meet up most of the fighters and fans. We have dinner with these great sportsmen, for now the fight is forgotten and talk of the rematch begins, this is the way it should be, congratulations to everyone that made this a memorable IKF Championship fight. Let me also say this, there were about twelve hard fought MuayThai fights, some were with elbows and knees to the head, maybe 40 rounds of combat, and the only injury was a bruised rib. When the fighters are trained properly, with qualified officials, and proper equipment, this is the safest of all ring sports. Swadee Krop
---
"HOT NIGHT IN WINNIPEG CANADA"
2-14-2000 By Kuhn Fred Fitzgerald
Not really, the temperature was below zero, I have never felt so cold. But things were heating up at the Winnipeg Convention Center in anticipation of the MuayThai event about to happen. First I would like to say a few things about Steve Fossum. I was there to referee the MuayThai bouts. Flying from New Jersey, I had to change planes in Minneapolis where I met up with Steve who had the same connecting flight to Winnipeg. I spent three days with Steve and had a chance to get to know him. Steve is a very bright, hard working and fair individual, he saw a need for a sanction body that cared more for the fighters and promoters than just how much money he could make. I found he is dedicated to the combat sports he sanctions, and feels we are all on the same team with the same goals. Steve has done everything he says he is going to do, and will go to bat for any promoter fighter or official if the need arises. No one is doing what the IKF under Steve Fossum is doing and has done. I am proud to be associated with the IKF.
Ok about the fights. Frank Albo and Arthur Pereira promoted and produced the show, the venue was spectacular, with a good crowd of over 2000. The fights started on time about 8:00PM, There were four preliminary bouts, a women's fight with Crystal Coquette winning a close decision over Rachel Thomas from Milwaukee.
Then a five round amateur championship bout between Ryan Grahm and Giuseppe DeNatale both from Canada. DeNatale was the stronger fighter with great power and technique he stopped Grahm without much trouble.
The semi main event was between Jason Johnson from Milwaukee, in his first pro fight and Wade Irwin from Winnepeg. After couple of minutes into the first round, I saw Johnson had a real fight on his hands, Irwin was a strong, game fighter with plenty of power, the fight was action packed for all five rounds with Johnson getting the decision. Congratulations on your first pro win.
The main event was a IKF World Middleweight title fight, between Robert Coquette from Winnipeg and Eval Denton from England. There was no doubt this was the fight of the night. The first round started with both fighters showing each other plenty of respect, though I was impressed with Coquette's MuayThai techniques, they were great to watch and had a lot of power behind them, he definitely should have made his trainer proud. Denton was in superb condition, he was strong and had knockout power in both his punches and kicks. Denton was a little tentative at times during the fight, all in all the fight was strong with explosive action in all rounds. Coquette won the fight with a close decision from the judges. All in all it was a great night for MuayThai and the IKF. The next day the local paper had front page headlines about the event, and all through the day people were congratulating us on a great fight night. My congratulations to Frank and Arthur, also everyone who took such good care of us at the Days Inn.
---
A Look Back At the IFMA World Championships
"THE AMERICAN HAS A HEART LIKE A LION"
12-26-99 By Kuhn Fred Fitzgerald
We arrived in Bangkok midnight November 21, 1999. We were picked up by A from the MuayThai Institute. A brought us to Phatum Thani, about an hour from the airport so we could relax, and have something to eat, then on to the Institute to unpack and go to sleep. The next day we said hello to every one and went to the World MuayThai Council office for a meeting with General Vorayudh, the office was very busy with preparation for the upcoming IFMA CUP.
Next day my wife and I flew up to Chiang Rai, to see her family and try to get over the jet lag. Four days later we are back in Bangkok.
I start running in the morning with the fighters, and the weather is perfect. The next week goes fast, between training, going to fights and redoing the MuayThai Institute brochure with A time slips by.
December 3rd we pick up the fighters at the airport, the first night they spend at the Institute, and early the next morning we leave for the Chaleena Hotel. All the different countries, about 30, are starting to arrive at the hotel, time to see some good friends. December 6, early morning is the weigh-in, and then the draw to see who fights the first day. Dan Rawling (IKF Team USA) weighs in at 60kg., James Downey (IKF Team USA) weighs in at 71kg., and Jason Johnson (IKF Team USA) weighs in at super heavyweight, over 91kg. Dan has to fight France, 16 fighters in his weight class, James is matched up with South Africa, also 16 fighters in his class. Jason's weight class has three fighters, he is matched against Iran, and the other fighter from the Ukraine gets a bye.
James fight against South Africa goes well, James is a little sluggish but wins by decision. Dan's fight against France goes to a decision, Dan fought a great fight, his technique showed well, but he lost the decision to France, I predict as soon as Dan learns some more, he will be hard to beat. James next fight is against Finland, James fights a terrific fight strong in all aspects, Finland gets the decision, a very unpopular one. Finland goes on to win the gold.
There is a lot of talk going on behind the scenes concerning Jason's fight, Vitaly the head of the MuayThai federation in the Ukraine and an old friend of mine, starts with his fighter is the European waco champion, and has won his last ten fights by ko in the first round, really trying to get to me, I just tell him talk is cheap and the USA will talk in the ring. Jason's first match is with Iran, the Iran fighter decides to throw in the towel in the second round. Jason looked great and used very little energy. The finals for the superheavy weight division is Saturday, Jason is ready, I am able to go to the dressing room just before the fight to wish him good luck, he looks strong and confident. The bell rings for the first round, and the fighter from the Ukraine looks great and starts to pummel Jason with punches knees kicks, I am concerned they may stop the fight because it looks like a mismatch. The round ends, and round two begins, half way through the round it seem as if a MuayThai God possesses Jason's body, and he starts to do everything perfect, thundering leg kicks, rib busting knees, the crowd goes crazy, in the third round Jason completely destroys the Ukrainian, with a final leg kick dropping his opponent and the referee stopping the fight. Jason wins the gold medal and the hearts of the Thai crowd. Vitaly comes running up to me and says "THE AMERICAN HAS A HEART LIKE A LION". I grab Vitaly and bring him over to Jason and ask him to repeat what he had just said to me, Vitaly pats Jason's heart and repeats what he had told me. I can see tears in Jason's eyes as the American flag is raised. Congratulations to TEAM MUAYTHAI USA.
---
MUAYTHAI IN LONG ISLAND
11-16-99 By Kuhn Fred Fitzgerald
This past Friday and Saturday nights were MuayThai nights. Friday night I refereed at the Vanderbilt, in Plainview, Long Island, and Saturday night at the Merchant Marine Academy in King's Point, Long Island. Friday night Phil Nurse brought a team of MuayThai fighters, as did Joe Acosta, both groups fought well with nice MuayThai techniques. But the main event was a brutally fought five round bout between Moti Hornstein and Moe Pedley, Moe came over from England for the fight, and is trained by Kru Phil Nurse. Both fighters pounded each other with leg kicks and knees, Moe landed a leg kick to Moti's head dropping him to the canvas, I was prepared to count Moti out, but amazingly he got up before the count of 8, I finished the eight count standing and the bell rang to finish the round. The next round Moti came out stronger than ever and the rest of the fight kept the standing room only crowd on there feet yelling and cheering, Both fighters deserve tremendous respect for enduring this brutal battle. The fight ended as a draw.
The other event in Long Island was Saturday November 13, 1999. Again some major wars. Guy Mezger put on his MuayThai shorts and fought Dimitri Stepanov from the Ukraine, and handled by Vladimir Borodine. This fight was a brawl with Stepanov receiving a gash on his forehead, but it was not a serious cut and Vladimir used his magic in stopping the bleeding. The fight went five ferocious rounds with Dimitri getting the decision.
The main event was just that, between James Cook from Fairtex and Abder Bchiri from Holland. This fight was text book MuayThai, strong leg kicks, controlled knee strikes, action for all of the five three minute rounds. The MuayThai was so complete I thought I was in the ring in Bangkok. This was a war, James Cook sustained a shin injury but it did not change the tempo of the fight, both fighters displayed the warrior spirit I speak about, to bad there had to be a winner, but there was, Abder Bchiri won this well fought bout by split decision, and proved why he is considered one of the best MuayThai fighters in the world.
More Press by Kuhn Fred Fitzgerald on 11-16-99
Leaving For Thailand
11-16-99 By Kuhn Fred Fitzgerald
I have one more event to referee before I leave for Thailand, it is this Friday night November 19, 1999 at the Church Street Gym, in New York City. The main event at this event is KongNapa from Duke Roufus' camp against Steve Miles trained by Edge Brown, if you can make it, be there for this show.
November 21, 1999 My wife and I leave for Thailand. Thought I would sort of bring you a with me, by telling you what transpires. When we arrive at DonMuang Airport Bangkok, Arjarn Noy and Mr. Amnuay will pick us up at the airport, then a 10 minute ride to Rangsit Stadium, home of the MuayThai Institute. This is where I live while in Bangkok, we have an apartment and a very beautiful office both provided by Mr. Amnuay owner of the stadium. Both apartment and the office are upstairs over the famous Rangsit Stadium rings. Pro fights are held every Wednesday and Thursday night, and in the morning and afternoon fighters are training downstairs, what a great atmosphere. Also housed in this spectacular building are offices, Windy equipment has a large shop, a MuayThai museum, a first class weight room, many satellite dishes for broadcasting the fights. Before I actually start my daily routine, the first few days will be getting over the jet lag. So the first day, I will be brought to the World MuayThai Council offices by Mr. Amnuay and his son we call A, he is with me 24-7, never leaving my side. At the WMTC office I will meet with General Vorayudh, and Pol. Major General Weeravat (head of all referees), also Kajorn Prowsri, it will be good to see these fine people. We will speak of MuayThai in the USA, and of the upcoming King,s Cup. We will have lunch and later meet for dinner with others they will want me to meet.
In a couple of days I will begin work at the MuayThai Institute, all my referee friends will know I am here by now and come by to meet with me. I will be told when and where I have to be at any given time, my days and nights have been scheduled by now. I will referee on Wednesday and Thursday night, on the weekend go to Rachnomdern and Omnoi Stadium, if we have time stop at Lumpini to say hello to everyone.
Duke Roufus and the team that will be competing at the King's Cup will arrive early in December the 1st or 2nd. On December 5th I will referee at a special show for the King's Birthday and then we will move to the Challena hotel for five days during the King's Cup competition, this year 40 countries are expected, the fights will be at the sight of the Asian games, walking distance from the hotel. I will be back in the USA on December 15, 1999. I am sure I will have great news as to how well the USA TEAM MUAYTHAI did in the King's Cup Competition.
Sawadee Krop
---
THE MUAYTHAI FIGHTER IN THAILAND
11-10-99 By Kuhn Fred Fitzgerald
I had mentioned that MuayThai is a completely different sport in Thailand, well after many requests asking what I meant, it is time to explain. Young MuayThai fighters are brought to a camp in there early teens. When they first move to the camp they are taken to the temple and blessed by the monk. They live in the camp and train every day, the first training starts at 7:00AM, they jog for about a half hour, then start training on the pads, heavy bag, jump rope, clinching with a partner, and being watched closely by a trainer. This training is done at three minute (round time) intervals. A training session lasts about 2 to 2 ½ hours. A fighter will kick the bag and pads hundreds of times during this training period, he is strengthening his kicking power, tempering his shins, and perfecting his techniques. Also he will work on his punching, elbows and knees. After this he will work out with weights or do calisthenics. Keep in mind, now both women and men are training MuayThai, so if I keep referring to men, I include women also. The fighter has no other life but living in the camp, training and preparing for a fight, and they love the life, it brings many rewards. If a fighter chooses another career, he can leave the camp at any time. I know fighters that have fought for twenty years, with over 200 bouts, and you would never know they were fighters, unless you saw then in the ring. The young fighters will begin by fighting in the first or last fights of the night then progress to fighting main events if they are good enough. A fighter that becomes a champion earns a very good living and if he saves his money he will live very well when he retires. Part of the high energy inside the stadiums is due to the betting, bets are made on who will win the fight, and the odds change each round, the people betting, and all the Thai spectators understand what they are watching, and they will show there approval by loud cheers. What really turns on the crowd is the warrior spirit the Thai fighter displays. The top stadiums are Lumpini, Rajdamnern, Rangsit and Amnoy. I will be leaving for Bangkok on November 21, but I will explain why I am going in my next column.
---
Possible Injuries In MuayThai
11-2-99 By Kuhn Fred Fitzgerald
I will dispel many of the misconceptions regarding injuries competing in MuayThai. First on the highest level of MuayThai being the pros, the occurrence of serious injury is minimal, the pros are so well trained, and have a defense that is next to impossible to penetrate. The other reasons for few serious injuries are, five rounds with two minute rest, the head is not the primary target area, main target areas are the legs and body. Also a pro MuayThai referee is so well trained and competent, that he sees a problem before it happens. The amateurs are a different story, an amateur fighter can be a beginner or a seasoned fighter getting ready to turn pro. What we do to protect these fighters is use protective equipment, shin guards, and head gear, plus rounds are two minutes, and unless it is a championship fight, or otherwise decided, the fight is only three rounds. I have listed and explained possible injuries and frequency of occurrence during MuayThai bouts, these injuries happen more frequently in other ring sports.
POSSIBLE INJURIES IN THE MUAYTHAI RING
A. TYPE OF HEAD INJURY:
1. CONCUSSION: A concussion implies no significant injury to the brain itself. There is usually a history of trauma to the head with a variable period of unconsciousness or confusion and then a return to normal consciousness. There may be amnesia from the injury. This amnesia usually extends to some point before the injury so that often the fighter will not remember the events leading to the injury. There may be dizziness, headache, or nausea. The fighter requires a period of observation, if unconsciousness lasts five minutes or more, usually the fighter should be admitted to the hospital for observation. Ask the fighter if he knows where he is, how he got there, etc., to determine condition. FREQUENCY: Most MuayThai fights are decided by decision, 10% knockouts.
2. ACUTE SUBDURAL HEMATOMA: This is caused by bleeding between the dura (the outermost and toughest of the three membranes covering the brain and the spinal cord) and the brain substance, and is associated usually with injury to the underlying brain tissue. This usually occurs following the rupture of dura vessels (veins). Blood collects and often severely compresses and distorts the brain. Direct force and stretching of the vein, also the tearing of brain tissue can cause this injury. Because the bleeding is venous (from the veins that carry the blood to the heart and lungs), pressure develops more slowly, and often diagnosis is not made for hours after the injury. The signs and symptoms include headache, fluctuations in the level of consciousness, hemiparesis ( paralysis in half the body), nausea, vomiting, increase in blood pressure and decrease in pulse, weakness in muscles of the leg and arm. Also the pupils of the eyes react differently to the light, pupil reflex is changed. These symptoms require immediate medical attention or the fighter dies. FREQUENCY: 0%.
3. ACUTE EPIDURAL HEMATOMA: This is a rare injury that is usually caused by a tear in the middle meningeal (referring to the artery in the middle of the brain). It is often associated with a skull fracture that could be caused by a fighter landing outside the ring area and hits his head on a hard area. Because it is arterial bleeding pressure can rise rapidly so death occurs quickly. Surgical removal of the blood and ligation of the artery (binding of the artery) often give excellent recovery, for often the underlying brain tissue is not injured. The symptoms include an initial loss of consciousness followed by a period during which the fighter is conscious and coherent. Later the fighter will lapse into unconsciousness and develop a paralysis on the opposite side of the injury. There is usually a dilated and fixed pupil on the same side as the injury. Usually this is followed rapidly by death. The classic example is the fighter who is knocked unconscious wakes up and is allowed to go home only to be found dead in bed the next morning. Important points to follow: 1. Secure airway and control back of neck. 2. Assess breathing and circulation. 3. Stop the bleeding. 4. Treat the shock. 5. Evaluate other injuries. FREQUENCY: 0%.
4. UPPER EXTREMITY INJURY: Shoulder injury, 4 ligaments in shoulder joint, a tear of a ligament or tendon. Dislocation of joint can be caused by a missed punch, needs three weeks rest. FREQUENCY: 15%.
5. WRIST AND HAND INJURY: Wrist injury, chronic sprains can cause enlargement of the bone. Metacarpal fracture, five pieces of bone, chronic swelling of muscle needs extensive rest. Pinkie joint fracture from missed punch (Saturday night fracture). May need surgery. Knuckle swelling, may need one month rest. Tearing of thumb ligament (can be reduced by attached thumb gloves). FREQUENCY: 5%.
6. ELBOW INJURY: Tearing of elbow ligament caused by frequent hyperextension inner joint is damaged. FREQUENCY: 1%.
7. LOWER EXTREMITIES: Knees, ankles, three degrees of knee ligament injury, 1. Stretching of ligament. 2. Partial tear of ligament. 3. Complete tear of ligament. Fracture of fibula (shinbone), or ankle fracture from direct kick. Also direct kick to thigh can cause a leg hematoma (bruising). Fibula injury ice for 24 hours than hot. For cramps, slowly stretch then massage. (loss of glucose can cause cramps). FREQUENCY: Lower Extremity Injury, 5%.
7. NECK AND BACK INJURIES: Also rib fracture, abdominal wall injury, internal organ injury, stomach intestine injury from knee strikes. In a direct hit to the stomach, the fighter can become faint, the heart rate lows quickly, blood in the stomach can reduce blood going to the brain. FREQUENCY: 10%.
8. FACE, MOUTH INJURIES: If the nose is massively bleeding from both nostrils it could be broken. Eye injuries, detached retina, picture will not show at some angles, abrasion on the cornea, will see blood in the corner. Jaw fracture, use correct mouthpiece. Cuts, if blood from a cut impairs vision, stop the fight. Vertical cut on cheek no problem, horizontal cut could be dangerous, and it could injure the nerve. A Cut on the side of mouth bleeding heavily, stop fight. Cut on eyelid could impair vision. Ear injury, cauliflower ear caused by frequent bleeding in ear cartilage, forming calcium deposits. First 24 hours, aspirate blood, compress area. A fighter should wait 30 days after knockout, if he had memory loss could be 90 to 180 days, check with doctor before fighting. FREQUENCY: Cuts 20%, Jaw fractures 5%.
To E-mail Kuhn Fred Fitzgerald, Click this e-mail address: ffitzgerald@monmouth.com
---
10-28-99 - FIGHTS IN MILWAUKEE By Kuhn Fred Fitzgerald
I've just returned from Milwaukee where I refereed the MuayThai bouts for Duke Roufus's show. All the fights were great, but two were exceptional. The main event was Duke Roufus, who by the way is already a legend in Milwaukee, against Dewey Cooper from Las Vegas. This was a heavyweight fight, both fighters looked in great condition, Duke had the better MuayThai technique, but Dewey was a real tough competitor, Duke's leg kicks sounded like claps of thunder as he pummeled Dewey's thighs, but Dewey would not give up and like a true warrior went the full five rounds. Dave Zuniga and Jim Downey, what can I say, after the first round, I knew I was the third man in the ring for a very special fight, a war fought by two equally talented MuayThai fighters, with fighters like this the world better look out, the USA is finally on the map in MuayThai. By the way Jim Downey won by decision, who won was not important to me.
---
10-17-99 - FROM KUHN FRED FITZGERALD:
Q: I received a great question from Dan, he asked what is important for a beginner in MuayThai to concentrate on, and what mistake are beginners prone to make?
A: Dan, as with any sport, the basics are very important to learn correctly. Most MuayThai students have had some martial arts training, forget everything you've learned. When you start training in a MuayThai camp, you first learn how to walk like a Thai, a very basic but important movement is called yang som khum, (three step movement). Concentrate on moving using this three step movement until it is perfect, much of the devastating power in MuayThai techniques comes from exact and proper foot, and body positioning. As to what is a common mistake, trying to strike pads or the heavy bag to hard at first, practice making the movement perfect, and make sure to turn the hip fully into the technique, the power will come automatically with practice, kicking the pads or heavy bag hundreds of times a day, to be great, you must make a total commitment.
Soon I will start the history of MuayThai, on this page, I have had the privilege of receiving an edition of MuayThai history from the MuayThai Institute in Bangkok for me to do an English correction.
---
10-13-99
A personal note from the desk of Kuhn Fred Fitzgerald
Hi everyone. I thought it would be a good idea for people who don't know me to get to know me. My first experience with MuayThai began in the early 1980s, before that I had been an amateur American boxer, I also trained in other combat arts but did not find what I was looking for. A friend of mine had gotten a tape from Thailand and brought it over for me to see. It was MuayThai, I was amazed at what I saw, and immediately felt this was for me. I asked around but no one seemed to know much about MuayThai, so off I went to Thailand.
When you first see MuayThai in person, it looks like a lot of kicking and punching, very basic and simple, but as I was to find out it is just the opposite. The more you learn about MuayThai the more you see how complex and well thought out a fighting system it is. Each move every position of the feet and body will add to the tremendous power in the kicks. Also the complete system is necessary for a strong defense.
The IKF understands the need to leave full MuayThai as it is, and use protective equipment in the amateurs, to insure safety. From that beginning to now it has been an exciting adventure, along with meeting my wife in Thailand. Though I began MuayThai for the fighting aspect I later became involved with the officiating.
I trained in Thailand as a referee, my training is ongoing. I have refereed over 400 Thai fights, bringing me to 5 countries, including China. I have officiated in Thailand at the SEA Games, refereed at two King's Cups, a Prince's Cup, in the National Stadium, and the only non Thai to have refereed a Professional World Championship fight in Bangkok, on live TV with General Chetta and General Vorayudh in attendance. Just to let you know, to prepare to referee this fight I trained for 3 weeks, training consisted of refereeing two fights a day, running with the fighters in the morning and one hour in the weight room in the afternoon, then in the evening being corrected for any non perfect moves I made while refereeing that morning, and remember I was named the best referee at the first King's Cup, and had by this time I had refereed over 400 fights, this should tell you how serious the Thais are about MuayThai and what an honor it is to be a MuayThai referee. Also I'm the only American Referee to be certified by the World MuayThai Council. Actually MuayThai is a different sport in Thailand, as I share information with you I will explain that statement. I will answer all your questions.
Sawadee Krop, Kuhn Fred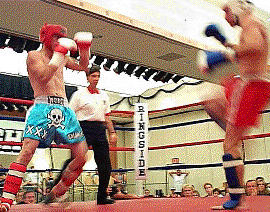 ---
This Page;
Well known Muay Thai Referee Fred Fitzgerald has joined forces with other Expert here on the IKF web pages (IKF CORNER TALK with BROOKS MASON and IKF TRAINING TIPS From World Champion: JOHNNY DAVIS) to bring you various news about the world of Muay Thai. Mr. Fitzgerald's page will include;
Articles on MuayThai tradition, history, rules, regulations, training tips, fighting tips and the importance of qualified officials.
Also, interviews with trainers, fighters, and people new to the sport and people training in MuayThai for years.
In addition, Mr. Fitzgerald will also discuss the commitment the IKF has made in sanctioning the full, real, muaythai, while still making safety the number one goal.
Mr. Fitzgerald's will also answer questions of readers like on BROOKS MASON site.
To E-mail Mr. Fitzgerald, Click this e-mail address: ffitzgerald@monmouth.com
All Questions are PRIVATE to Mr. Fitzgerald unless we feel they can benefit others as well.
---
Back to the IKF Home Page Click HERE.