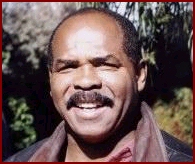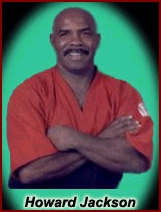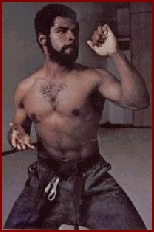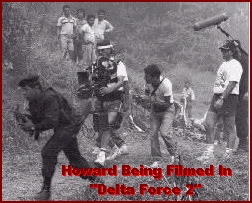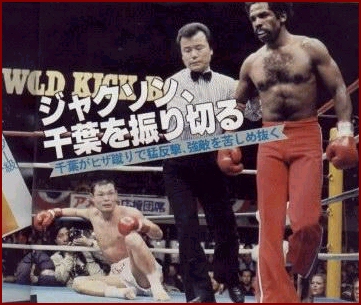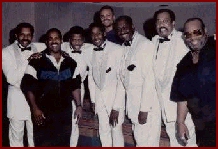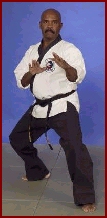 Howard Jackson had a phenomenal winning streak in major competitions-Tournament Karate, Kickboxing, full contact Karate, and Boxing. He was voted the best by his competitors and peers. Jackson was born in Detroit, Michigan to working class parents who many times had to rely on government assistance for housing and food. Life for the Jackson family was unstable and his mother and father died at an early age. The oldest of four children, he saw his two brothers die violent and tragic deaths. He and his sister (Corliss) survived the troubled streets of Detroit.
Jackson started studying kung fu in 1967 after the Detroit riots and searched for a martial art that would work best for him. A turning point came when Jackson witnessed a demonstration by an individual who had been studying Tang Soo Do karate for two years and thanks to this young man, Howard Jackson was led to Harold Williams who became his mentor and karate instructor up to Howard's testing for first degree black belt in Tang Soo Do karate. In 1970, Jackson along with two other soon-to-be champions, Johnny Lee and Everett "Monsterman" Eddy, and the champion of that time frame who was testing for fourth degree black belt, Chuck Norris, (Pictured with Howard at Right) were all tested for black belt by Grand Master Hwang Kee and His Moo Kwon testing board.
Shortly thereafter, Jackson searched for the ultimate self-defense martial art. He joined the Marines Corps and discovered tournament competition. While at Camp Pendleton, he read a karate magazine about his stable mates, Johnny Lee and Everett "Monsterman" Eddy, who were winning karate championships all over the country. Jackson had to find a way to be a part of karate competition. He got his chance and entered the Four Seasons Karate Championships. Although he was disqualified for excessive contact, he was noticed by Chuck Norris and Bob Wall. Although complemented for his exceptional kicking ability, he was told of his lack of control. Chuck and Bob also encouraged him to develop his usage of hand techniques. At that time, they invited young Howard to the Chuck Norris Karate Studios in Torrance, California.
The next week Howard caught the Greyhound bus from Camp Pendleton in California to Long Beach, California and spent his weekend leave training with Chuck Norris and his many talented black belts (such as Bob Wall, John Natividad, Darnell Garcia, Bob Burbitch, Ralph Alegria, Aaron Norris, and Pat Johnson, just to name a few). Jackson became an integral part of the Chuck Norris fighting team who were winning both team and individual championships across the country.
In 1972-73, Jackson was ranked among the top 10 national fighters in the United States. He was called "California Flash" because of his most outstanding attribute, his initial speed and a unique ability to rapidly close the gap on his opponents. He was ranked number 8 in 1973. Howard was contacted by heavyweight champion Joe Lewis and invited to his sparring session, and Joe and Howard became sparring partners. Joe also saw Howard's potential to be a recognized champion. Joe became a part of Howard's success and he helped Howard to become both mentally and physically prepared for competitive fighting. Joe Lewis combined his personal theories in fighting along with Bruce Lee's and taught these theories to Howard. While Chuck Norris, Mike Stone and others gave Howard the tools of competitive fighting, Joe sharpened them.
In 1973, Howard won the grand championship and first prize $1000 in semi contact competition at the Top 10 Nationals in St. Louis. Jackson became the only two-time grand Champion of the Battle of Atlanta (1973 and 1974). In 1973 , he was inducted into the Black Belt Hall of Fame as "Fighter of the Year." Jackson became the first lightweight to dominate his sport and professional karate's biggest money winner of 1973. Jackson had usurped Bill Wallace, at the time America's top tournament fighter. In 1974, he won the lightweight title in the split-division United States Championships in Dallas. Jackson was the Black Belt and Professional Karate Magazines #1 U.S. karate fighter of 1974 (Karate Player of the Year).
After a knee injury in 1974, Jackson's whole world seem to crumble. After two years of therapy for the knee, and perseverance and determination, Jackson launched a comeback in 1976, competing in professional boxing, karate, and kickboxing. On January 26, 1980, he captured the WKA full-contact welterweight title. Jackson won an unanimous decision over Japan's Yoshimitsu Tamashiro. In January 1981, he won against Miyaso Chiba in Tokyo to become the world junior welterweight champion of the World Kickboxing Association. Howard Jackson was the first competitor to win the Karate Player of the Year award with only two years of experience and was one of the first internationally recognized world champions. He was the first karate champion to be ranked in professional boxing-number 6 in the world by the World Boxing Association (WBA). At age 23, Jackson attained his goal of becoming the first black man to reach the pinnacle position of tournament karate. Howard Jackson was the only champion in history to hold world titles in semi contact, full contact, kickboxing and boxing.
After retirement in 1983, Jackson worked for 10 years as Personal Protection Officer/Training Partner to actor and World Karate Champion, Chuck Norris. His total dedication to the sport and the art earned him the admiration and respect of his contemporaries; he was known as a professional's professional. In keeping with his goals of accomplishment and self improvement, Jackson left his position with Mr. Norris and worked for 5 years as Bodyguard to the Temptations (Left). Howard then returned to his position with Chuck Norris. Jackson credits martial arts as giving him focus and a method by which he could achieve realistic goals. He learned that "step by step, one small goal at a time, he could accomplish what he wanted."
From Howard... Physically my body is in wonderful shape, by just knowing the right exercise, proper proportion of exercise, and the exercise that benefits me the most. Strength wise I am at my highest state. Both physically and mentally. I am able to push myself mentally to the point where I can achieve personal gains from my physical efforts which will not cause serious injury or break my momentum with my workout. From the stand point of life itself, I have had a wonderful prosperous life. I have had my ups and downs as we all do. I am going through my third divorce. I have three wonderful children. My oldest son Howard Jr., turned 30 this February (2002). He is a police officer for the L.A.P.D., (Los Angeles Police Department, California, USA) and a very good one at that. He also plays football, a running back, for the police department. He also is a work horse. Howard Jr. has a wonderful wife, Shanta and my two grandsons, Jonathan 9 and Jordan 2.
My second son Jeremy resides in Alberta Canada. Jeremy, a great athlete, won a full scholarship to Michigan State, for hockey. Jeremy was one of the best players on the hockey team while being an intrical part of the team at such an early stage of his college freshman year. He was on the first line. The only player to have free roam because of his ability for being a play maker, his exceptional speed and his ability to handle the puck. Unfortunately, age played as a negative conclusion on my young upstarts college career. He lost his focus from hockey and fell into the teenage party syndrome. We've all been there and done that, so I understand, but I'm very proud of him. He went back to Canada, projected his focus again on hockey and is now being noticed by the NHL and WHL hockey leagues. Trial, tribulation and maturity has established itself with my son. He's learned how to channel his energies to more positive goals.
Last but not least, my one and only daughter Amber Nicole Jackson, whom I held on to her name prior to her arrival. I had her name to bestow on Jeremy who turned out to be a boy. At any rate, the way to a man's heart is not the food he eats, it's the daughter he spoils. I spend a lot of time with my eight your old tyke. She is the apple of my eye, especially during the difficult time of divorce. Life is all that you make of it and I'm making the best of it, regardless of the ups and downs, there's always the better days. My children are my life. It took me such a long time to realize that life is truly all about family, because that's what has kept me going all these years.
Achievements and Awards

2003 Battle of Atlanta Centurion Club "Enthusiasm and Unwavering Principles"
2003 County of Los Angeles "Commendation for Outstanding Contributions to Youth Athletics"
2003 California Legislative Assembly "Certification of Recognition for Enhancing Community quality of Life"
2003 State of California "Certificate of Recognition"
2003 Martial Arts History Museum "Martial Arts Hall of Fame" (Right)
2003 Lifetime Achievement Award "Outstanding contributions to Martial Arts and the Sport of Karate" March Madness
2003 Living Legends "Pioneer Award"
2002 Most Inspirational Award UFAF
2002 7th degree black belt in Chun Kuk Do UFAF, Chuck Norris System
2002 Top Ten Athletic Achievement Award to "The California Flash"
2002 "Outstanding Contributions to the Martial Arts"
1997 Martial Arts Museum of America "Award for Excellence"
1992 Michigan Karate Hall of Fame "Outstanding Contributions to the Growth of Martial Arts in the United States"
1988 American Karate Black Belt Association "American Warrior"
1986 "Outstanding Contribution in Non-Contact Karate, Professional Boxing, World Welterweight Champion in Full-Contact Karate and Professionalism as a Fighter"
1981 "World Jr. Welterweight Champion for 10 rounds in Tokyo, Japan"
1974 Black Belt Hall of Fame "Karate Player Award" by Black Belt Magazine
1973-1974 Golden Fist Award for "Outstanding Competitor"
1973 Battle of Atlanta Tournament of Champions "Grand Champion"
1972 All Star Black Belt Team Championships "Super Star"