We often talk about those we lost on these pages in reference to what they accomplished as a fighter. However, what a lot of us forget about is who these individuals are as a person outside the ring.
In the movie Braveheart there is a saying by William Wallace which goes,
"Every man dies, not every man really lives."
Jimmy Zbilski's life was far beyond his accomplishments in the ring or as a martial artist.
Jimmy
TRULY LIVED!
Like many I meet along the IKF Journey, I never get to really spend a lot of time getting to know people like Jimmy. Thankfully his brother Rob and I worked together for many years and if you know Rob and Jimmy, when your with one, the other is not far behind.
Together these two shared a strong passion for the fight sports. Rob always played the serious responsible one while Jimmy, well Jimmy got to play the part ALL the rest of us wanted to be... The best looking guy in the room with the biggest smile and that unforgettable infectious laugh. No wonder Jimmy always had the ladies around him.
Confidence alone is a great attraction, and Jimmy never lacked any confidence. However, he was not just a talker... Whatever jimmy claimed, he never had any problem backing it up. Something we all know comes with being a Champion.
James R. Zbilski
Was born February 27th, 1969
in Chicago.
He passed away on November 18th, 2014.

He was the son of Roland (Jill) Zbilski and Catherine Blome.
The words of his Obituary read,
"He put his heart and soul into the sport and the people he loved and both were better for it. He loved animals of all kinds and enjoyed spending his free time in the Northwoods."
Jimmy is survived by his parents, Roland (Jill) and Catherine Blome; brother, Robert (Kim); and sisters, Janet (Scott) Fischer and Heather (Shaun) Charnota.
He was loved dearly by his nieces and nephews, Ashley, Amanda and Bradley Zbilski, Collin and Nicole Fischer and Cassie Charnota.
Although we don't know all the dates and details of all the Martial Art titles he won, we do know of a few which include the following.
4th Degree Black Belt

Multiple Time PKC Kickboxing Champion

IKF Pro United States Kickboxing Champion

Number 1 IKF Ranked Super Welterweight

1996 Chicago Golden Glove Welterweight Boxing Champion
Jimmy's Passion for the fight sports, martial arts and more so, LIFE stayed with him to the end. He left us with those memories of that big bright smile and that look in his eye that in so many ways always said, "Bring It On" to any challenge he faced along the way...
We will miss you Jimmy and we will always remember, your smile and laughter were the light that brought sunshine to any room...

Rest in Peace Jimmy,
You're one of God's Champions now...

__________________________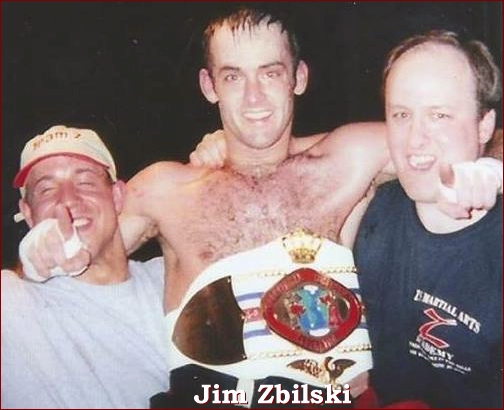 L-R: Kevin Miller, Jim Zbilski and Rob Zbilski.