How do you break a Champion?
Let this story answer that question.


Ramona "Eagle" Gatto (L) can tell you exactly whats that like. In front of a crowd of over 4,000 people back on May 13th, 1995, in San Jose, CA, USA, it was on a co-sanctioned event between the IKF and the ISKA promoted by Scott Coker. The bout in question featured IKF Woman's World Champion Ramona "Eagle" Gatto (L) against Olga Vlasova (R, 9-2/3) of Moscow, Russia. The bout was sanctioned for Gatto's ISKA World Title and the vacant IKF World Flyweight Title.
However, to put this lightly.
On this night, The Eagle was flat out ROBBED!
Since the event was co-sanctioned, out of curtesy, the IKF allowed the ISKA to appoint 2 of the 3 judges for the bout. The ISKA selected Dwight Brown (Who Gatto already had a protest against from a previous bout which according to protest rules, he wasn't even suppose to be allowed at ringside let alone be a judge for one of Gatto's bouts... LET ALONE A WORLD TITLE BOUT!) and Igor Oranski of Russia had told IKF President Steve Fossum at the weigh-ins a day earlier that he was Gatto's opponents (Olga Vlasova) "PROMOTER & MANAGER". However, no one informed Fossum or Gatto before the fight that he was now appointed as a judge of the bout.
When Gatto entered the ring, she was focused on the bout and didn't bother to ask about who the judges were. Both her and IKF Representative Steve Fossum simply trusted in the ISKA's selection of these judges. Gatto had no idea who the judges were. However adding to the drama, Fossum never knew of the protest Gatto had against Dwight Brown. In fact, Brown sat next to Fossum during the entire bout and wait till you hear what he told Fossum mid way through the bout...
During the break of the 6th round, after Brown scored his card he noticed that Fossum saw him score the round for Vlasova of Russia. So he asked Fossum if he saw the bout that way. Fossum said "No, I didn't see it that way at all." and Brown's reply was, "Lets just say that Gatto will have to knock her out to win this one." Fossum shruged it off as just a comment Brown was making.
When the bout came to an end, it was known that the 3rd judge was appointed by the California State Athletic Commission. Experienced judge Susan Thomas (Many years of Martial arts Experience as a martial artist and as an official) seemed to be the only neutral judge of the three. As the judges scores were read, Thomas scored the bout 98 to 92.5 Gatto. (The ridiculous ISKA HALF POINT System was used in the scoring of this bout)
However, the other judges, Brown and Oranski saw the bout very differently. Brown had the bout 99 to 97.5 and Oranski scored it 99.5 to 97.5, both for Vlasova of Russia and scores so close it was almost as if they preplanned their scores. As Gatto had heard both judges names, she quickly realized something wasn't right.
Obviously, Gatto was OUTRAGED (L) in the ring and burst over to Brown and let him have a piece of her mind. Gatto refused a rematch since it was later made clear that the rematch idea was the motivation of the decision. They all thought Gatto would jump at a re-match but it would now need to be in Russia for a big billed "REMATCH!" Brown and Oranski knew there was no other way to bring a big name draw to fight in Russia other than to force her to want a revenge match. However their strategy backfired when Gatto refused, vowing to never fight for the ISKA again and basically, lost all drive to fight at all.
Within the weeks following the bout the IKF organized 5 different independent judge reviews from 15 different judges around the world. When all the reviews were back, all 5 groups of judges scored Gatto the unanimous bout winner and the title was awarded to Gatto.
Regardless of the outcome, Gatto knew her days of fighting were now limited. ISKA got the Champion they wanted and if she ever wanted to fight for her World title she would be forced to go to Russia and face Brown and Oranski again. Despite being offered other bouts, Gatto refused them all and never fought again and officially retired in 2000.
Her spirit broke by the politics of some of those who dared to call themselves leaders in our sport. Her career ended with a record of 23 wins, her 1 loss to Kathy Long, 1 draw with 19 wins coming by the KO or TKO.
It marked a point in IKF Sanctioning history that forced the IKF to never again be the "Nice Guy" and allow another organization to have full say on officials. Now the IKF researches ALL event officials. It established a stern rule that anytime an IKF World Title is up for grabs, there will be at least 2 IKF Judges or 1 Judge and the Referee involved in any IKF World Title bout.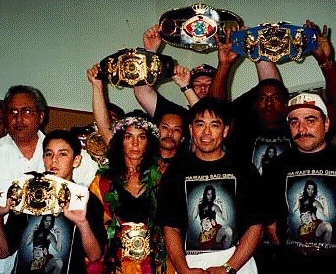 Here's A List Of Gatto's 9 World Title Accomplishments

IKF Pro Woman's IR Flyweight World Champion
IKF Pro Woman's IR Bantamweight World Champion
IKF Pro Woman's IR Featherweight World Champion

ISKA Pro Woman's Flyweight World Champion
ISKA Pro Woman's Bantamweight World Champion
ISKA Pro Woman's Featherweight World Champion

KICK Pro Woman's Bantamweight World Champion
KICK Pro Woman's Featherweight World Champion

IFCA Pro Woman's Flyweight World Champion.