Information for this page was created for cliffmagicthomas.com by their site webmaster, Mr. Henry Ascasio and the website owner, Mr. Tom McKay. The site can be found at cliffmagicthomas.com
---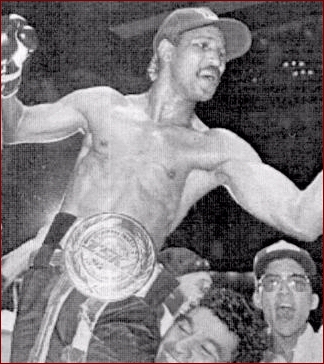 "Magic"
Cliff Thomas
"The Black Knight Of Kickboxing"
Cliff With His Fifth World Title Belt (At Right)
7-Time World Champion (1980-2003)
Starred On NBC and ESPN
"152 Stitches Etched Across His Chest In The Form Of A Cross Became An Asset-Not A Burden."
Under instructor Robert Nava in El Paso, Texas, Cliff earned his Blackbelt back in 1977. He has since earned a fourth degree black belt in Chinese Kenpo Karate and a fifth degree black belt in Tae Kwon Do. His Sifu in Dallas is David Mason. Kickboxing instructors of note were Demetrius Havanas, Joe Soto and Ishmael Robles. His primary boxing coach was Rocky Galarza. Other boxing coaches that were instrumental in Cliff's career were George Simpson Villa, George Mason and Ralph Ruiz. Assistant coaches were Johnny Ybarra, Tom McKay and many other coaches in Dallas and El Paso.
Managers And Promoters: Hilary Sandoval and Tony Sandoval (deceased). These two brothers were also the founder's of "Battlestar Karatica."
August 8, 1980: TKO's Gordon Franks in third round to win the PKA Super Lightweight World Championship.
January 24, 1981: Defeats Richard Jackson in an exciting twelve rounds to retain world title.
April 18, 1981: KO's Albuquerque's Gary Ortiz in two rounds.
July 24, 1981: Defends his title by TKO over Paul Vizzio on NBC Sports World; dedicated fight to Demitrius Havanas, his trainer, and co-manager Tony Sandoval, both killed in a plane crash en route to the scheduled bout.
May 31, 1982: Defeats ranked contender, Tony Lopez, by decision for Lightweight Title shot. The PKA changed the weight divisions and that was devastating for a while to the 5'10" Thomas because he would have to lose weight to obtain a rubber match with Vizzio.
August 14, 1982: TKO's Norris William in the tenth round, becoming the PKA Lightweight World Champion. With the victory, he became the first fighter in PKA history to win world titles in two separate weight divisions.
November 27, 1982: Retains Lightweight Title by defeating Tony Gutierrez.
August 22, 1983: After losing a questionable decision to Tony Rosser in March of 1983, Cliff retains the Lightweight Championship in an exciting match whereby he decked Rosser three times. The Rosser victory made Cliff a three-time world champion.
February 16, 1984: Cliff defends title with a third round knockout of highly ranked and dangerous Robert Visitation.
April 6, 1984: In a bout Cliff was really primed for, he chewed up Tommy Williams and stopped him in the eighth round to win the Light Welterweight World Crown. That made him the first kickboxer to win a world title in three weight divisions. He also became the first and only kickboxer of that time to become a four-time world champion as well as the only kickboxer to hold two titles simultaneously.
April 8, 1984: The PKA had a rule preventing a kickboxer from holding two titles at the same time. So, Cliff retired his Light Welterweight title.
August 26, 1984: Cliff defends his title by knocking down England's Nick McClellan five times before stopping the Brit in the seventh round.
November 3, 1984: Cliff takes out George Sorrell in four rounds.
March 2, 1985: Cliff defends his Lightweight Title over Kevin Hillhouse by knockout in the seventh round.
June 8, 1985: Cliff defends his title again, knocking out Gary Garner of Florida in the seventh round.
October 2,1985: The "Magic" Man disposed of Byron Robinson by KO in the fourth round. With the victory, Thomas had successfully defended his title against eight of the top-ten rated opponents in his weight division.
March 14,1987: Cliff won his fifth world title, the ISKA Light Welterweight Championship by knocking out Thomas Chesterfield in the ninth round and later, repeated the knockout in the eighth round at Chesterfield's home turf in Murfreesburo, Tennessee.
August 12, 1988: Cliff defended his light welterweight title by KO'ing Eric Melton in the fourth round.
May 25, 2002: After semi-retirement, Cliff returns to KO Canada's Thomas Downing in the fifth round to win the KICK Middleweight World Championship. Cliff had now won world championships six times.
September 29, 2002: Forty-five-year old Cliff Thomas knocks down North American Champion Michael Corleone eight times to win another KICK World Championship.
Finally, after nearly twenty years in the ring, Cliff retired (We think...).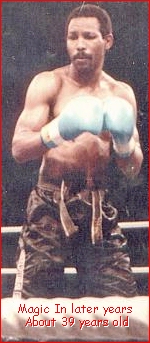 Other Notable Championship Victory's: Cliff had two tough fights with Davy Johnston. In the first match, Cliff won a decision and in the second fight, a championship in Las Vegas, Nevada, Cliff won by TKO in the fifth round. However Johnston could punch and broke Cliff's nose in the first match.
Final record: Cliff Thomas won sixty-nine (69) bouts lost five (5) and drew three (3). He was never officially knocked down or knocked out. More importantly, he never ducked a contender.
Exceptional Achievement: Cliff "Magic" Thomas was Kickboxing's first three-time world title-holder, four-time title-holder, five-time title-holder, six-time title-holder and seven-time world title-holder.
Magazines And Publications Featuring Cliff Thomas: Sport Karate Magazine, Official Karate Magazine, Karate Illustrated Magazine, Inside Karate, Today USA, Today Fighting Stars Magazine, Stars And Stripes, New York Times, El Paso Times, El Paso Magazine, Ft. Worth Star Telegram.
Books: Featured in Arthur Ashes book on famous black athletes. The Original Martial Arts Encyclopedia. The Black Knight of Kickboxing, "Magic, Magic, Magic" by Thomas McKay, 2004.
Movies: Lone Wolf McQuade starring Chuck Norris. Key Witness, Paper Dragons.
Achievement Awards: World Karate Union Hall Of Fame, 2004. Texas Martial Arts Hall Of Fame, 2000. El Paso Athletic Hall Of Fame, 1999. El Paso Boxing/Karate Hall Of Fame, 1994. El Paso Cliff Thomas Day Established 1985 Special Achievement Award, 1980. Kickboxer Magazine award.
---
Cliff makes apperances now and you can also e-mail him at clifthom1@msn.com
---
BACK TO WHERE ARE THEY NOW PAGE
CLICK HERE