Director of Nevada State Athletic Commission
Marc Ratner
Speaks out on Kickboxing in Las Vegas.
MAY, 2001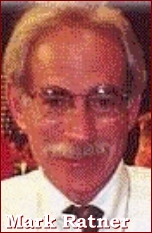 The K-1 event features some of the best heavyweight kickboxers and other martial art styles from around the world. Many celebrities attended the prestigious event on May 5th, 2001 at the Las Vegas Mirage Hotel. But one of the most well known figures in attendance had to be the Director of the Nevada State Athletic Commission Marc Ratner. (Right)
The soft spoken Ratner seems perhaps a little timid and almost shy at first impression but it only takes a moment of conversation with him to realize that he is a very intelligent, confident, and serious opponent to contend with . I 'm sure fighters like former heavyweight champion Mike Tyson quickly realized that Mr. Ratner may be soft spoken but carries a big punch.
It was Mr. Ratner and his board of commissioners that lead the charge in issuing Mr. Tyson an almost lethal blow to his elaborate boxing career. The now famous "Bite of the Century", in regards to Mike Tyson's biting of champion Evander Holyfield's ear, forced the Nevada Commission to suspend Mr. Tyson's Boxing license in the State of Nevada. This is a major blow to any boxer seeking the big purses and promotions provided by the wealthy casinos to entertain their high rolling guest.
I had the pleasure of speaking with Mr. Ratner on several issues including his thoughts on Mike Tyson. I think readers may be surprised at some of his comments as well as pleased to know of his feeling towards the sport of kick boxing.
Interview with Director of the Nevada State Athletic Commission Mark Ratner, May 5th, 2001 in Las Vegas, Nevada at the K-1 Event...
Director Ratner is sincerely a fan of kickboxing and seems to really be making an all-out effort to allow the sport of kickboxing to shine in Las Vegas, the city of lights. We can all be thankful he's in our corner. I'm sure he will be at ringside for the upcoming K-1 event August 11th at the beautiful Bellagio Hotel and Casino in Las Vegas, Nevada. We hope to see you there!
All information on this page Copyright by Johnny Davis, 2001
________________________________
Back To The Articles Page CLICK HERE!