SATURDAY, December 4th, 2004, AT 9:55 PM, PT
Bonjasky
Defends Title At
K-1 World GP
By Monty DiPietro - K-1 Japan
Pictures Courtesy K-1
TOKYO, December 4, 2004: It took him three hard bouts and a record 12 total rounds of fighting to do so, but Remy Bonjasky (Below Right) of the Netherlands persevered to defend his K-1 World Grand Prix Championship at the Tokyo Dome today. Bonjasky became just the third man to win the world's most prestigious fightsport title two years in a row. (Fellow Dutch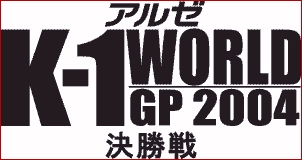 fighters Peter Aerts, 1994/1995; and Ernesto Hoost, 1999/2000, are the others). The 28 year-old Muay Thai stylist also picked up a cool $400,000 (US) in prize money for emerging as the "King of Kings," and proved beyond a doubt that he belongs at the forefront of K-1's new generation of elite fighters.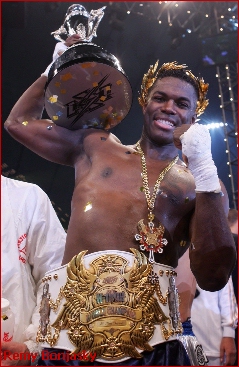 This was the 12th K-1 World GP Championship, completing the sport's first full cycle on the 12 year Chinese astrological calendar. It is fitting that Bonjasky was born in 1976, the 'Year of the Dragon,' for he displayed the sort of heart and spirit attributed to that warrior class. Bonjasky's hard-fought victory capped a night of action which included several surprising upsets and some controversial decisions.
The tournament's first quarterfinal matchup featured Muay Thai wunderkind Kaoklai Kaennorsing of Thailand. At just 21 years of age and 78kg (172 lbs.) Kaoklai is both the youngest and the lightest fighter ever to compete in the Final. He beat one of the biggest and the best, Alexey Ignashov, to earn his spot here. Kaoklai's opponent, American slugger Mighty Mo, was the heaviest fighter in the Final at 127kg (280 lbs.). Mo won the Battle at the Bellagio III in Las Vegas this August, then KO'd Gary Goodridge at the Final Elimination to get here.
From the first bell, these two did what they were expected to do. Kaoklai stayed light on his feet, circling the American, tossing in his hard low kicks, while Mo strove to answer every kick with a punch or two. Mo got some punches in to Kaoklai's midsection, and didn't look half bad in the early going -- but Kaoklai generally stayed out of harm's way and was never really in any serious trouble here.
Mo also threw a couple of high kicks, which surprised many in the crowd. But there is that old adage about not trying to beat a man at his own game -- instead of bringing on an all-out punching attack, Mo spent a whole lot of time outside, cautious. This proved his downfall when, in the blink of an eye, the lightning-quick Kaoklai launched a jumping high kick which connected just below Mo's left ear to send the big guy to the canvas in a heap. (There is also an old adage about the big ones falling harder.) His head in la-la land, Mo stood up slowly and swayed for a spell, his rubbery legs barely able to support him, but it was no good. He was finished, at 2:40 of the first round.
Ray Sefo of New Zealand met Japanese Seidokaikan fighter Musashi in the second bout. In the best performance of his life, Musashi defeated Sefo and Peter Aerts last year's GP Final, before losing the Championship bout to Remy Bonjasky by decision. But this year Sefo (a clear favorite in the unofficial international fight writers' poll) stepped into the ring looking to be in the best shape of his fighting career.
The first round saw the two tentative, trading low kicks and going to the clinch when they got close. Not a lot of action, but Musashi did just miss with a high kick. In round two, it was Sefo's turn to just miss with a high kick, and in the last bit of the round the Kiwi moved in more, threading a nice left through Musashi's guard to finish the round with some momentum.
In the third, Sefo, as he is wont to do, dropped his guard and taunted his opponent. But Musashi would not be intimidated, and although the Japanese fighter was frequently in defensive mode, he did get his licks in. Judges saw the contest as even and so an extra round was prescribed. Here, a focused Musashi kept his guard high and close and threw kicks. When the distance closed, Sefo looked to get the uppercut in, while Musashi worked the knees, connecting once with what might have been the best strike of the round. There was more action here, and although neither fighter really dominated, judges reckoned Musashi had the edge, and handed him a narrow but unanimous decision.
Sefo was not happy with the decision, refusing to fault Musashi but bitterly criticizing the judges in his post-fight interview.
Peter Aerts of the Netherlands stepped in against South African boxer Francois "The White Buffalo" Botha in the first of the 'Dutch Bracket' matchups. Botha has shown steady improvement in K-1, and scored a major upset over Jerome LeBanner at the Final Elimination to earn his place here. Aerts, meanwhile, is the consummate K-1 veteran. He holds the unique distinction of having participated in all 12 World GPs, winning the title three times along the way.
This third fight produced a third upset. Aerts started out looking good, moving well and connecting with three hard low kicks and a couple of high kicks before Botha had even thrown a punch. Incredibly, Botha won this fight without landing a single blow, when, less than a minute in, Aerts suddenly turned away after connecting with a low kick. As the "Lumberjack" shook his right leg in pain, the referee had no choice but to step in and call a standing count. But Aerts could not recover from what was later diagnosed as a torn ligament in his calf. Seconds after the fight had resumed, an obviously distressed Aerts again turned away from his opponent, and under K-1's two downs in a round rule, he was out and Botha was through to the semis.
In what was probably the most highly-anticipated fight of the year, Bonjasky locked horns in the fourth quarterfinal with K-1's only four-time GP Champion, Ernesto Hoost. Revered for his flying knees and kicks, Bonjasky is a definite crowd favorite. But Hoost, who turns 40 next year, has a special place in K-1 fans' hearts. The man they call "Mr. Perfect" is considering retirement, and said at the pre-event press conference that he wanted to make his exit as a five-time World GP Champion. Such is the respect afforded these two Dutch fighters, that more than half the respondents to a K-1 USA Website poll correctly predicted that the victor in this bout would go on to win the tournament.
Hoost was the more aggressive in the first, putting his head down and muscling in with punch combinations, grabbing Bonjasky's extended leg and throwing the low kick, countering Bonjasky's relatively undisciplined attacks with textbook combinations. Bonjasky took the initiative halfway through the round, but Hoost was good on the defense. The second was slower, Hoost leading with the right straight punch, Bonjasky having his moments with kick and punch combinations, but both fighters generally cautious.
In the third, Hoost continued to lead with the right straight, fighting from an uncharacteristically wide stance, and got more than a few solid body blows in on his opponent. But Bonjasky now intensified his knee and kicking attacks, and when he got a leg up in while coming off the ropes, Hoost went down -- although this was ruled a slip. Bonjasky also worked the knees from the clinch here, and when the final bell sounded judges could not pick a winner.
The extra round saw some good attempts from both fighters, Hoost intent on boxing, Bonjasky working the legs to some effect. A Bonjasky uppercut made partial contact here, and judges must have liked Bonjasky's spunk -- rewarding him with a narrow decision and a trip to the semis.
Like Sefo before him, the usually gracious Hoost was less than pleased with the judges' decision: "I landed the most blows, I won the fight!" he said. Hoost also made a call for international judges at K-1 events.
The first of the semis, between Kaoklai and Musashi, was a display of kicking prowess. Kaoklai circled, controlling the distance with front kicks while looking for openings, striking quickly with his legs. Musashi the natural southpaw switch-hit from the orthodox stance, and showed good defensive technique. But when he stumbled, Kaoklai flew in with a flying knee that made partial contact. This happened again in the second, and Kaoklai was now initiating more of the attacks. Kaoklai threw punches here, but these did not seem to bother Musashi. Ever circling, Kaoklai kept putting in the kicks and occasional punch, while Musashi's power was mostly stymied by the Thai fighter's great speed and evasive techniques. At the end of the second, Kaoklai was ahead by the narrowest of margins on two cards.
In the third, Musashi put a high kick up that had 'KO' written all over it, but Kaoklai read it perfectly and deftly ducked out of harm's way at the last instant. So it was throughout the fight, and Musashi was looking increasingly frustrated here until he switched to his southpaw stance and began firing the low kicks in. At the bell, one judge had Kaoklai up but two saw it even and so the bout went to an extra round.
Here, Kaoklai threw high kicks but Musashi's defense was up to the task, and the Japanese fighter began to score points with hard low kicks. Although it was close, judges decided Musashi has inflicted more punishment and so gave him the decision and a trip to the finals for the second consecutive year.
In the second semi, Bonjasky came out flying, but as the first round progressed it was Botha who began to set the pace, stepping in with powerful body blows -- which Bonjasky seemed unsure of just how to counter. In round two it was more of the same, Botha's meat and potatoes punch attack proving effective, Bonjasky tossing in low kicks but unable to get his fancy stuff going. By the time the third round started, Botha had thrown a total of just three kicks, but thanks mainly to the many body blows, was ahead on all three cards.
In the third, Bonjasky changed gears and worked the knees from the clinch, although this proximity permitted Botha to get a nice uppercut in. But Bonjasky's low kicks were now taking their toll, and soon Botha's left leg was clearly bothering him. Bonjasky got a kick up to Botha's head that didn't even faze the South African, and the Defending Champion was in danger of elimination when, just seconds from the clapper, he threw a second right kick up to the side of Botha's head to score a down. It was just what Bonjasky needed to take the decision and advance to the final.
The prospect of a Japanese Champion raised the decibel level in the Tokyo Dome dramatically as Musashi made his way to the ring for his showdown with Bonjasky -- a rematch of the 2003 final. The two were battle-weary for sure, Musashi had already fought eight rounds, Bonjasky seven on the night. Here, they would fight another five, as judges called for not one but two extra rounds.
Just 22 seconds into the fight, Bonjasky planted an innocent right straight punch on Musashi's nose which surprised the Japanese fighter and dropped him -- it was clear there was little or no damage from the blow, but the down did count for points, and so from a very early point in this fight, Musashi was forced to play catch-up. After a less-than-overwhelming performances in his first two bouts, Bonjasky was finally starting to look like Bonjasky.
In the second, Musashi, fighting again from the orthodox stance, worked the low kicks to effect, and Bonjasky briefly seemed to be in trouble when three hard low kicks dropped him to the canvas. The crowd erupted in a cheer, but the fall was quickly waved off as a slip. Bonjasky countered with punches through this round, but these did not seem to bother Musashi, and by now the fight was starting to look almost even.
In the third something truly weird happened. While chasing Musashi down, Bonjasky launched a flying kick at his head. The Japanese fighter ducked out of harm's way and Bonjasky sailed up, up, and away -- vaulting over the ropes head-first and falling onto the apron before smashing through the ringside photographers and tumbling to the ground outside the ring. There was a tense pause in the action as a stunned Bonjasky recomposed, and doctors had a look at the fighter before clearing him to continue. Now mindful perhaps of the dangers of high-flying attacks, Bonjasky began boxing again, putting his opponent into retreat more than once -- although Musashi did counter with some low kicks for points here. Then, incredibly, when Bonjasky again threw a high kick, he again ended up dangling head-first over the ropes. This time, veteran referee Nobuaki Kakuda quickly grabbed the Dutch fighter and pulled him back into the ring. The round ended with Musashi putting in the low kicks and Bonjasky working the knees. One judge liked Bonjasky here, but the other two, again, wanted to see an extra round before deciding.
Bonjasky manhandled Musashi in the early part of the fourth, frantic with high kicks, a solid knee and some pretty good punch and kick combinations. Musashi was mostly motionless through this one, but did rally with low kicks in the last part of the round. Again, one judge liked Bonjasky but the other two scored a draw to force a fifth and final round.
Here, Bonjasky was fatigued and Musashi was less than sharp. Bonjasky swatted Musashi with punches and worked to get the knee up, but by now both fighters were nearing fecklessness. Bonjasky still had just a little more energy in reserve, though, and got a high kick up to Musashi's head in the final seconds. Five rounds is the limit, so now judges had to call this one, and they did so for Bonjasky.
Bonjasky appeared at his post-fight interview with his left arm in a sling, this due a pulled muscle suffered in his first fight. "We knew the fight with Ernesto would be tough," he said, "so fortunately, we trained for endurance. Some people had suggested I only won last year because Ernesto wasn't in the tournament," continued Bonjasky, "so it was big to beat him, as he is a great fighter and four-time GP Champion. I am happy to win, and I love Japan!"
Asked for their reaction to the judges' call for extra rounds in his dance with Musashi, a diplomatic Bonjasky and his trainer Andre Maennaart would only say they found it "strange." In his post-tournament comments, K-1 Event Producer Sadaharu Tanikawa promised that the K-1 organization would look into the criticism of the judging raised by several tournament fighters.
In other action on the card:
The first reserve bout pitted K-1 veteran Jerome LeBanner of France against Japanese tough guy Hiromi Amada. LeBanner was aggressive here, throwing low and high kicks from the bell and moving in with hooks midway through the first. Amada stood his ground, but in the second took a low kick that stung his left knee. Wincing in pain, Amada went down for a count, and although he was able to struggle back to his feet just in time, he was clearly compromised, and after taking another blow to the same lame leg he went down for good, giving LeBanner the win.
The second reserve fight, between French kickboxer Cyril Abidi and slugger Gary Goodridge of Trinidad and Tobago, was nothing less than thrilling. From the instant the first bell sounded, the fighters conflated into a flailing mass of kicks and punches. Abidi had the high kicks flying every which way, Goodridge was relentless with the one-two haymakers. Although this fight lasted but a single round, there was a truckload of punishment unloaded in those three minutes. There is no sense attempting a blow-by-blow account of this one, as there were almost 100 strikes thrown in what can best be described as an all-out bar brawl. Initially, after Abidi was corralled into the corner, it appeared that Goodridge had the upper hand, especially when an uppercut rattled the Frenchman. But the momentum reversed midway through the round. Abidi got out and landed perhaps a dozen unanswered punches on his opponent before he stopped, exhausted. Given the chance to catch his breath, Goodridge somehow summoned the strength he needed to rally, and got the fists flying to down Abidi with a right just seconds from the clapper. Goodridge charged Abidi when the fight resumed, and got another right in for a second down and the win.
The K-1 World Grand Prix 2004 Final attracted a sellout crowd of 64,819 to the Tokyo Dome. It was same-day broadcast in Japan on the Fuji TV network; on pay-per-view in Korea; and in the United States on inDemand, Direct TV and TVN pay-per-view. The GP Final will be broadcast in some 100 countries on a delayed basis, check with your local provider for details. The official results click HERE!
Back To The K-1 Grand Prix Page