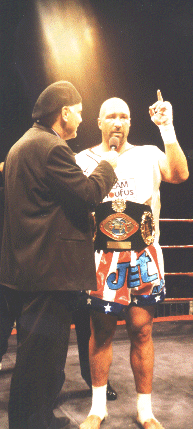 Rick Roufus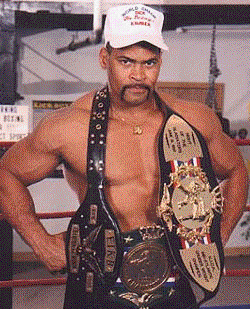 Dick Kimber
This event was the turning point as to how the IKF gets involved with Pro Purses. Before this event, the IKF had always trusted Promoters and Athletic Commissions when they assured them that the Purse money was honestly going to be paid. And why question these promoters who had already paid Don Wilson in full his $150,000.00 purse and Dick Kimber a $10,000 training fee in January. They had also already paid all the PPV deposits, the IKF helped greatly with the sanctioning fee expenses charging for 5 World Titles, 1 US Title and 6 Title Belts only $2,855.00. The Promoters had also already paid nearly $20,000 in plane tickets for fighters, officials and special guests as well.
Although the Massachusetts State Athletic Commission assured the IKF that all the purse money was covered in the promoters license, it was a shock to EVERYONE after the event when none of the Fighters Checks could be cashed and ALL of the checks the promoter wrote to each of them all later BOUNCED!
Rick Roufus (Left Below) was on top of the World After Defeating Stan Longinidis and winning his IKF World Title on Live PPV TV at Mass Destruction. However, it was the emotional trauma of not being paid his Purse that would quickly take him out of his winning ZONE!
Although Roufus was paid $10,000 in training expenses up front, the Promoter never paid Roufus his actual purse of $91,000. YES, "$91,000!" After the event, promoters were no where to be found, leaving IKF President Steve Fossum alone in the arena with all the fighters and trainers trying to deal with things. The box office which Fossum was told by the promoters would cash everyone's check was closed and the Massachusetts State Athletic Commission had left the building.
After an extensive search of the arena, Fossum found co-promoter Scott Haddad. Haddad who was discussing the un-paid purses with Roufus' manager and trainer in a private conference room. While the meeting took place, Dick Kimber (Pictured Below Left) came in and Haddad paid him $10,000 in cash right in front of Fossum, Roufus' manager and trainer.
(Kimber had already received $20,000 for training fees around January of 1999 and demanded to be paid another $20,000 in cashiers checks only 3 hours before the event or he wouldn't fight. We were told later that the cashiers checks were for the other fighters. There were many issues that revolved around Kimber's pay as a possible partner of the promotion and when and how he was to be paid but these are all speculated or unconfirmed and now very hard to believe after we have seen the actions taken by the promoters to pay all the other fighters. ESPECIALLY hard to believe since Haddad never brought these issues up when he paid Kimber $10,000 in cash AFTER the event. )
Haddad apologized that he didn't have all the fighters "CASH" on hand but assured everyone their checks would clear that week. Of course... They never did.
To make Haddad's credibility worse, he "FAKED" a phone conversation with co-promoter Phil Malonson acting as if Malonson was assuring him he could meet Roufus and Longinidis in the morning with their full purse. However, it was all a bunch of lies as no one ever met Roufus or his trainers or Longinidis the next day. The week after the event, only 2 checks cleared the bank. Curtis Bush's $2,500 purse and Juan Adams check for $1,000. Adams was a fighter who didn't even fight. Some time later, Kevin Rosier was paid half his $5,000 purse. In the end, who didn't get paid?
Here's the list;
Rick Roufus, $91,000.00
Stan Longinidis, $35,000.00
Tom Kimber, $6,000.00.00
Mike Labree, $5,000.00
Bernard Robinson, $4,500.00
Paul Biafore, $4,000.00
Kevin Rosier, $2,500.00
Christina Rondu, $2,000.00
Kellie Morse, $1,000.00.





Dick Kimber, (Left) was paid $50,000 prior to his bout with Wilson. However he claimed he was still owed another $100,000.00 however a contract for this was never seen by the IKF.
So, you wonder now if it was "The GREATEST NIGHT IN KICKBOXING?"
For what Roufus and the other Champions Accomplished, IT TRULY WAS!
For what promoters Phil Malonson and Scott Haddad did "EMOTIONALLY" to all those who walked away with only a bounced check?

NO WAY!
We await their fate for As the saying goes,
"What goes around, Comes Around!"
Has it changed the way the IKF deals with EVERY PROMOTER who is responsible for a Pro Purse?
You better believe it has.
Now ALL IKF Promoters must hand over 100% CASH to the IKF Representative BEFORE the EVENT or the event is CANCELLED! No EXCEPTIONS!
Although the Massachusetts State Athletic Commission was responsible, none of the fighters took legal action against them or the promoters as of this writing, 9/27/00.
That is, at least not "YET"...
The lesson learned from Mass Destruction is a lesson we here at the IKF will NEVER FORGET!
Too bad it came at such a high price of all involved.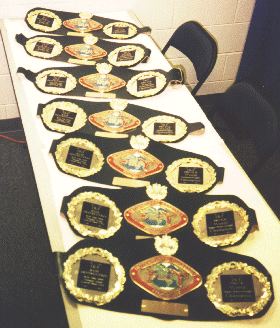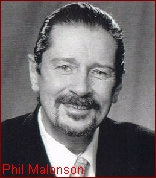 Phil Malonson





Longinidis & Roufus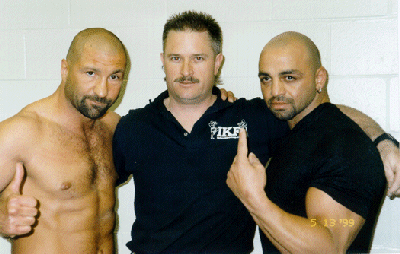 Rick Roufus, Steve Fossum and Stan Longinidis
share a moment after the weigh-ins for their
IKF World Title bout on the
MASS DESTRUCTION event in May 1999.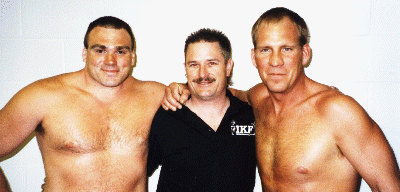 Kevin Rosier (L), IKF President Steve Fossum (C)
and Mike Labree (R) after Rosier & Labree
weighed in for their IKF World Title bout.
Labree defeated Rosier by TKO late in the fight to
win the IKF Pro World Full Contact Rules Super Heavyweight title.
They were smilin here,
but no one smiled after the event when their checks bounced.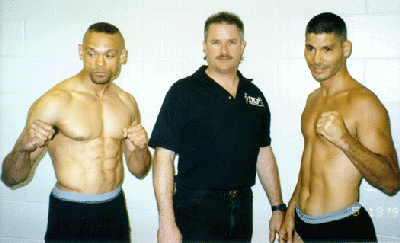 Tommy Kimber, (L) IKF President Steve Fossum (C)
and Curtis Bush (R) share a moment after Kimber and
Bush weighed in for their IKF World Title bout.
Kimber defeated Bush by Unanimous Decision
to win the
IKF Pro World Full Contact Rules Middleweight title.
____________________________________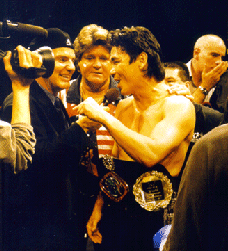 IKF World Cruiserweight Champion Don "The Dragon" Wilson responds with a smile when asked if he will fight again in the ring after his 3rd round TKO victory over Dick Kimber.
His response, "Anyone if the money's good." Wilson was the only fighter to be paid his full purse.
$150,000.00 which was paid prior to the event.
A lesson the veteran fighter Wilson learned long ago.


____________________________________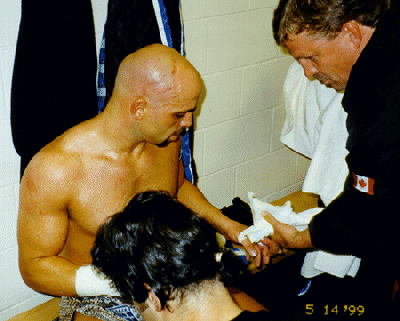 Stan Longinidis gets his hand wraps off in the locker room after he broke his foot and couldn't answer the bell for the 10th round against Rick Roufus.
Roufus was ahead on all 3 judges cards at the time of the stop, 89-81, 88-81 and 86-83, all 3 for Roufus.
Longinidis was competitive in rounds 1-4 where the scores were 40-36 Longinidis, 39-38 Roufus and the final judge having it 38-38 even.
However, in round 5, Roufus landed a head kick which dropped Longinidis hard.
After it, Longinidis wasn't the same and never won another round on any judges cards.


____________________________________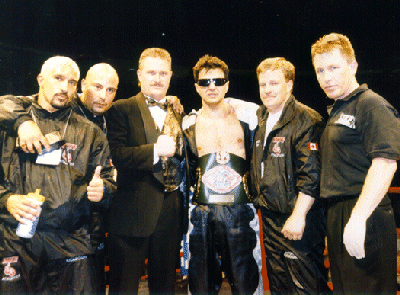 With a host of trainers, IKF World FCR Welterweight Champion Paul Biafore (Center/Glasses, Belt) poses with
IKF President Steve Fossum (left, Tux) of Biafore.
IKF referee John Schorlee is on the far right.
Schorlee stopped the bout at the end of the 4th round after Biafore landed several strong combinations on opponent Bernard Robinson.
Biafore was ahead on all the cards at the time, 40-36, 40-35 & 40-35.


____________________________________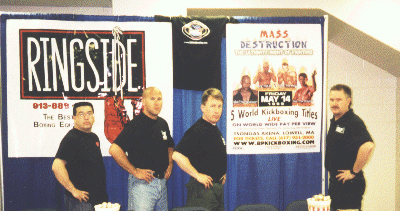 Part of the IKF Officials Crew of the Mass Destruction event,
World Referee Dan Stell (L) Past 2 time IKF Champion and now World Official Mike Dougherty,
IKF Referee John Schorlee and IKF President Steve Fossum.