WEDNESDAY, April 27th, 2005, AT 12:30 AM, PT
Reversal Of Decisions...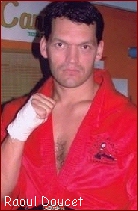 This bout took place in Montreal, Quebec Canada this last December. Raoul Doucet (Right) of Hawkesbury, Ontario, Canada met up with fellow Canadian Serge Lafond. From what we knew of this bout, Doucet seemed to be winning all the rounds until a questionable call in round 7. With about 20 seconds left Lafond landed a light punch to the side of Doucet's head. The punch made Doucet lean over and he touched his glove to the ring canvas and the referee called it a down and proceeded to give Doucet a standing 8 count. This of course gave Lafond the round which, according to sources, Doucet had been winning up until that point. This seemed to be the difference in the bout as Lafond took a very close split decision win.
Lafond did hit Doucet in the side of the head with a right hook in round 7, and it was a legit touch of the glove that does warrant a standing 8 count. However, Doucet was not only winning the round, he was winning the fight. When a fighter is dominating a round and takes a "1" shot that forces a standing 8 count, it is not always a clear 10-8 round. Thus the case here. Here is how "ALL" the judges scored this 7 round bout, and again note, ALL the judges scored it the same round for round as they did the Day vs Bartinelli bout.
Round 1: Lafond over Doucet 10-9.
Round 2: Doucet over Lafond 10-9.
Round 3: Lafond over Doucet 10-9.
Round 7: Doucet over Lafond 10-9.
Round 7: Doucet over Lafond 10-9.
Round 7: Doucet over Lafond 10-9.
Round 7: Lafond over Doucet 10-9. - Remember, this was the knockdown round when Doucet was given a standing 8 count.
Final score by all judges, Doucet 67, Lafond 66. Lafond kept busy, but Doucet was the one landing the power shots, especially his kicks. If not for the one shot that bent Doucet over just enough to touch his right hand to the mat, this bout would have easily been scored 68-65 for Doucet. On our kick count Doucet had 72 kicks to Lafond's 63, but Doucet's kicks were hitting and hitting hard when they did. In fact, we even had Lalond miss his kicks in both rounds 6 and 7, but we did not deduct the 2 points from the score above. This is because one never knows what a kick counter counts as a kick. In this case, it appeared Lalond was given a kick point every time he lifted his leg because in round 2 and 3 he almost missed his kicks too. So what happens here? Since the bout was so close in the scoring the judges ruled this bout a "No Contest" with a requested rematch.