Mr. Zbilski started his training in the martial arts in 1982. He obtained the level of 5th Degree Black Belt in 1997. He's the founder of Z's Martial Arts Academy and opened his first school in 1989. To date, he owns and operates 2 successful schools, one in Buffalo Grove and one in Lake in the Hills, Illinois, with a combined student base of over 400.
Z's Martial Arts Academy Kickboxing programs can be found in over 7 different Health Clubs & Park Districts throughout the state if Illinois, USA. As the Master Instructor of over 20 Black Belts in his system Shihan Rob has trained with and been certified by some of the top Martial Artists in the country.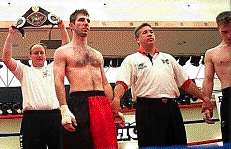 "I'm always looking for opportunities to train with other instructors in different forms of the arts not only to expand my knowledge, but to extend that knowledge to my students as well." It is this philosophy, among other things, that has brought such respect and loyalty from his students that will continue to drive Z's Martial Arts Academy to continued success.
(At Right, Mr. Zbilski -Standing Left- prepares to award one of the National Title Belts at the 2000 IKF/RINGSIDE USA National Amateur Tournament.)
A brief list of Shihan Rob Zbilski's certifications and accomplishments include;
MARTIAL ARTS ACCOMPLISHMENTS
6th Degree Black Belt

* Received 1st Degree Black Belt 1984
* Received 2nd Degree Black Belt 1989
* Received 3rd Degree Black Belt 1992
* Received 4th Degree Black Belt 1996
* Received 5th Degree Black Belt (Master Black Belt) 2000 By Shihan Dave Young

Dave Young: American Byu Kyoku Ryu Karate Association.

* Received 6th Degree "Honorary Grand Master" 2002
* 5th Degree Reylson Gracie.
* Certified in Reylson Gracie Jiu-Jitsu BCIP
* Certified Basic Course Instructor of Gracie Jiu-Jitsu.



KICKBOXING ACCOMPLISHMENTS

* Kickboxing experience began in 1982

* Since 1982 Rob has experienced every role in the Kickboxing arena including, but not limited to, Promoter, Manager, Trainer and Fighter.

* Inducted into the IKF, International Kickboxing Federation Hall of Fame as a Kickboxing Promoter and Trainer
* Trained over 20 PKC Amateur U.S. Champions From 1992 to 1995.
* Trained over 25 IKF U.S. and North American Amateur Champions 1999 – Present
* Trained Several Professional U.S., North American and World Champions. - The Highest Accomplishment for Kickboxing.

* On the Professional level he has had 2 World Champions (IKF World Champion Tommy Bach (Right) and Jerry Rhome), 1 Intercontinental Champion (Mike Nagy), 3 United States Champions, Jim Zbilski, (IKF),Rick Stellwagon (IKF) and Dan Seiwerth

United States Head Coach for Teams that fought in:

* Ukraine
* France
* Ireland
* Canada
* Poland

* IKF Certified Licensed Trainer.
* Promoted the Largest Annual Regional Kickboxing Championships since 1999. (IKF Regional)
* IKF Midwest Representative
* IKF Full Contact Rules World Representative.
* IKF Certified Professional & Amateur Judge.

BOXING ACCOMPLISHMENTS

* Licensed Professional Boxing Trainer, Manager and Coach.

* USA Boxing Certified Coach
* Trained Several Golden Glove Boxing Champions



ADDITIONAL ACCOMPLISHMENTS

* Have had seminar training with Dan Inosanto, Jeff Speakman, Bill "Superfoot" Wallace, Larry Hartsell, Kathy Long to name a few.
* Certified UFC Judge (Judged UFC 26)
* Co-Promoted one of the Largest Mixed Martial Arts Events in the State. 1996 Rockford Metro Center Kickboxing Event.
* Promoted over 40 Kickboxing Shows with Kickboxing Teams from all over the World including, Canada and Ireland.
* Promoter of Supercop - www.supercopboxing.com

* Supercop is a boxing elimination tournament between Police Officers in the State of Illinois held annually. This charitable event donates net proceeds to the Hundred Club of Cook County. The Hundred Club of Cook County assists families of Police Officers and Firefighters that have been injured or died in the line of duty. Increasing in popularity every year Supercop has become one of the largest Boxing events in the state. With sponsors the likes of Coca-Cola, Powerade, Evian, Ringside & Michael Sheehan they have in attendance over 1500 spectators for this event.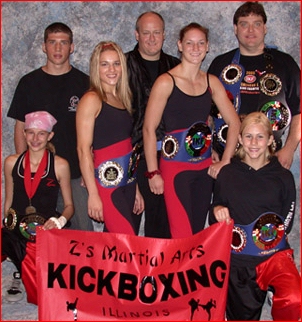 BACK TO IKF PROFILE PAGE CLICK HERE
IKF - NEWS - EVENTS - RANKINGS - SANCTIONING - JOINING - RULES & REGULATIONS - MERCHANDISE - ISCF