FRIDAY, January 11th, 2013, AT 4:40 AM/ PST
Strikeforce
Prepares For Final Event...
Steve Fossum, ISCF/IKF President
I know all of you readers want to hear about the event, but instead, I have a better story to tell you...
Sad does not come close to describing the thoughts of many as we await Strikeforce's last event in Oklahoma City that will be shown nationally by Showtime. There was a line in the movie,
"The Last Samurai"
where a question is asked,
"Tell me how he died?" And the reply was, "I will tell you how he lived."
( Click Here)
To me, this seems to sum up my thoughts of Strikeforce's CEO
Scott Coker.
As much as he has accomplished in the martial arts from his Tae Kwon Do roots with the West Coast Demo Team, Kickboxing Promoter, one of the founding members of the ISKA in 1986 with Mike Sawyer, Karyn Turner, Tony Thompson and John Worley, their Strikeforce Kickboxing Promotion (1992) and ESPN TV program, his promotional skills of K-1 USA and of course, the creator of Strikeforce MMA in 2006. He's even been in some movies such as Dragon Fight, Last Dragon, and Surf Ninjas.
There is much more to Scott though than many may know and two of those things to me truly define him as an individual. The first thing those who know him will agree on, even UFC's Dana White, is that you will never hear Scott talk disrespectful about anyone! In 2008, white said about Scott, "This sport needs more guys like Scott Coker. He puts on a good show and I think if you talked to his fighters about him, they'd all have good things to say."
No matter how many may be attacking him verbally, most simply jealous of his accomplishments, he would remain centered… most likely, from his training values he learned in Martial Arts… Sadly, something very few Martial Art schools teach today, focusing more on how quick they can get you to Black Belt instead of building ones values of things such as honor and integrity.
The other thing that always stood out about Scott is that he never felt he "Needed" to be center stage. This to me was even more valued to me because one thing I hate with a passion is a "Poser!" You know, the guy who always needs to be in front of the camera, in the shot. This valued lesson I myself took from Scott. I watched and learned from him that the most important individual in the ring or cage was not me putting a belt around someone, it was the Fighter! In fact, even to this day, if I end up going into the ring or cage to put a title belt on a fighter, it's only because the promoter did not find someone to present it instead. This being said, if I don't award one of you future Champions your belt in the ring, don't be offended. It's just that I don't feel you need me in there with you... After all, YOUR the Champion!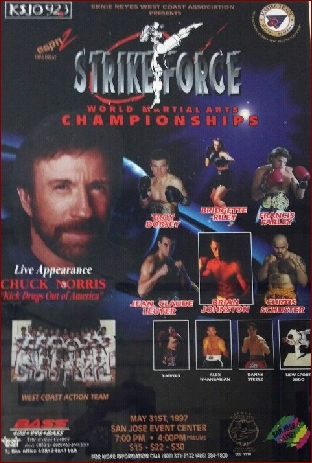 If some of you think back to the pre-purchase of Strikeforce by the UFC, (Prior to March 12, 2011) you never saw Scott in the cage. Think back even more... You never saw Scott in the ring after any K-1 USA event. Scott never presented the K-1 Trophy, and if you go back even more, you never saw Scott presenting a title belt in his earlier days of promoting Kickboxing. Scott always left this duty up to someone who wanted to be in the photo more than him. On the K-1 USA events, it was always K-1's founder, Japan's Kazuyoshi Ishii who wanted to be in the center of things so he would present the K-1 Trophy and belt. However, at his other events such as his Strikeforce Kickboxing and Strikeforce MMA, he always appointed someone else for this task.
Still talking about pre-purchase of Strikeforce by the UFC days, another value of Scott Coker was that he always looked professional. Whether just in jeans and a polo shirt, or in a nice suit, he always looked the part, again, not wanting to take the attention away from the fights and fighter's he was promoting. After the UFC purchase of Strikeforce, the UFC people wanted Scott to be "The Face" of Strikeforce. Now, most people would think this was no big deal but knowing Scott, I'm sure he didn't take this easily. But that wasn't all. They wanted him to "dress the part of MMA" sort of say, or as some put it, "The Dana way." Now some may think I don't like Dana White, but let me put it in print here, I have a lot of respect for him and what he and Frank Fertitta III and Lorenzo Fertitta have created with the UFC. Sure, there may be a couple things here or there I could complain about, but they are trivial as to my admiration for their work to build the sport of Mixed Martial Arts over the last 10 years, more so, the last 7. Lets call it what it is everyone, "For EVERYONE and ANYONE having anything to do with MMA, Because of them, ALL of our lives changed for the better from their work with the Sport!"
Without the UFC's success, we can "ALL" be quite assured, there would have been no Strikeforce "MMA." However, what many including me didn't like, was the "Re-Branding" of Scott Coker. That Dana way "Works" for Dana, or as the saying may go, "When your UFC's Dana White, you can dress how you like because you don't need to impress anyone...Ahhh... Because your... Dana White!"
However, what works for one doesn't always work for others and this to many was not the "Scott Coker Way." The UFC people had Scott taking off the tie, shirt tail out and well, he must have been told to loosen up a bit and don't be afraid to be a little sloppy... No offense Dana, but many of us old timers still think the shirt tail out look is simply... well, sloppy, and not at all, "The Scott Coker Way."
If you were at any other Kickboxing event on the USA West Coast, it wasn't a surprise to see a guy sitting in the back row with a binder/folder and a pen wearing jeans, a t-shirt with a light jacket or sport coat and a baseball cap pulled down low. If you looked close, you would see it was Scott Coker... Just sitting alone looking for that next great kickboxing talent. Of which many he did find. Oh and if you were a kickboxing promoter, you would NEVER get a call to request a free ticket. In fact, Scott would make a habit of never telling Promoters he was coming, just so they wouldn't feel obligated to have a ticket for most likely the largest Kickboxing Promoter in North America. I always welcomed and invited Scott to the shows I promoted and always had a free ticket for him... And although I'd see him at some of those events, at the end of the night, I'd find that free ticket always went unclaimed.
Strikeforce "Kickboxing" held it's first promotion in 1992. As he grew his promotion Scott used a very valuable formula that few promoters understand. However for those who do, it has brought them success in the fight sport promotion business. It's a simple formula that is based around one key element. Find fighters with talent and build them into Champions and Stars. A formula still followed by the successful promoters of today.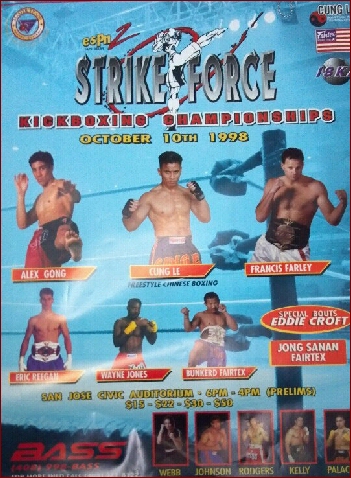 There were many Champions and Stars on Scott's event. Champions such as, but certainly not limited to fighters like Pro Fighter Javier "Thunder" Mendez. Mendez's first taste of kickboxing was in an exhibition bout in 1985 with the legendary Bill "Superfoot" Wallace. On his birthday in 1992 (September 18th) Javier celebrated it by winning his first world title, the ISKA Light Cruiserweight World Title. After a brief retirement 2 years later, he came back again and in 1995 he won his second World title in the Light Heavyweight division, eventually retiring to focus on his Martial Arts Gym.
Javier was one of Scott's big name Main Events along with others such as Francis "Footloose" Farley who in 1989 won the North American Middleweight title and in 1993, the ISKA Middleweight World title. On May 13th, 1995 he won the IKF Light Middleweight World title. Other Kickboxing stars of Coker's promotion included Jean Claude Leuyer who in 1994 won his first of 2 Heavyweight titles with smaller organizations and then the ISKA Intercontinental Super Heavyweight title on March 13, 1994 and eventually the ISKA Super Heavyweight World title in 2 different rule styles. Two time ISKA World Champion Curtis "Battlecat" Schuster or IKF & ISKA San Shou World Champion and eventual Strikeforce and UFC Champion Cung Le. and the late former ISKA World Champion Alex Gong just to name a few and I didn't even get into the Fairtex Champions! Simply said, Scott created a lot of Champion and Star Kickboxers. His events were what man referred to as "The Last of the Known Kickboxers". This was because after ESPN didn't renew their contract for his events and he stopped Promoting Kickboxing and Muay Thai, there was no more Kickboxing on TV. TV, as it did with the UFC and MMA, made the sport, and with it, the Stars. With no more Kickboxing TV deal, there were no more Kickboxing Stars, leaving it up to web sites such as ours here to be one of the only places future Kickboxing and Muay Thai Stars would be known.
After his retirement Javier focused on building his Martial Arts School and build he did. However today, it's more known as a Gym as the American Kickboxing Academy in San Jose California is one of the most successful fight gyms in the country producing loads of great fighters, many who went on to fight on Coker's Strikeforce MMA events. Through the years Javiar remained close with Scott and said just recently as Strikeforce fades into the history books, Scott never changed as he was and still is about all the fights. "He's driven to make great shows," Mendez said. "He's never been driven by popularity, or fame or attention. He was driven by creating great things, by putting on shows fans wanted to see, by doing things that people thought couldn't be done. He's had great, great success over the years, but he's still the same guy. If he gives you his word, you can rely on it. His word is golden. He's one of those rare people you meet, who when he tells you he is going to do something, he does it."
Scott Coker... If you get a chance to read this before tomorrow nights event, know that you will most likely always be remembered for your Strikeforce "MMA" events to many. However, to people like myself, it was what you did before Strikeforce MMA that won you the respect of your peers in the sport.
There is so much more I'd like to tell everyone about my friend Scott, but it's getting late here tonight and I need to wrap things up. I wish him the best of shows for this final Strikeforce and may he take a moment in the middle of it all to simply "Live the moment." Take a moment to look around and see everyone around you, doing what they do, the best they can because they have learned this formula from you and seen it work for you over the years. Take a moment to see that you, like every Promoter out there, play the most important role of the night. There will always be trainers, fighters and officials... But Promoters are who bring us all together, making them the key ingredient of what hopes to be a safe, fair and successful event. Thankfully for us all, the Fight Sports will always have Promoters seeking to be successful with their events, and hopefully, achieve their success without burning any bridges along the way. But sadly, there may never be another promoter who has done it the way you have Scott Coker. Oh yes, there are indeed great promoters out there, but it's "The Way" you did it that will forever remain in my thoughts. "The Way" as in "The Martial Arts Way" of how Martial Arts use to be taught, with Integrity, Respect and Honor. You did what you did with a passion and I can say I among many are proud and honored to have seen you in action, and more so, to call you a friend.
We don't know where the next chapter of your life takes you Scott, but you can be assured, we will be looking forward to it, even if it's just you sitting on a sandy beach somewhere taking in the sunshine you gave to so many in the Fight sports. I will let Scott have the last word here, as he is indeed, the true Master we honor today...







Portions From Yahoo Sports...
More than a quarter of a century ago, Scott Coker sat at a desk in his Northern California home and began scribbling on a notepad. As he was about to embark on a career as a promoter of martial arts fights, he decided to write a mission statement to guide him. The primary tenet of the document was to remind himself that whatever else he did, he needed to contribute to the martial arts in a positive way.


"I believe in what martial arts does for people. The perseverance, the indomitable spirit, the respect, the character building, all the things that martial arts teaches you, not just combative but in life skills, is important for people to know. So I said to myself, 'This is what I am going to dedicate my life to, to spreading the gospel, spreading the word, about martial arts teachings.' And whether I was teaching myself, or whether I was studying martial arts myself, which I do and I believe in, or whether it was promoting martial arts fights on a small scale or on a big platform, the mission statement has always stayed true."
Scott Coker.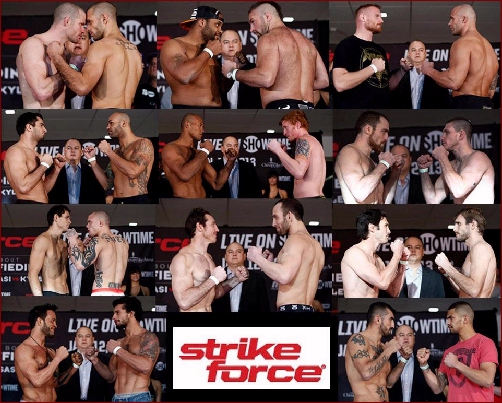 Final Strikeforce Event Weigh-Ins.