December 11, 2002
Joe Manzo
WIPSS Products Inc
322 Fayette St Conshocken, PA 19428
Dear Joe:

Congratulations! Your Brain Pad LoPro entry in the 2002/2003 SPORTS EDGE Sports Product of the Year sponsored by eBay has been selected as a semi-finalist. The contest received a great response- a tremendous sign of enthusiasm for the sports and fitness industry. This year's entries ranged from water sports to team and fitness equipment, performance apparel and footwear. Your product was chosen by the SPORTS EDGE editorial advisory board from among 117 products that entered and are participating in The Super Show 20-03.
This program - produced by SGMA International during The Super Show - showcases the best new product innovations in the sports industry released in the fourth quarter of 2002. This is the only program celebrating the best and brightest sports products in the world and it takes place at The Super Show 20-03, January 20-23, 2003 in Las Vegas. The top 30 products will be displayed for retail buyers to preview and cast their votes for the five finalists for Sports Product of the Year during the show. If you have not already shipped your product to us, please ship it directly to The Super Show in Las Vegas - attention Sports Product of the Year Display. We will have tremendous international media coverage for this event.
This is truly an honor and powerful recognition for your company. We are very excited for the first time that all the semi-finalist products will be auctioned on eBay. This will bring much attention to your product and the sporting goods industry. We are not able to include products in the program that cannot be auctioned. Please join us Tuesday, January 22, 2003, at the Sports Product of the Year booth where we will announce the five finalists. We will have major media coverage.
Make sure that you have a representative check in with the Sports Product of the Year Booth on the upper lobby level to schedule a time to meet with our photographers and media representatives during the show. Dinah Ledford will be managing the display and will be available at the show beginning Saturday afternoon January 18. SPORTS EDGE magazine will feature each of the top 30 products in The Super Show issue.
For additional information or if you have any questions, please contact me at 678-297-3903.
Good luck and best wishes for much success in 2003!





Tina D'Aversa-Williams Publisher
---

FOR MORE INFO, Go To
www.brain-pad.com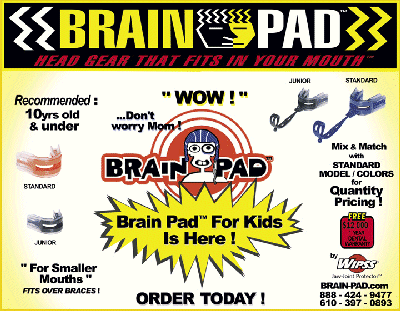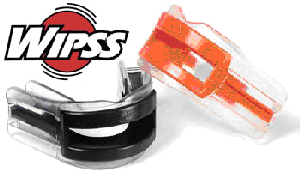 ---