MONDAY, February 20th, 2006


A Kickboxing Promoter's
Pursuit of a Dream
The Sacrifice to Feed the Hungry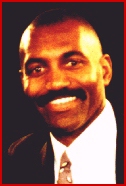 What does it mean to have a dream? What does it take to make dreams reality? Johnny Davis knows what it is to dream and make them come true. At age twelve, he told everyone he met that he would be a world champion kick boxer some day. Ten years later, he stood in Denver Colorado's Ice Arena with the championship belt around his waist.
In what must have seemed like another life ago, Davis now forty three, continues to set new goals for himself and the sport of kickboxing. The blood, sweat and tears he shed while waiting and working for his first world title is very similar to the blood, sweat and tears he's going through today attempting to accomplish his goal of promoting the sport of kickboxing to levels not yet seen for the sport.
It's been a long and tough road, one filled with successes and failures for this native from South Carolina but he seems to be focused on the ultimate prize... feeding those fighters starving to get their chance to make it to the top!
He knows the blue-print for success and recognizes it will not be easy but he also knows that there is truly no substitute for hard work, honesty and passion!
We hope that you will enjoy this true chronology of this promoter's struggle to overcome all of the barriers to succeed. We hope too that fighters will perhaps obtain a glimmer of hope through this and appreciate the fact that Davis and a few others like him are working hard to make a better future for the sport and make their dreams come true.
Sincerely,
IKF and AKP Staff Writers
---


1989-1995
Johnny Davis and his new wife moved to California to pursue new dreams they felt were more attainable then in their small hometown in South Carolina. They settled in San Jose, CA where Davis became very active in the community. He worked with several organizations that propelled him to the front of the pack. He was appointed Marketing Chairman for several organizations. They saw immediately that he had a knack for speaking and dealing with the media. He would go on to be a guest on many TV and, radio shows, and serve as master of ceremony for several events. He also began writing for several newspapers about social issues that were happening at the time.
Davis also began a stringent Independent studies program in history and culture. The course included reading many books and writing and publishing extensive essays on diverse subject matters for a five year period. As a result of his work, he was often called upon as a motivational speaker to many civic groups and schools.
Little did he know, the marketing experience he acquired during this period would be a key element to his future dealings in the promotions' business.
---


1995-2001
In 1995, Davis briefly worked with now K-1USA promoter Scott Coker while living in San Jose, CA. He primarily assisted with promoting the fighters. Davis set up a day's demonstration for the fighters participating in one of Coker's events. The demonstration took place at the Berryessa Flee Market that was then called the largest Flee Market in the world! He also set up a demonstrations at the 24 Hour Fitness in San Jose where he actively taught his own brand of Kickbox-A-Robics©. Additionally, he arranged a huge demonstration at the annual Cinco De Mayo celebration that had over 50,000 people attend annually.
Fighters walked and rode on a truck while showing their belts and demonstrating techniques for the crowd. Davis had another group pass out small hand bills that he'd designed as a strategy to market the event along the parade route. The mini flyers were not used before this time in kickboxing events in the Northern California area but were very affective at reminding fans of the upcoming event.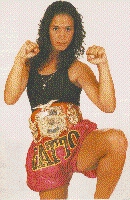 Today the mini flyers

seem to be common for most events. Coker said to Davis after the event "the fact that there was a professional Hockey game in town the same night of my event...(San Jose Sharks) I'm sure your additional promotions help save the event." Davis assisting with the promotion of champions like Javier Mendez, Francis Farley (Left) and five time women's world champion Ramona "Eagle" Gatto. (Right)
1996-1997
Johnny Davis teamed up with Former World Kickboxing Champion Sam Montgomery of Hayward, CA to promote a short series of K.O. Kickboxing shows in Fremont, Hayward and San Francisco, CA... above all, they were successful. Although Davis wanted to promote in his hometown of San Jose, CA, he made an agreement with Coker, a long time promoter in the area that he would not promote there since he (Coker) was already holding consistent promotions. He kept his word and never promoted in his hometown, although he and Montgomery saw the potential in this growing city.
Montgomery and Davis immediately understood one thing right off that in order to grow the sport, they would need financial assistance and landing a big sponsor became a priority. The final show would be held at a popular club in San Francisco, CA (Caesar Latin Palace) in conjunction with Mr. Carlos Navarro, a well known martial artist in the area. Unfortunately, a fighter was injured in the event and filed a lawsuit that was the final straw for the K. O. Kickboxing Duo. Although, the lawsuit was dropped, it would cost the team a few thousand dollars for a legal defense...not a very good start for a young promotions' team.
---


IKF Kickboxing Connection
This 'break' between promoting events would only be temporary for one of the team's members. Montgomery continued to pursue his chain of successful martial arts schools in Hayward and Fremont, CA. While Davis, still living in San Jose, CA, stuck to his passion for the sport by writing a kickboxing training manual, producing a kick boxing training video, founded IKF Point Kickboxing© Tournaments as well as created new fitness programs etc., Davis would also become heavily involved with the International Kickboxing Federation (IKF). Before there was an IKF Website that now gets around two million hits monthly and sanctions over one hundred events a year as well as long before the IKF National tournament became The IKF World Classic... The Golden Gloves Tournament for Kickboxing,) Davis was there! He served as Director of Marketing for a while and was in-part responsible for distributing the IKF's name even more on a local and worldwide scale.
For example, one year Davis handled all the press for the IKF Nationals (as it was called then) tournaments held that year in Davenport, Iowa. Not only did he obtain sponsorship from local newspapers and radio stations, he also managed to have the event mentioned everyday in the papers and covered each night on the local Evening News. Additionally, he arranged a press conference for the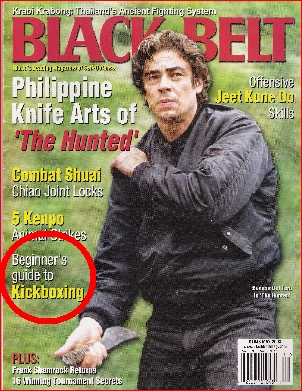 Mayor and other dignitaries to attend and welcome the hundreds visiting fighters. This was not only great media for the IKF but did a lot for the fighters who were competing in this great event for amateur kickboxing!
Additionally, Davis would send press releases to local areas where the IKF was sanctioning an event as well as send them to all major papers and television stations across the nation. He also became a regular contributor for articles and training tips on the IKF web site. Fossum would later give Davis an entire page and a direct link for his information. (Johnny is one of the only people to have a direct link from the front page of the website today) As the website became more popular, so too was Davis' page highly ranked on the visitors list. Although Davis played a role in marketing for the IKF, Fossum's hard work, commitment and passion for growing the company was the primary reason for its success today. "I saw that Fossum was as passionate as I was for the sport of Kickboxing and that reason alone we remain friends." says Davis.
---


2002 -Moved from San Jose, CA
Davis would relocate from the Bay Area to the Sacramento, CA area. In early 2003, he decided again to pursue his passion to promote the sport of Kickboxing. As a former two time world champion kickboxer, he often felt that he was ready for the sport, but the sport was not ready for him...esp. from a financial and marketing perspective. The big dollars and movie deals were few, far and beyond reach for the majority of kick boxers. The1980's was a high point for the sport and many thought it was on its way to the big time but it fell short and left many fighters dreaming of bigger and better days. Too many fighters would retire and move on while some would hang on to their dreams longer only to learn that it was really only a pipe-dream. Davis wanted to change kickboxing's un-heralded past to a more prolific and prosperous future.
---


What's in the Name
Davis wanted to change the status of Kickboxing but knew going at it solo would be a challenge. Nevertheless, his pursuit was non stop. He would put his focus into obtaining a Promoter's License and Bonding which is no easy task especially in the State of CA. The license required an extensive background check and a $20,000 bond was required.
In the process of getting his license, Davis released his Kickboxing Training Manuel in early 2002 and a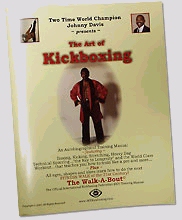 year later, released his Kickboxing Training Video... giving both the name of Johnny Davis' Art of Kickboxing. The video and the manual received accolades from such major publication as Black Belt Magazine (Right) who commented that it was "one of the best training manuals to date for the sport of Kickboxing" and did a huge five page spread in their May 2003 edition. Ringside Equipment a leading Boxing equipment company sold the manual and video through their popular catalog and website and praised them as "some of the most informative work dedicated to the sport of Kickboxing."
Davis thought with the widespread publicity of the manual and video, he should stick to the Art of Kickboxing's name to piggyback on the marketing from his other work Therefore he named his promotions' company...The Art of Kickboxing Promotions. (AKP) Davis would later shorten the long title to A. K. Promotions. He took on the sub-title of Feet and Fists of Fury to give credit to his childhood hero Bruce Lee who starred in the early 1970's martial arts movie Fists of Fury. He would also shorten this lengthy title to Triple "F" Kickboxing... noting that the shorter titles were more catchy with fight fans and made for easier marketing.
Next, he needed capitol to fund his venture, so he pulled approx. $50,000 of his family's funds earned from personal investments to kickoff his company. Within two years, he would have to almost double this initial investment. The cost for advertising, travel, hotels, venue, printing, licensing fees, athletic commission fees, fighter expenses, entertainment, lighting, ring rentals, announcers, sanctioning etc. would be much more costly then originally anticipated. However, his goals were clear as he learned from his earlier K.O. Kickboxing company, to promote good, quality shows and entice big sponsors like beer, energy drinks and other athletic friendly company's to work with and, or sponsor his events. This would be a huge challenge and a risky one but Davis gave 100% to get the attention of some of the "big boys" in the industry!
As part of the plan, Davis partnered with Foster Graphics of Auburn, CA to produce posters, flyers, business cards (shown at left) and logo material to promote his company with the most professional image. The quality of Foster Graphics' work help propel AKP into the "serious contender" category for promoting the sport.
---


AK Promotions Website - www.AKPromotions.org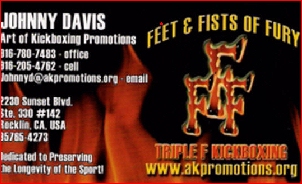 Another big push to give a professional appearance to the AKP company was the startup of the AKP website. Davis had witnessed the huge growth of the IKF mostly through the internet and knew he had to get his site up and running quickly.
With the help of a hired computer technician and President of the IKF, Steve Fossum who designed the basic layout for Davis, AKP's website was able to get up and going quickly. AKP's site would not be like that of the IKF's which is a huge site loaded with multitudes of information and news. Instead, AKP's site is primarily for events that AKP is associated with and training tips etc.,
The internet connection has played a huge role in the growth of A.K. Promotions. The AKP office gets mail and inquires from around the world of those wanting to participate in its events. Reaching out to the world is an intricate part of the overall plan to promote the sport on more of a worldwide scale in the near future. Bringing the best from other parts of the world to compete here in the United States is a goal long sought after by AKP.
---


August 2003 - Visits China
As Davis was preparing his campaign to promote a series of kickboxing events, he was contacted by IKF World Champion Dave Marinoble to assist him in negotiating a potential match in Beijing, China. Davis and Marinoble had worked together for many years. Marinoble had been involved in almost all of Davis' projects including his book and video. Davis always had high regard for Marinoble, and often praised him for having raw skills.
The exciting thing about the trip was the involvement of the primary backer of the world championship boxing match of Lennox Lewis / Vitali Klitchco that took place earlier in the year at the Staples Center in Los Angeles, CA. Dr. Yong Yao. Dr. Yao was a well connected business man out of Cupertino, CA, was working with some business associates in China to bring an American Kickboxing team to challenge their Kings of Gung Fu and, or San Shou Kickboxing Champions. Davis and Dr.Yao hit it off immediately, as they seemed to have similar passions for promoting. Davis went to China to represent Dave as a manager and the IKF as the sanctioning body. He also had several meetings with Dr. Yao regarding his assistance to help AKP bring bigger events to the US.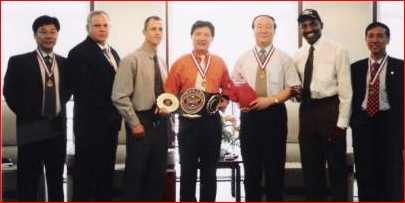 While in China, Davis and the rest of the promotions' team met with many dignitaries including the Chairman for the 2008 Olympics. They had discussions of putting some form of Kickboxing in the 2008 Olympics which would be held in Beijing. Although no final decision was made, some feel that this was the closest kick boxing ever came to obtaining Olympic status but may have planted the seeds for future opportunities. (Picture shown at right...from right- committee member, Lawyer Doug Hudson, Marinoble, Dr. Yao , Chairman, Davis and another committee member Davis is the holding official 2008 Olympic pen).
Davis took several gifts from the IKF headquarters, including medals, caps, shirts etc. The Boxing glove shown in the picture is one that was autographed by world heavyweight boxing champion Lennox Lewis and was given to the committee as a gift. The trip was overall successful as Marinoble got his chance to fight the Middleweight San Shou King in December of 2003 but would lose by decision. The IKF would be the primary sanctioning body of this huge event attended by thousands in Beijing China. However, nothing ever materialize between AKP and Dr. Yao.
Later, they would team up to solicit casinos with proposals for shows but to date, they have not done an event together. However, they remain friends.
---


November 14, 2003 - First AKP Event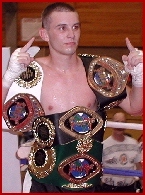 AKP would promote the first show in the City of Rocklin, CA at the Sunset Event Center headlining several local fighters from surrounding gyms. 2001 and 2002 IKF National Champion Robert Elledge (Right) of Roseville, CA was slated to be the main event but his opponent pulled a 'no show'. However, the card went off well with seven exciting fights and a packed house of excited fans as Rocklin, CA witnessed its first Full Contact Kickboxing event that showcased assorted styles. Davis went all out in his first return promotion with mass advertising in newspapers, radio and TV commercials. He found out quickly, kickboxing trainers and fighters were hungry to get involved in his events and gave their pledge of support.
Davis also started his Kickboxing Club for Kids in early 2002 in Rocklin, CA. He taught classes twice weekly. Teaching kickboxing would be a positive thing for the promotion's company because it offered a well of supporters who were more than happy to assist AKP with its events. The classes also increased attendance at the IKF Point Kickboxing tournaments that IKF started a year earlier while living in San Jose, CA. All along, he did not lose focus of the plan and continued to reach out for other opportunities to grow his company. Additionally, he began contacting boxing promoters to see if they would be interested in promoting joint events with kickboxing that would offer the fans additional entertainment. From Oscar De La Hoya, Sugar Ray Leonard, Don Chargin and even the great Don King, the answer was always the same...No Thanks.
Davis continued!
He knew that a casino deal or perhaps teaming up with boxing, could give him the backing he really needed to promote the type of professional world class kickboxing shows he'd longed dreamed about. HBO, SHOWTIME etc. would all be calling if the right kind of kickboxing promotions caught their attention. He believed as he still does that the sport is that great!
The next show would land in beautiful Hollywood...Studio City, CA to be exact! The home of many stars and a huge history especially being the home of mega media giant CBS. Davis worked out a promotional deal with Platinum Live Supper Club owner David Sebag. Sebag's popular club had once hosted such great acts as the Beetles as well as played host to star-studded after parties for the popular Grammy Awards. Sebag and Davis spoke briefly about potentially promoting special shows in Las Vegas, NV, the site of their initial meeting. The shows would have great music and dance entertainment combined with exciting Kickboxing fights. It was only a matter of selling the concepts to casino owners. Although several attempts were made, the package was never accepted, they moved on and decided to try a show at Sebag's Supper Club. The club was fully equipped with lighting and sound that gave the shows that Hollywood appeal!
---


AKP's First Show in Hollywood
The first s how would be January 17th, 2004 and kicked off an aggressive year of events. They stuck to their original plan to mix great music entertainment garnered through Dave's huge Hollywood connections and exciting fights promoted by Davis. (Poster shown Right) They both invested heavily in Radio and Newspaper advertisements that really brought attention to the event. Several stars came out to witness the fights and it was rumored that Superstar Sylvester Stallone called the club inquiring about attending. He never did, but just the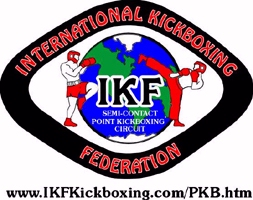 thought that he knew about the event was positive for Davis. Shortly afterwards, notice came out about Mr. Stallone's new show...The Contender.
One of two shows, the first event came off well as fight fans not only got a chance to see kickboxing and many for the first time, but also witnessed some of the best local singing and dancing talent Hollywood had to offer. The event featured a great main event with Robert Tubuso of Daly City, CA pitted against Robert Elledge of Roseville, CA who by the way, finally got his chance to fight coming off the cancellation of the first show's bout late in 2003. This win would give him the IKF California West Coast Super Lightweight title in an exciting main event!
While working on the first Hollywood show, Davis made contact with Roseville, CA owner of the popular Outreach Program of Lord's Gym, Pastor Doug Bird who loved the martial arts and thought it would make a unique presentation to his local community. The show went off well. (poster shown at right) The huge event center proved to be a great arena for hosting fights.
However, because of the non alcohol clause in the agreement, Davis and Bird thought it might be best to use other venues. Instead, they worked out a plan to use a smaller gym to promote IKF Point Kickboxing© Tournaments (shown at left) which involved more kids and was family oriented. Lord's Gym of Roseville, CA, would prove to be an outstanding location for the Point Kickboxing and is still the primary home for these events. Davis designed the semi-contact program in early 2002 to enhance the skills of the beginner kick boxers and therefore making better skilled fighters in the future. Approx. six events would be promoted in between all of the other promotion activity from 2002 to early 2005.
---
March 20th, 2004
Davis would try yet another event at the Platinum Live. Attempting the pull off his former success at the popular venue. This time he would witness the real hardships of the promotion's business. From fights falling out to some advertising delays, all made for an event that did not have the flare that Davis presented in past shows but they had great moments. The show opened with good musical entertainment kept the fight fans awake as some of the fights were lackluster. The Platinum Live Dancers were great and entertained audience between bouts with their hot and sexy routines!
The semi and main event turned out to be a success and changed the tide of the evening. Derek Burnsed of Roseville, CA would take on tough Mike Morello, of Santa Barbara, CA. This fight would be a close one with lots a great moments that left the judges in awe as they called it a majority draw. Plus, in the main event, Raul Rodriquez of Bakersfield, CA took on talented Gary Webber of Whittier, CA for the IKF California Light Middleweight Championship with Webber taking the title home after a heated battle!
There were many lessons learned in Hollywood...some good and some not so good. Davis quickly realized that the expenses of promoting long distance events on a limited budget and no resources in the Hollywood area would be a costly venture. Therefore, he decided to stay more local with his events in order to better saturate the area and hopefully entice potential sponsors to join with his promotions' company.
---


May 7th, 2004
AKP would be back in Rocklin, CA (poster not avail.) promoting an event at the Sunset Center, the same location as the first AKP event. The show had some very good fights and were televised on a local cable network. In fact, Davis produced an IKF Triple F Kickboxing TV Show that highlighted fights from all of his cards. He and IKF President Steve Fossum did commentary for the planned six weeks mini-series.
The series went over well with the locals. Fossum was quick to return the favor to Davis because Davis had assisted the IKF with the IKF's TV Kickboxing Show on the Comcast Sports South Network (CSS) that was shown all over the Southeast Coast. The May 7th show was on Mother's Day weekend and Davis thought to add a little class to the event by having all mothers in attendance come up to the ring and receive a long stemmed rose as the National Anthem was performed to show his appreciation for all they do. The May 7th event was a good one for AKP overall and fighters and fans loved the fact that it was filmed for TV...that alone made it successful!
Davis continued to seek out deals to enhance his shows, he aggressively approached all local casinos. Calling, emailing, visiting, doing Power Point presentations and giving proposals, all a part of his plan and intent to land a deal. He would later recognized that the state of California allowed Smoker events that were less expensive to promote but still allowed a promoter to keep fighters busy. However, the fight would not officially go towards their fight records.
Davis saw the danger in not accounting for all fight experience as this could be a disaster for a match maker pitting a less experience fighter against one who had participated in several unaccounted "Smokers". He then came up with yet another proposal. This time for the IKF to sanction Smoker events and give special credit to all fighters who participated. IKF President Steve Fossum agreed to the proposal as long as certain safety rules were followed. All fighters had to wear 16oz. gloves as opposed to the regulated 10oz. They also wore headgear, foot and shin pads as well as mouth and groin protectors. A doctor and emergency transport would also need to be on the premises. In return Davis would name the event IKF Triple F Smokers.
Next, Davis needed a venue. He found the perfect one from an old friend who he once assisted in training. Former IKF Middleweight World Champion Dave "Mad Man" Marinoble of Roseville, CA had the perfect facility that seated about four hundred spectators with ring at center mass.
---


Triple "F" Kickboxing
The first of the IKF Triple "F" Kickboxing Smoker Series would start Oct. 9, 2004 in

front of a packed house of eager family, friends and fight fans! The trainers, fighters and spectators loved the event and it was deemed very successful in all aspects! Smokers not only kept fighters busy but offered great entertainment and help build the AKP resume. Davis did not abandoned regular commissioned events but actually promoted them even more at the Smokers..
As 2005 was approaching, Davis was getting more hungry to do bigger and better things in his promotions' company. So, he begin to plan another aggressive year with several Smoker events and regular kickboxing events on the agenda. He also planned to step it up a bit to promote his very first Amateur World title fight.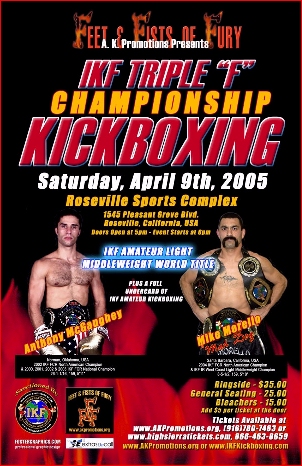 The New Year brought in the second IKF Triple F Smoker event February 12, 2005 (poster shown at left) It was again held at Marinoble's and again, it was a success! Davis announced his next venture to the packed house. April 9, 2005, (poster shown below) he would host an IKF Amateur World Championship Match between 2004 IKF North American Champion Mike "Mad Dog" Morello of Santa Barbara, CA against Multiple time IKF Champion Anthony McGaughey of Norman, Oklahoma.
Morello came into the ring that evening, grabbed the mic to taunt McGaughey stating "you better bring your best game because the title is not leaving CA!" The event was promoted in Roseville's, CA new multi-million dollar sports complex. TV commercials blasted the airwaves as well as tons of local radio and newspaper ads. saturated the area. AKP went all out the make the fighters feel great! The show was opened with an awesome rendition of the National Anthem performed by 15 year old rising star Alexis Whitherspoon of Sacramento, CA who often sang for the Sacramento Kings, a professional basketball team. Even Popular basketball star Mike Bibby's son was in attendance.
The champions were provided with the typical meals and beautiful hotel rooms and the winner received a limo ride to the super after party held at a nearby golf course's sports bar. It was a very successful evening for kickboxing as all fights were action-packed and the evening ended with an exciting Amateur World title fight that gave a good idea about the potential of this great sport! McGaughey would earn a unanimous decision to win his IKF Amateur World title while Morello would fight a year later and win a version of a world title against another opponent!
It was clear to all who witness Davis at work with his shows that he is passionate about the sport and takes the promotions' business seriously. The word was out that AKP was becoming a force to be reckoned with. Davis continued his aggressive push to obtain "A Deal" with a casino as he continued to solicit and meet with them when given the chance. He knew the right deal would propel him forward quickly than many because of his background in the sport as well as his experiences with promoting and marketing events. But as its been said many times, its not what you know but who you know - this too may come to a positive fruition...
---


June 11th, 2005
For what was suppose to be Davis' final amateur event before promoting a show that would have professional fighters on the card, instead turned into a nightmare. This event was slated to be one of the best Smokers to date because of the exciting matches planned. He had also trained one of his very own junior students to finally step up to the full contact arena after winning first place awards in all of the IKF Point Kickboxing tournaments he entered.
But trouble loomed. A new Director for the California Athletic Commission had come into office about a couple of weeks before the June 11th show. Rumor had it, he was going to step in on Smoker events and the fact that AKP's event was next...put it in his direct line of fire. The day of the event... fighters were warming up and getting ready to do battle; spectators lined up at the door eagerly waiting to purchase tickets...some had already bought them on-line; plus, the DJ was blasting some great music. Unfortunately, there was trouble with the doctor and an official just before the start of the event and the Doctor left the premises.
Most contact sporting events cannot start without a physician. There simply was not enough time to get another Medical Doctor. Although, the EMT's were there, the event could not go on without a Medical Doctor at ringside.
As a result, the entire show had to be cancelled. The official was fearful that his California State license could be jeopardize and IKF rules and regulations required a Medical Doctor at ringside, so the show had to be cancelled. Davis, who is always concerned about the fighters, felt worst for them then his own loss which was thousands of dollars. He knew first-hand what it is to prepare for a fight only to be let down moments before the first bell. But he also knew that rules and regulations must be followed and he is always on the side of Safety.
This was a huge blow to AKP and many who witnessed the cancellation and the emotional announcement of the June 11th event also thought it was the end of one of the most aggressive Kickboxing company's in the area in years.
But not so fast, although it is true that Davis was devastated by the cancellation of the event and his financial losses, he decided to take some time off to rethink his game-plan. Thoughts of giving up crossed his mind but went away quickly. After taking a short family vacation back to his hometown on the East Coast, he was constantly reminded of the legacy he left from old fans during his career as a fighter. When Davis return to the West, he immediately began to pursue his passion of promoting again. However, in this time- frame another opportunity came across the table. It seemed like perfect timing during this period of restructuring for AKP.
---


Early 2005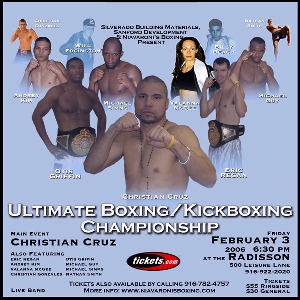 One has said, always give your best because you never know who is watching or who is whispering your name. Nasser Niavaroni is a local boxing and kickboxing gym owner. He is the trainer of world champion Kickboxer Eric Reagan who is now a boxing champion. Niavaroni has also promoted one of the greatest fighters in kickboxing, Dennis Alexio. Niavaroni is also a promoter with his company Uppercut Promotions and he was getting back into the promoting business. He had been inactive for several years since promoting huge and very successful Kickboxing shows with his champions. During his absence from the promoting scene he rebuilt his stable of fighters and was ready to move forward again but with primarily professional boxing events. As a native of the area, he was well known and always obtained good sponsorship for his events, something that a new-comer like AKP had not been able to successfully do... at least not on any significant scale. Niavaroni wanted to add a "kick" to his boxing events- literally!
Niavaroni had been watching Davis' activity with great interest for some time as some of his fighters had participated on the Triple F cards and touted their success! So, he approached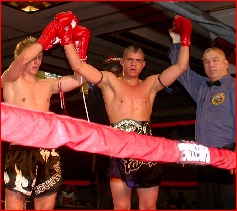 Davis about matching some Kickboxing fights to compliment and fill his boxing card. Davis was obliged to do so. The combo shows with Professional Boxing and Amateur Kickboxing were well received right away. They brought in two different markets.. (poster shown at right)
The first show had only two exciting Kickboxing bouts and they left the mostly boxing crowd screaming for more! The second show had five fights and produced some exciting head kick knockouts that brought the crowd to their feet several times throughout the evening; the third event was February 3rd, 2006 and was a huge success with the IKF Amateur Muay Thai West Coast Super Welterweight Title between Christian Gonzales (Right) of San Francisco, CA and Nathan Smith of Modesto, CA, assisted in having a sold out crowd and was one of the best fights to date! The very classy Radisson Hotel plays host for the events and features live bands and beautiful ring girls but plans are to step up to larger venues soon!
Subsequent to several years of sacrifice in an attempt to feed the mouths of all the hungry kick boxers who are waiting the opportunity to accomplish their dreams, perhaps now the opportunity is near. Uppercut Promotions in conjunction with AKP has set off to a good start with big plans! One would hope that this venture for the two promotions' company's is successful. Perhaps soon kick boxers like many boxers will be able to have bigger sponsorships, more media, bigger paydays and become recognizable champions.
---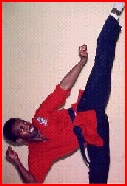 Personal Note from Johnny Davis
"I would like to sincerely thank all of the fighters, trainers and fans who have supported AKP from the onset. Your support is much appreciated! As you have read, me and my company have really tried to take this sport to its deserving magnitude...it has not been easy and there has been much sacrifice to try an accomplish this very difficult goal. However, with the continued support of my family fighters, trainers, fans and close associates who love this sport as I do, we will make it to the top of sports entertainment- someday. If for some reason, we are not successful in my lifetime, perhaps we would have made it easier for the next promoter to rise to the top! This is my hope...this is my dream."
Always Giving My Best
Sincerely
Johnny Davis, President AKP