WEDNESDAY January 6th, 2020, AT 6:30 PM / PST
2021 IKF WORLD CLASSIC
RULE STYLES
ANSWERING THE CALL FROM FIGHTERS
The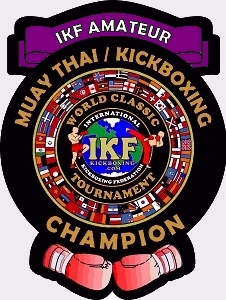 2021 IKF World Classic will now offer "FOUR" different rule styles as well as a Masters Division for ages 35-45.
The Masters Division was added because the State of Floridanow requires Advanced Medicals for all fighters over 35 now.
Although fighters can still compete in the NOVICE or OPEN Adult Divisions, this division has been added for another option.
The 4 Rule styles will now include Above the Waist FULL CONTACT RULES.
This was the very first Kickboxing or Full Contact Karate style when karate made the move to Full Contact fighting in a Boxing ring. As we had previously posted there were many great, well known Champions under this rule style, mainly because this type of fighting was the last style to be featured on weekly TV. This style requires all kicks to be above the waist except for what is called "boot to boot sweeps".
It will not matter how many brackets this rule style will make as long as the brackets made are with 4 or more fighters. If fighters register into this rule style and not enough fighters register with them they will be allowed to transfer to International Rules and their seeding will still go by the "Registration Date".
Here are the 4 Different Rule Styles for the
2021 IKF World Classic this coming July 2, 3 & 4th in Orlando, Florida, USA.



FULL CONTACT: ALL AGES
INTERNATIONAL: ALL AGES
MODIFIED MUAY THAI - NO ELBOWS: ALL AGES
FULL MUAY THAI - WITH ELBOWS: AGES 18+ ONLY.
For the Fighters Registration page CLICK HERE.
FIGHTER BRACKET SEEDING
ALL Bracket seeding is done according to the date a fighters registration is received here at the IKF Headquarters.
Top seeding in an odd number (EX: 3, 5, 7) fighter bracket could be valuable. It would give the number 1 seeded fighter a first round bye in a 5-7 fighter bracket which would be the difference of fighting once on Saturday or twice, or just fighting Sunday in a 3 fighter bracket instead of both Saturday and Sunday.
So a fighter won't just save money by registering early, but also, make their path to the title a little easier.
For all other Information on Fighter Registration CLICK HERE.
SEE YOU ALL IN ORLANDO FLORIDA THIS COMING JULY!