SEMINARS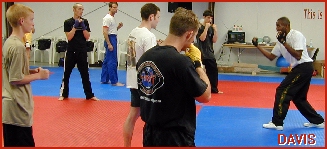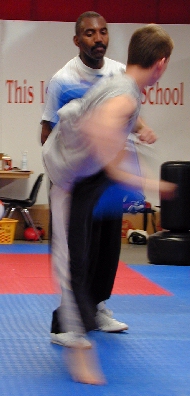 Regardless of your style, regular Kickboxing, Muay Thai, International, or Point Karate, the technical aspect of this manual can help take you to another level of competitiveness. If finding a successful total body fitness routine is your goal then this manual is for you too! Additionally, learn how to do the new workout of the 21st Century! This manual is loaded with hundreds of pictures and easy, safe routines designed for everyone!
Based on real events, this exciting training manual will give you ideas on how to Box, Kick and put both together to become an effective kickboxer. You will learn through pictures and words how to increase your power, speed, accuracy while getting in great shape! Furthermore, you will learn life saving techniques and time saving routines that teach you how to train like the professionals!
Kickboxing is one of the most popular contact sports in the world! Millions of people are now participating in the sport of Kickboxing - some for fun others for profession.
Whatever your choice, Johnny Davis' Autobiographical Training Manual, The Art of Kick Boxing will help you accomplish your goals!
A two time world champion kickboxer, Johnny Davis has spent over twenty five years perfecting the art of kickboxing and has dedicated himself to teaching others.
All information in this manual has been tried, tested and well thought out. It will work for you!
For questions, comments, advance orders etc please e-mail Johnny Davis at johnnyd@akpromotions.org
For Seminars And Manual Signings
Please call Mr. Davis at (916) 205-4762 Or e-mail him at
johnnyd@akpromotions.org



Comments...
Dear Johnny Davis,
Your manual is full of information and tips! What more can I say? The mamual has motivated me in a great way. It's good to know what and why you are doing each exercise. It's great to learn from people who are experienced. Without the manual I would think that I would not be as motivated...as with it.
Barry.
Holland jbckort@wanadoo.nl
Mr. Davis,
In Augusta Ga., at Winter Wars 2002 I had the pleasure of attending one of your seminars. Since then I've been reading your manual and applying your concepts. At the time we met at Mr. Carlson's school I had only recently returned to training after a long injury. I am pleased to say that your manual inspired me into rethinking my training methods and I'm currently training for the IKF Regional Tournament in June 29th. Thank you for your wisdom you've shared with me and for your passionate desire to keep the sport alive. Hope to see you again soon.
Sam Smith
Augusta Martial Arts Academy ssmith1248@comcast.net
---


Copyright 2001 All Rights Reserved
JOHNNY DAVIS PAGE - CLICK HERE
For More Info about Mr. Davis Go To
www.AKPromotions.org