MONDAY, October 12th, 2015, AT 2:30 PM/ PST

"The most important human endeavor is the striving for morality in our actions.
Our inner balance and even our very existence depend on it. Only morality in our actions can give beauty and dignity to life."
Albert Einstein
Rebecca Alvarez
Dedicated - Disciplined - Passionate - Fair

It is with a heavy heart that we make this announcement
that Fight Sport Inspector Rebecca Alvarez past away around 4 AM this morning.

Rebecca was a former California State Athletic Commission (CSAC) Lead Inspector as well as part of the CSAC Office staff for many years. as an event Inspector she mainly worked in Northern California where she was well known to many, especially those of us with the IKF. She was by far one of the Best Lead Inspectors of the CSAC! Having what we like to call "That Old School Background," Rebecca was able to juggle four main ingredients of a good fight sport inspector. She was dedicated to her job, kept strong discipline when she was in charge, but was also able to keep that discipline in check with her passion and fairness to others.

Rebecca was one of the most knowledgable Inspectors in the business not only in the middle of the action as an event Inspector, but also as part of the CSAC Office Staff. Her knowledge in the various fight sports made her a valuable asset both in the front office and in the field. Her knowledge was so vast that she was often called upon to work with other event promoters as part of their staff or just as a consultant to fine tune their events.

Rebecca's family is in our prayers here at the IKF as we are sure they are with many involved in fight sports here in California over the last 15+ years. Rest in Peace Miss Rebecca... It's now your time to serve a higher purpose with your Dedication, Discipline, Passion and Fairness to others...

As of this article posting we had no information in regards to funeral services. When we have them, we will post them here.


______________________________________________________________________________

WEDNESDAY, October 14th, 2015, AT 11:00 PM/ PST

"Somewhere there is someone that dreams of your smile, and finds in your presence that life is worthwhile, so when you are lonely remember it's true, someone somewhere is thinking of you."
Unknown
MEMORIAL SERVICES FOR

Rebecca Alvarez

Friday October 16th
Viewing 2-3 PM, Service will start at 3:00 PM. This will all be at the cemetery;
Cherokee Memorial Cemetery Chapel, Lodi, CA 95240.
(Hwy 99 at Harney Lane) (209) 334-9613
Reception to follow at the Family Ranch, Directions will be provided at the service. Donations would be Greatly Appreciated.

Rebecca D. Alvarez, age 63, born in Stockton, CA, passed away in Lodi, CA with her family by her side. She was a spirited, fun-loving person that loved sharing stories and making people laugh. She was an animal lover and passionate about sports; From her days of playing competitive softball and through her work at the State Athletic Commission. Rebecca was a trailblazer, becoming the first ever female Athletic Inspector in the State of California. Rebecca loved her family and friends. She was a prankster, defender of the underdog and tell-it-like-it-is person. She enjoyed music, dancing and a good joke. She was loyal and true, honest and caring and will be missed by those that knew her.

Rebecca was preceded in death by her parents, Herman and Cora Singh of Acampo, CA and is survived by her daughter Mikka Alvarez of Acampo, CA and many other family members.
Services will be held at Cherokee Memorial Cemetery Chapel in Lodi, Harney Lane and Hwy 99. Viewing Friday from 2-3 pm, service immediately following at 3PM.


______________________________________________________________________________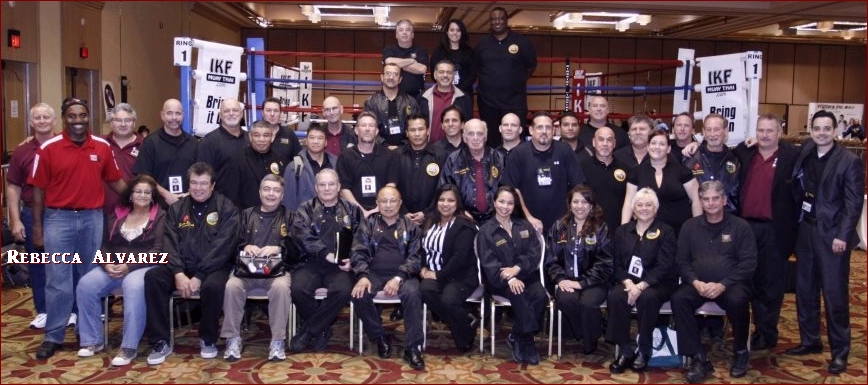 Event Officials For The 2011 IKF West Coast Classic


THOUGHTS FROM OTHERS
FROM JOHNNY DAVIS.
AK PROMOTIONS
R.I.P. Rebecca Alvarez......my former Executive Assistant with AK Promotions She help open doors for so many!
Life is so full of ups and downs.. and today has been a rollercoaster of good and bad news that I will share more later ...from a high over the success this past weekend of the IKF East Coast Kickboxing Classic in Myrtle Beach, SC to this low of the sad news of my former Executive Assistant for many of my events while in CA Rebecca Alvarez.
Rebecca made sure that officials at the event were organized and on point as she did for my events and other promoters like Mr. Don Chargin...a renown promoter of many great Boxing World Champions.
I can't say enough about Rebecca...sweet, kind, passionate and caring to name a few. She was calm and soft spoken but made things happen. Sometimes she did not feel her best but always gave it!
While working together she help lead the charge along with the IKF and myself to allow Juniors to fight legally in Full Contact Kickboxing events in California. Today, you have hundreds of juniors who are now allowed to fight earlier in the ring as they do in Boxing and other countries which makes them more competitive.
In 2009, Rebecca was also one of the main forces in getting the State of CA to finally allow tournament style events where fighters can fight more than once in a day...hence you have Glory Kickboxing and others allowed to do their events in CA today! Although sometimes, we became discouraged with the process with the Dept. of Consumer Affairs...she encouraged us to push on...and that we did until victorious.
I'm proud that we were able to present her with an achievement award at the First ever IKF West Coast Classic in 2011 in Sacramento…two years after we started the campaign to open the doors to have the event that she worked so hard to accomplish. It was an emotional day for me in presenting this award to her back then knowing that she was not well and this day was closer than anybody wanted to admit...but in Rebecca-like fashion...she fought hard and survived four more years!
She was a doer and also gave many years to the California Athletic Commission and in my opinion never got the credit she deserved.
Thanks Rebecca for all you did for me and the sport of Kickboxing and Boxing as well as other contact sports. You are physically gone but you will be forever remembered...with your name forever etched in my heart... I will continue to ... Forward March...R.I.P. Rebecca ...JD…