NEWS OF 5-26-04
What's It Worth?
By Steve Fossum
Sometime on Friday, August 6th of this year, IKF Photographer Glenn Berg and I will have decided which 3,000 (+ or -) mile route to take for our trip to this years 2004 IKF/TKO North American Classic in Orlando, Florida. We have 2 choices for our journey. The Northern route will take us 2,994 miles (46 hours and 3 minutes...according to Yahoo maps) while the Southern route will take us 3,124 miles (48 hours and 18 minutes ...according to Yahoo maps) I'm not sure why it's longer going the Southern route but it is...
Regardless, our 3,000 mile journey from the front door of the IKF Headquarters to this years 2004 IKF/TKO North American Classic in Orlando Florida will be as always, a looooong drive.... If we take the Northern route starting off on Highway 80 East we will blast out of California within about 90 minutes and into the open desert of Nevada. Once in Nevada it will be some time before we get to any major size city. The first one we will come to though will be the bright lights of Craig Lamanna's city and home of Lamanna's 20,000 square foot "MEGA" MuayThai Center, the Muay Thai Institute in Salt Lake City, Utah. There were no fighters from Utah at last years Nationals but Lamanna says that will change this year when he brings his own team of stars! After Salt Lake the next big place is home to our good friend Dave Smith, Cheyenne, Wyoming. Last year teams in Wyoming sent 8 fighters to the Nationals but all 8 lost in the opening round of competition. After Cheyenne someone will be sleepin because it's about 1,000 miles until the next big attraction along this all too familiar journey each year.
Highway 80 eventually takes a weird turn north just outside of Lincoln, Nebraska... well, weird for us anyway... at least for this year. The road will take us up through the Brooks Mason and Mick Doyle Country where Doyle's Mugendo Modern Martial Arts Center is located in Omaha Nebraska. Last year Doyle was the only Nebraska gym to send fighters. He sent 5 fighters to the Nationals and 2 came back with National Title Belts. Bryan Corley, MTR Middleweight and Tony Stumpf, IR Light Heavyweight. After a short stop to let Uncle Brooks slap us around to wake us up, we will get a visual of where this whole thing started some 6 years ago in 1999. It's called Harrah's now but it use to be Harveys Casino Hotel in Council Bluffs Iowa.
Just outside of Council Bluffs our route suddenly turns south onto Highway 29 which works best for us since we need to go South about then. From there we jump into Iowa but not close enough to see our friends up north such as Russ O'Connell in Waterloo, Dean Lessei in Dubuque and Pat Miletich in Davenport. Last year the 3 teams in Iowa sent 16 fighters to the Nationals with 3 of them, one from each team coming back with National Title Belts. They included Mariah Betts, Team Lessei, IR Junior Division, Junior Lightweight, Nick Anderson, Team O'Connell, FCR Junior Division, Super Welterweight and Marshall Blevins, Team Miletich, MTR Light Middleweight.
As we come out of Iowa around Hamburg, Highway 29 comes into Kansas City, Missouri. Last year there were no fighters from Kansas but Team Finney of St Louis, Missouri and TEAM Voyles of Pacific, Missouri sent 14 fighters to the Tournament with 10 of them coming back with National Title Belts. Three were female and five of them were Junior Division fighters. Champions from Team Finney included Leslie McNamara, FCR Woman's Atomweight, Erin McNamara, FCR Woman's Flyweight, Marc Mayfield, FCR Super Welterweight, Kevin Engle, FCR Light Cruiserweight and Kevin Bozada, FCR Heavyweight. Team Voyles had all Junior Division (Ages 8-17) Champions. They were Brittanny Anic, FCR Junior Division Light Atomweight, Sean Felts, FCR Junior Division Junior Lightweight, T. J. Weir, FCR Junior Division Junior Welterweight, John Felts, FCR Junior Division Lightweight and who could forget, 4 Time National Champion, 13 year old Justin Lawerence (Right - 19-0/10) FCR Junior Division Light Atomweight.
As we exit Kansas City we move onto Highway 70 East towards our final destination, still some 1,300 miles away but as we go through Missouri we will be thinking of even more IKF people such as B.J. Huffman, Chuck Wolfe, Bon Terre, Dan Tharp and Jeff Ford just to name a few.
From Missouri Highway 64 takes us more East until we jump onto Highway 24 South through Southern Illinois headed for Nashville, Tennessee. Last year Illinois sent 12 fighters to the Nationals and came back with 3 National Title Belts. Those Belts belong to Sarah Ross, Team Z, FCR Junior Division Flyweight, Andy Hoffman, Team Blackorby, MTR Light Cruiserweight and "BIG" Mitch Matrasko, Team Garstki, FCR Super Heavyweight.
We will be too far south to shout out to the other known teams of the IKF such as Jim Klauba, Joe Gangi, Glenn Hudson, Sky Drysdale, Jimmy Blann and Ronnie DeLeon just to name a few. we will enter Tennessee around Clarksville on Highway 24 and into Nashville. Only one fighter entered the tournament last year, William Whitlow of Memphis, Tennessee. However he lost his opening bout to eventual champion Andy Hoffman by split decision 29-27, 29-26, 28-29. After Glenn humms a few notes at the Grand Ole Opry we will head out South-East on Highway 24 towards Georgia. We will enter Georgia near the town of Chattanooga where we eventually jump onto Highway 75 South. We will shoot straight through Marietta Georgia but according to the map, the city of Atlanta will tour us around the city rather than through it. But we still may need to stop in to say hello to a few of the Georgia faithful like Brett Moses, Mark Selbee and the crew of LA Boxing - Georgia. Others such as Mike Carlson, Ken Hudson, Gary Brown, Eddie Monger, Mike Wood and Scott Hicks just to name a few may be a little too far off the path to say hello to, but we will be sure to think of 'ya all' as we come through. We may get close enough to Macon Georgia where we can honk at Matthew Waller, and the same goes for James Corbett and his Valdosta Martial Arts Center in Valdosta but can't promise they will hear us. Last year Georgia sent 16 fighters to the Nationals and 3 came back with National Title Belts of which 2 of the 3 were women. Those Belts belong to Susan Wood, Team Wood, FCR Woman's Super Lightweight, Terrie Hicks, Team AMAA, FCR Woman's Super Welterweight and John Greubel, Team LA Boxing, FCR Welterweight.
As we enter Florida on Highway 75/93 we still have about 200 miles to go. Last year Florida sent 2 fighters to the Nationals and only 1 came back with National Title Belt, Jarett "JP" Perelmutter of Ft. Lauderdale, IR Light Welterweight.
If all goes as planned, sometime on Sunday, August 8th after something like 2 straight days of solid driving ( 46 hours 3 minutes according to Yahoo Maps.... ) we will pull up to the front door at the Wyndham Palace Resort and Spa and start the next big mission, unloading and setting up camp. Once we get set up, we will continue the additional work needed to prepare the place for those we created this weekend for, "The BEST Amateur Fighters in North America!"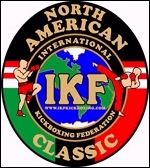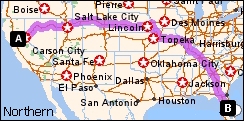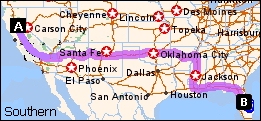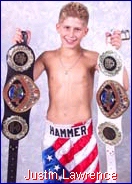 So the question now is,
"What is it worth to all of you to get there?"
I doubt anyone else will make the 3,000 mile drive Glenn and I will, and don't forget, once the 2004 IKF/TKO North American Classic is over, we still have to drive 3,000 miles back home. Gas alone just to get there for our trip will be around $700.00 one way while flying there would only cost us about $200 each from Sacramento, California. But to us there is far more to it than convenience and money saved in travel. As many remember, in 2000, UPS (United Parcel Service - Who was actually our Shipping Sponsor for the event...) lost all of the 75 Championship Belts between here and Council Bluffs, Iowa. NONE of the Title winners were awarded their National Championship Belts that year which meant fighters fought their hearts out and those who won had nothing to take home with them. Lucky for us someone had brought their 1999 Championship belt to the event so we just used it over and over again to award in the ring. Sure, the Champions all got their belts a few weeks later when UPS finally found them. However, despite all this, I personally vowed at that event that I would never again allow any fighter to leave the event without their deserved award.
Nothing hurt worse than to see not just the adults, but the Junior fighters walk away with nothing. So, for the last 3 years, I have drove to this event. In 2001, Glenn made the trip with me when we hosted the event in Olathe (Kansas City) Kansas. To give you an idea to compare this years event venue to the one in Olathe that year, the event room in Kansas was only 6,600 square feet in size. In Orlando, we will be in a Ballroom that is over 18,000 square feet in size plus another 5,000 square feet of warm-up space just outside the door.
In 2002, I made the trip solo to Davenport, Iowa to the Radisson Hotel and River Center. A trip of a little over 1,800 miles. The River Center to us was too big (35,000 sq ft) but had plenty of open space for warm-up area. Last years drive to the 2003 National Tournament was about the same, a tad over 1,800 miles. With me, IAA Director Frank Curtis made the trip to the Crowne Plaza Hotel and the dynamic U.S. Cellular Center in Cedar Rapids Iowa. (Frank is the one who makes all the belts for the IKF.) As many know, we would have been going back there this year if not for a matter of several thousand dollars... and a better offer from Orlando for the Tournament. It would have also been about 1,200 miles closer for us to drive too. But this event has never been about convenience for us... and this event never will be. It's about creating the best stage for THE BEST amateur fighters and providing them an opportunity to be able to truly call themselves "THE BEST" when they win it!
This year those who win will be able to call themselves "'THE BEST In NORTH AMERICA!"" Yes, there will be some who say "Well he/she is not the best because I wasn't there..." My response is, "You could have been, but you choose not to." No attacks intended, but this is simply the truth. The SAME words have been spoken for 5 straight years by us here, and all the other camps and fighters who have made the sacrifices to travel to and attended this event from throughout the nation. Anyone and EVERYONE can attend this event but who will is the question every year? You need no prior qualifications, no minimum bouts, not even a winning record. Come August 14th, the first day of competition, all of the past means nothing. It's ANYONE'S Title to win now! The question is, "Will you be there?" If not, where will you be...and what will you be doing...? Instead of trying to be THE BEST?
There have been numerous fighters who entered this event with NO FIGHTS, only to walk away as Champions on Sunday. Fighters with losing records who have done the same. On the other hand, there have been great fighters with great winning records who have been surprised by the great competition and lost in the first round of the bracket on Saturday.
Some will be cutting weight all week leading up to the event just to secure their spot in their division knowing if they don't make weight, even after their allowed time limit to do so, they made the trip for nothing, which has happened only once in the tournament history. Some fighters will fight up to 3 times over the weekend while some may only fight once or twice. ALL the division brackets this year must have a minimum of 3 fighters in them to be a confirmed bracket. This way we are assured of great competition for all. Some will need to be awake early Saturday morning enough to bob and weave as well as kick and punch if they want to make it to the next round and of course, Championship Sunday. Some will stay in the event room all day just waiting for their moment to enter the ring. For those who win on Saturday, it's still not easy. Some will leave the ring victorious but with physical injuries that leave them questioning whether to return on Sunday... But as they think of the prize, all get back in the ring to "Bring it ON!"
No, this event is not about convenience and it's not about "What is Easy." If promoting this event were so easy, Everyone would be doing one. But we don't see any other events even close to this for Amateur Kickboxers in North America. Why? Because it's a lot of work and not to mention, expensive to do. The North American title belts alone this year will be a little over $230 each. Do the math on that number alone and with an estimated 60-80 Champions to award belts to, this number gets up above $13,000 and could be over $18,000 pretty easily. This event isn't about what is cheapest, what is easy or what is convenient. This event is about being a WINNER for all of us involved. As the saying goes, "Winners DO what losers won't!" So true a saying and we know that us here at the IKF want to be Winners!
There will be sacrifices made by many to make it to this event. Time off work, expenses for travel. You name it, we too can think of a thousand reasons why an Amateur fighter would not be able to make this event. Too far away, flight too expensive, can't get off work, can't afford the entree fee, afraid to fight unknown competition, will be somewhere else, will be fighting somewhere else that weekend, has other plans or even those who will say, "The IKF isn't good enough for me to go." Well my friends, this event has far outgrown the three letters "I-K-F." It is far bigger than any one person too. Far bigger than you or I and many others. This event is not about "1" organization or "1" person. This event is far more than that. It was not created by 1 person and it is not achieved every year by one person. This event is about "ALL of Kickboxing" and ALL who help to make it happen. The officials who will make this trip are "THE BEST in North America!" Most making the trip from their own expenses just to be with THE BEST! The trainers who give their valuable time for their fighters dreams will also be known as "The BEST in North America!" Of course, we can't forget those in the ring, the fighters, who ARE THE BEST! But those outside the ring play just as important of a role, the family, friends and fans who support each and every one of them. Speaking of support, lets not forget all of the sponsors of this event and sponsors of the many Fight Teams who have made themselves a part of the best thing for our sport... In North America!
This event is greater than any other event!
Yes, "ANY" Other!
No offense to those "Other" big events but lets look at what we have here...
Where else is there an event of this size where truly EVERYONE is a part of it's success?
Where else will you see over 200 of the "Future's" Greatest Amateur Kickboxers (Not semi contact or forms but REAL KICKBOXING!) all in action in one room on the same weekend?
Where else will you find the greatest trainers at their best, ALL at the same time in one room on the same weekend?
Where else will you find the greatest officials at their best, ALL at the same time in one room on the same weekend?
Where else will you see over 50 Champions be crowned on the same weekend?
Where else will you see fighters from all around North America fighting on the same weekend?
Where else will you find the 'REAL "Who's Who" in the kickboxing world of North America in ACTION on the same weekend?
This event is about being on the GREATEST Stage in North America for Kickboxing! Still, there will be reasons why some will not be able to make it to this event. And of those thousand or so reasons why someone may not be able to make it, we can only think of one reason why they should...
"To be Called the BEST in North America!"
Fighters, trainers, officials and of course, the friends, family, sponsors and FANS of our Great Sport, KICKBOXING!
I guess the prize just needs to be worth more than the sacrifice to us all. I can assure you, when I see the first Title Belt wrapped around the first fighter on Championship Sunday, I will be reminded, WHY it was all worth the sacrifices made here. We will be there not just because of amateur kickboxing, but Kickboxing as a whole DESERVES such a stage where we can all see, in a fare event judged by the greatest of our peers and in front of those peers, who really are "THE BEST!"