MONDAY, May 9th, 2017, AT 4:20 PM, PT




WHERE IS HE NOW?
IKF Honors Another Great One!

Rick "The Jet" Roufus

Phoenix, Arizona, USA


Rick Roufus:The Great American Kickboxer

Today the fighter well known as "THE JET", Rick Roufus is a Personal Trainer. He provides 1 on 1 training for clients of all ages, fitness levels and body types.
All of his programs are specifically designed for the individual client and their goals. He can provide anything from Boxing, Kickboxing, general strength, shaping and toning programs to sport specific training and nutritional counseling.
He designs safe, challenging workouts that get results.

But some may be asking,
"Rick Roufus, I've heard of him. What all did he do?"
Well, lets let this page answer that question. Ladies and Gentlemen, Please welcome, Rick "THE JET" Roufus!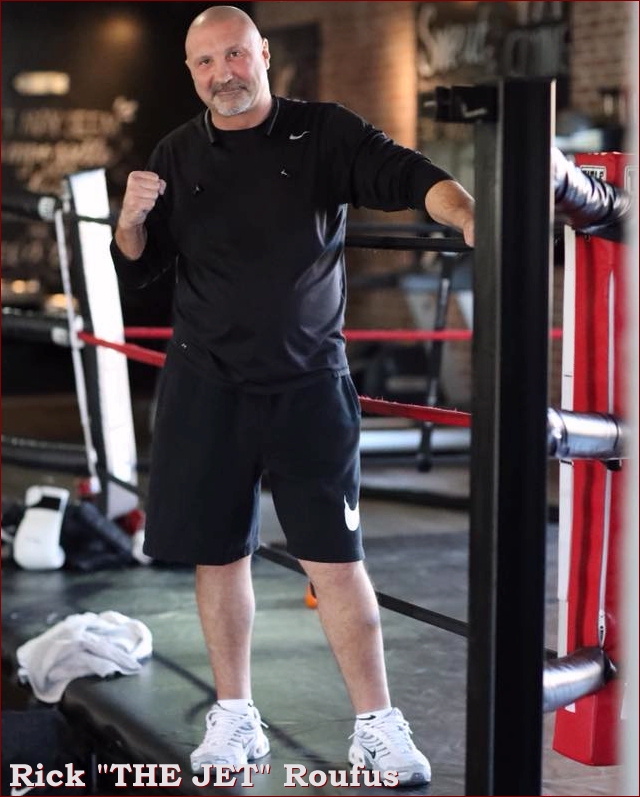 Rick "The Jet" Roufus vs Rob Kaman
1st Fight - 12-20-91
& 2nd Fight - 2-05-94











Rick "The Jet" Roufus was born on June 3, 1966. He is one of the most famous kickboxers in America, and has also competed professionally in boxing and mixed martial arts. An accomplished professional fighter throughout his competitive career Roufus won multiple world titles in several weight classes which included being a two time IKF World Champion in two different rule styles and weightclasses.

Rick ended his career with a record of 64-9-3 with 43 wins coming by KO or TKO. He also had a Pro boxing record of 13-5-1 with 11 wins by KO or TKO and a Pro MMA record of 5-6.

Rick had called an end to his career in September 2003 due to an injury he felt he could not recover from (Severely Torn ACL).

However, we believe it was the excitement of a potential big bout that brought him back to the ring the following year.

In April of 2004 there was a lot of talk about Rick matching up with Professional Boxing Champion Mike Tyson. However, after the initial hype, the match-up went south and just never happened. Read more about this match up by clicking HERE.

Although the bout never took place, the hype of it took Rick's injury rehab to warp speed and he was soon back in the ring on August 7th, 2004 at K-1 USA in Las Vegas, Nevada defeating Japan's Akebono at what was called the K-1 World Grand Prix by Unanimous decision.



Rick Roufus vs Jean-Yves Thériault
1994





Six more fights followed up to his last bout on October 14th, 2012 which was a Draw against fighter James Wilson at the K-1 World Grand Prix in Tokyo.

In those last 6 bouts Rick went 4-1 with 2 draws.

At 5'11", 215 lbs. Rick was by far one of the Greatest Fighters in the Sport of Kickboxing having won multiple World Titles in various weight classes.




---




IKF PRO FULL CONTACT RULES
WORLD TITLE
1994

He made his name in winning his many multiple World Titles (6 different World Titles in 6 different weight classes) as a Full Contact Rules Fighter, including his first IKF World Title, in Full Contact Rules, against Mike McDonald in 1994. Roufus became only the second IKF Mens Pro Champion (Juan Torres was the first on the same event) when he defeated Michael McDonald of Vancouver, BC, Canada, by "KO" at :43 seconds of round 1. The bout was at Caesars Tahoe Casino in Tahoe, Nevada, USA on January 22nd, 1994.

Rick Roufus Vs Mike McDonald
IKF PRO FULL CONTACT RULES WORLD TITLE





---




IKF PRO FULL INTERNATIONAL RULES
WORLD TITLE
1999

He won the IKF Pro International Rules Heavyweight World Champion when he defeated Stan Longinidis of Boxhill, Victoria, Australia in Lowell Massachusetts, USA on May 15th, 1999. Roufus won by TKO after Loniginidis suffered a broken bone in his foot at the end of round 9. Roufus was ahead on all 3 judges cards at the time, 89-81, 86-83 and 88-81. The bout was by far his best win as a leg kick fighter in his career, but it was scared with a negative that would follow him to his retirement when the promoters failed to ever pay him hi contracted $91,000.00 purse. Click here for the whole story.

Rick Roufus vs Stan Longinidis
IKF PRO INTERNATIONAL RULES WORLD TITLE





---




Regardless of where his future takes him, to those of us who saw him fight and knew him, he will always be known as "The Jet!"















---

Rick "The Jet" Roufus
Jan 22, 1994: Atlanta, Georgia, USA, 42-1/24, 179, 5'11", Gary Brown

IKF Pro Full Contact Rules Light Heavyweight World Champion.

Roufus became the second IKF Mens PRO CHAMPION and the second IKF Mens Pro World Champion when he defeated Michael McDonald of Vancouver, BC, Canada, (24-4/6) by "KO" at :43 seconds of round 1. The bout was at Caesars Tahoe Casino in Tahoe, NV, USA on January 22nd, 1994.
Sadly the promoter never bought Rick or Juan Torres their belts for their IKF Titles this night.


Roufus' Title was later Transferred to the IKF World Heavyweight International Rules Title. See below for explanation Roufus is still fighting in both Boxing and Kickboxing.

Transfer: In 1998, having NEVER been challenged for his title he won in 1992, Roufus made 2 career changing decisions. 1, He moved up in weight class and 2, he "SWITCHED" to Leg Kick / International Rules since he decided he no longer wanted to do Full Contact, above the waist Rules. According to IKF (*) Rules, If an IKF Champion is "NEVER" challenged at the title weight and rules division they have won their title at, for a minimum of 3 years, the champion may move their "TITLE" to a different weight class to seek challenges. This is ONLY possible "IF" the title the champion holds is VACANT and has NEVER been held by ANYONE in the weight class the Champion desires to move to. In addition, if the same desired title is vacant and HAS NEVER been held by ANYONE in a Different Rules Division, and the champion has decided to make a fighting style change, he/she may ALSO change their title to that different Rules Division, again, IF they have NEVER been challenged at the winning weight and division for a minimum of 3 years and AGAIN, the title they are moving to has NEVER been held by Anyone.
Roufus did both of these things in 1998. The stipulations though are that the fighter must defend the title within 12 months after being transferred, against an opponent selected by the IKF. If the Champion Does Not defend the new title, they will be switched back to their original title winning position.

(*) This Ruling was created for 2 reasons, 1, to help create new IKF champions in different rule divisions and 2, to keep IKF Champions busy rather than stay idle after winning a title. Some fighters, like Roufus, just don't get challenged due to their requested purse, ability etc. Because of this, the title they won may sit unchallenged. By allowing movement, it opens up positions for new champions and as long as the title holder defends their new title, we see NO PROBLEM with this rule.




Rick "The Jet" Roufus
Atlanta, Georgia, USA, Self

IKF Pro International Rules Heavyweight World Champion.

Roufus won his title on May 15th, 1999 when he defeated Stan Longinidis (Right) of Boxhill, Victoria, Australia by TKO after Loniginidis suffered a broken bone in his foot at the end of round 9. Roufus was ahead on all 3 judges cards at the time, 89-81, 86-83 and 88-81. The bout was in Lowell Massachusetts, USA
Photos Of The Rick Roufus VS Stan Longinidis IKF World title Bout.
On September 29th, 2003 Roufus Officially announced his retirement to the IKF. In his last event, he tore his ACL (Knee). Although he had come back from knee injuries in the past, this time he felt he could not recover from the severity of the injury this time.
"As we all know, Rick Roufus was and still is one of the most recognized names in our sport. He has proven himself as a Champion to everyone who follows in his footsteps. He was a true leader in his career and has set the standard for what it takes to be a true WORLD Champion. We will miss his excitement and star power for years to come." IKF President Steve Fossum.
Since his announced retirement, Roufus has come back and fought "Many" times. His latest quest is in the Mixed Martial Arts Cage.
Last Update: 12-24-07



Rick "The Jet" Roufus
LAST RECORD: Phoenix, Arizona, USA, KB: 64-9-3/43, Pro BX: 13-5-1/11, Pro MMA: 5-6, 5'11", 205, 6-3-66

IKF Pro International Rules LEGENDS Heavyweight Champion.

October 22nd, 2011, Las Vegas, Nevada, USA. Roufus won the IKF Legends Title by forfeit when opponent Mighty Mo failed to pass his Nevada State Physical. On the night Roufus fought an exhibition bout against Anthony Newman.
Roufus was finally able to meet up with Mo almost a year later on September 8th, 2012 in Los Angeles California, winning a 3 round Split decision. This was Roufus' last bout.
Roufus' Legends title was retired in April of 2016.
Last Update: 4-2016.




TITLES WON

KICKBOXING

2011 IKF Pro International Rules Legends Heavyweight Champion
2003 K-1 World Grand Prix
2002 Preliminary USA runner up
2002 K-1 World Grand Prix
2002 Preliminary USA runner up
1999 I.K.F. International Rules Heavyweight World Champion
1998 K-1 USA Grand Prix '98 Champion
1996 ISKA Full Contact Heavyweight World Champion
1994 IKF Full Contact Light Heavyweight World Champion
1991-94 PKC Light Heavyweight World Champion
1991-94 ISKA Full Contact Light Heavyweight World Champion
1990 FFKA Light Heavyweight World Champion
1989 FFKA Super Middleweight World Champion
1987 KICK Super Middleweight World Champion
1986-89 PKC Middleweight U.S Champion
1986 PKC Light Middleweight U.S Champion



BOXING

1996 WBC Continental Americas Cruiserweight Champion




PHOTOS
BOUT FOOTAGE