It wouldn't take long for you to discover that instructor Dean Lessei of Dubuque Martial Arts out of Dubuque, Iowa is committed to his art form of Muay Thai. Lessei is an excellent trainer of the Muay Thai art form having trained several IKF National Champions in previous tournaments. (2001 Champions shown below at right)
Some Of Lessei's Champions Include: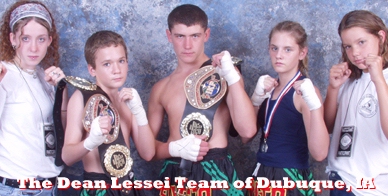 Lessei is the owner and Chief Instructor of the Dubuque Martial Arts Group located in Dubuque Iowa. D.M.A.G. has been in operation since 1990. Dean began his formal martial arts training back in 1982 with Tae Kwon Do. His first exposure to the Filipino Martial arts came by training at a seminar with Tom Sipin in Doce Pares around 1985. Eventually his close friend and training partner Tim Mousel introduced Dean to Sifu Rick Faye late in 1986. From then on Dean began attending seminars and training camps as well as making trips to Minneapolis to train under Rick Faye.
Through hard work and determination Mr. Lessei achieved instructor credentials in Jun Fan Martial Arts, Filipino Martial Arts, Muay Thai, and Jun Fan / JKD Grappling. Dean also ventured out on the competitive level in Muay Thai and Kickboxing becoming a 3 time T.B.C. heavyweight champion. Additionally Dean is a 2 time W.E.K.A.F. national champion in full contact Escrima.
In the past several years Mr. Lessei has been busy training his students producing several regional and national champions in Muay Thai and Kickboxing under the IKF. Dean has produced many regional and national champions as well as world medal winners in full contact Escrima in W.E.K.A.F. events.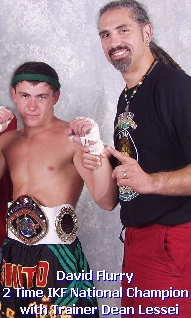 Dean's focus has been in working with the younger generation developing the "juniors" at his gym. He also continues to teach around the Midwest through seminars and camps on women's self defense, Muay Thai and Kickboxing, Kali and Jun Fan / Jeet Kune Do. In addition to being a martial artist and school owner, Dean is a husband to his beautiful wife Danielle, father to his wonderful children Savannah, Luke and Brooke and works full time as a designer of light gauge steel and wood roof and floor trusses. Dean has an extensive background in computer aided design and is a journeyman tool and die mold maker as well.
Martial Arts Certifications:

Associate Instructor under Guro Dan Inosanto - Jun Fan Martial Arts Associate
Instructor under Guro Dan Inosanto - Filipino Martial Arts
Instructor Diploma under Ajarn Surachai Sirisute - Thai Boxing Full
Instructor under Sifu Larry Hartsell - Jun Fan / Jeet Kune Do Grappling
Instructor Level 1 under Sifu Rick Faye - Jeet Kune Do Concepts and Kali
Instructor / Black Belt under Tim Mousel



Additional Ranks Held:

Brown Belt under Sensei Terry Smith - Judo
Brown Belt under Lee Merrick - Tae Kwon Do



Professional Experience:

Director Thai Boxing Association of the USA for the state of Iowa
Owner / Chief Instructor Dubuque Martial Arts Group, Dubuque, IA 1990-Present
Certified Referee World Escrima Kali Arnis Federation
Certified Judge, Coach, Trainer IKF, International Kickboxing Federation


Dubuque Martial Arts is located at 3430 Dodge, lower level, Inn Plaza, Dubuque, Iowa. Their phone number is (563) 588-1012 or you can e-mail Mr. Lessei directly at dalessei@Cascade-Mfg-Co.com