Don "The Dragon" Wilson

NEWS


Below is a collection of Articles and photos from the IKF and Don's past...





---


TUESDAY, May 28th, 2013, AT 12:30 PM/ PST




"The Dragon's"
Fight Is Off!
Turkey Promoters Breach Contract!




It's happened before to many other fighters, but to happen to someone as well known as Don "The Dragon" Wilson is a little more than disrespectful. More of a slap in the face or promotional suicide for the names of those involved on the event Promotional side.

As we reported back on March 7th of this year, 11 Time World Champion Kickboxer and former IKF World Champion Don "The Dragon" Wilson had been confirmed to fight one more time on an IKF Sanctioned Kickboxing event in Istanbul, Turkey. Wilson's bout was to be a 10 round non title bout under K-1 rules.

The event had been scheduled for September 28th and was to be promoted by WMW Productions as "Victory Night 2013 Istanbul" "Dragon Jubilee". The promoters also made claims they had the famous Sinan Erdem Arena in Istanbul, Turkey booked. Wilson even made a trip over to Turkey to attended a press conference held and sponsored by the Ramada Istanbul Asia Hotel to promote the launch of the event. (See Photo Below)

However today it was announced today that Wilson's agent, Ray Cavaleri that his bout at the proposed "Jubilee Night" in Istanbul has been cancelled due to "breach of contract and non-performance of financial agreements".

"I am VERY disappointed because I've been training very hard and was hoping to compete in, like my TRADITIONZ shirts say, 'ONE MORE FIGHT'. Says Wilson. "I am in contact with the Russian DRAKA Federation and may have some exciting news regarding their "re-entry" as a combat sport in the US."

If Draka finally makes the decision to come back to the USA, the IKF and Wilson will be a part of what they want to do. Wilson and IKF President Steve Fossum were brought to Russia this past fall to see the Draka Promotion and meet the Promoters.

"It's a great style of fighting since they added in the 30 seconds ground fighting rule." said Fossum. "A much more exciting fighting style than it was 15 years ago when the action stopped after the throw."

Watch for more info on this in the coming months...



---

SATURDAY, March 30th, 2013, AT 12:10 PM/ PST
Dragon News...
Don "The Dragon" Wilson
Attends Press Conference in Turkey




As we reported on earlier this month on March 7th, 11 Time World Champion Kickboxer Don "The Dragon" Wilson will be fighting on an IKF sanctioned Kickboxing event in Istanbul, Turkey. Wilson's bout will be a 10 round non title bout under K-1 rules.

The event has been confirmed for the month of September 2013.

As of this time we have heard several different names for the event which include "Victory Night in Istanbul 2013" "Dragon Jubilee", "Victory Anniversary Night 2013 in Istanbul" but the name is no issue with us here as all we know is that this event is a Go!

Wilson attended a press conference last week that was held and sponsored by the Ramada Istanbul Asia Hotel.

"This night of glory come true," said Wilson.
"I want to make a great introduction to the global arena in Turkey & Istanbul.
I am proud that you have taken the first step with me for such a memorable night. I was very happy and surprised to be given a proposal for this event. If I win on this night, perhaps this may not be my last fight. Even at 58 years old, I still feel refreshed mentally and physically and I will be more than ready.""
---

THURSDAY, March 7th, 2013, AT 3:45 PM/ PST
Well we have known about this for quite some time now and today it became Official. Winner of 11 Professional Kickboxing Titles including the IKF World Title in 1999, Don "The Dragon" Wilson. has been signed to step back in the ring again! The bout will take place this coming Fall (September - October) as part of an exciting night of IKF sanctioned Kickboxing in Istanbul, Turkey.
Wilson's bout will be a 10 round non title bout under K-1 rules. "I am very excited because although I am 58 years old and have not fought for over 10 years, I still miss the lifestyle...training, sparring, etc." Said Wilson. "I will fly to Istanbul March 19th for the Press Conference."
While some action movie stars like Van Damme (See article below) continue to talk about doing a Kickboxing bout, Wilson will be stepping into the ring again... At age 58. For those worried about Wilson's health, of course he will need to complete all the necessary fighter physicals the IKF has in place, but his health was the last thing the IKF was concerned with. As we mentioned in the article below, every year for the last 10+ years Wilson gets a full fight physical "Just in case" a fight offer comes across the table. Oh and in case your wondering, he's past these physicals with the fitness and health of a 25 year old every time. Well, that offer has come, and has been confirmed with a purse deposit as well.
Up next for Wilson will be a major press conference in Istanbul on March 19th. Somewhere between now and mid summer, the Istanbul promoters and the IKF will be confirming Wilson's opponent. Again, this will not be a title fight, so selecting a top contender will not be a priority. Although Wilson has made it clear, he doesn't want some slouch or a bum!
So what if Wilson wins? Well, one would think it would be 1 and done for him, but Wilson has other plans. We can't say when or where, but there is an attached plan to Wilson's decision to get back in the ring again. More on this as things develop. We will keep you all posted here with more "Dragon" news as we learn it. In the mean time, maybe someone should tell Van Damme that Wilson's looking for an opponent, and unless he wants to fight a fighter who is currently on a downward slide, he can always jump in the ring with "The Dragon." Just one thing though... Make sure you tell him that this will be no movie fight. This is real Kickboxing, and "The Dragon" only fights to win... Preferably by KO!
---

SUNDAY, March 3rd, 2013, AT 11:15 AM/ PST

Can You Call This A
REAL FIGHT?
Although this is old news, we want to tie it in with some NEW News...
The "Drama' of all this started back in 2010. Action film star (Claimed Kickboxer) Jean Claude Van Damme was going to actually FIGHT. WHAAAAT you say? Yes, he was. it was suppose to take place in December of 2012. Well as everyone is aware, the fight did not happen. However, there was plenty of talk about it. They even started a Facebook page for the fight - Click HERE.
The news piece below was written just this past December 8th, 2012 by combat-asia.com. The site was giving more press to Van Damme's claim that he was still going to fight in a real fight. At the time we saw it, we didn't give it much credit. However, we have an interesting tie-in that is one of those "Offers you can't refuse" for the action star... However, if we were a betting man, we would bet he would turn the offer down....
It's not that we don't like Jean Claude Van Damme's movies. It's just that we can't stand when ANY person makes claims they can't back up, and most likely never will or, claims that according to most, of something they never did. Enough is Enough Jean... If you are going to continue to "Milk" this story, it's time you do something about it instead of just talking about it. As the saying goes, "Put up or Shut Up!" However, if your REALLY interesting in "Putting UP", we have an opponent to remind you of below...
First, here is the story, then our add on below it...
___________________________________
Jean Claude Van Damme
Wants to Fight Somluck Kimsing in December 2013

Jean Claude Van Damme was at Lumpinee Stadium last night to see Somluck Kamsing's decision loss to fellow veteran Jomhod Kiatadisak and made it clear that he still hopes to fight the Olympic Gold Medalist. Van Damme was in Kamsing's corner for the fight with Jomhod and also offered a few words of encouragement to his prospective adversary backstage, apologizing that the much anticipated fight had yet to materialize.

Speaking exclusively to Combat Asia he said,
"The only reason the fight didn't happen was that I was filming the Expendables 2. I want to fight him next December in either Thailand or the Middle East and we will film episodes of me and him training for a website and the fight itself will also be shown live on the website so we should get 50 or 60 million viewers."

One potential stumbling block could be Expendables 3 which is being filmed next year and, according to Van Damme, might mean the fight with Kamsing won't happen until January 2014. He said he had no idea where he would be training but was adamant he was serious about getting in the ring with Kamsing and that had it not been for Expendables 2 the fight would already have taken place.

Van Damme caused some controversy when he ignored warnings from officials to leap into the ring during the break between rounds in Kamsing's fight with Jomhod. Kamsing already had two cornermen at the time but the star of famous 80s movies like Blood Sport and Kickboxer was determined to try and cool him down with a towel and refused to leave even when instructed to do so by the referee.

Unfortunately even the support of a famous Hollywood movie star was not enough to inspire Kamsing to victory in the fight which had a three million Baht bet riding on its outcome. The man who won a gold medal at the 1996 Olympic Games in Atlanta faded badly in the final two rounds and was outworked by Jomhod who seemed to be in much better condition.
___________________________________

OK, so that was all the "Guts and Glory" Van Damme was sharing 3 months ago... Fast Forward to today...

There is still no plans for this bout to ever take place. It appears to only be a lot of "Publicity Posturing" by an action file star trying to better his name as an actual "Fighter". Well, lets face it, taking any fight for Van Damme would most likely be a terrible career move. He has "Everything to lose and Nothing to gain..." Well, almost nothing... There is that "Credibility as a Fighter thing... ;). But who cares! Van Damme! Your making loads as an action star, WHY risk your "Perceived" reputation at all? You lose in a real fight and people will remember you only for "That Fight!" Sure, if you win, you may gain a bit, but that would depend on WHO you fight. Why not fight someone who's a fellow Action File star that has something you DON'T! Credibility as a fighter...

Enter Don "The Dragon" Wilson.
Wilson has listened to just about enough of Van Damme's BS and he's made it public MANY times, that he'd like to see Van Damme put his feet and fist ahead of his mouth. Wilson's challenge to Van Damme still stands! However, the real joke here is that Van Damme continues to play this off as a joke. Hey, Jean... It's NO JOKE! You DODGING Wilson is the JOKE!

As for their age? Well, Every year for the last 10+ years Wilson gets a full fight physical "Just in case" a fight offer comes across the table. Oh and in case your wondering, he's past these physicals with the fitness and health of a 25 year old every time. We can't speak for Van Damme. However, the fact that he won't fight Wilson does tell us who the REAL KICKBOXER and an Action Film Star is between the two of them...

Don's awaiting your call Jean...
---

TUESDAY, February 12th, 2013, AT 1:10 PM/ PST
DRAGON WATCH..
Hey "Dragon" Fans.
Here is a collection of some Free Dragon Films available for a short time....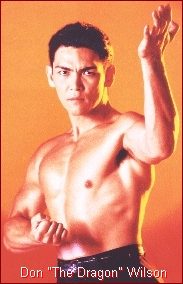 For more info on Don "The Dragon" Wilson, Click HERE!
---

THURSDAY, January 10th 2013, AT 10:30 AM/ PST



DRAGON WATCH...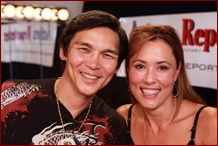 ACTORS REPORTER
Christie Philips Interviews
Don "The Dragon" Wilson
Eleven time World Kick-Boxing Champion Don "The Dragon" Wilson has been in over 30 action adventure films talks about his amazing career.
Don explains how he went from wanting to be a NASA engineer like his father to World kickboxing Champion, then actor.
To check out all "THREE" parts of the interview start by clicking HERE.

So who is Christie Philips?
Click HERE.
---

A Tribute to the
Legend of Kickboxing
Don "The Dragon" Wilson
During his Seminar in Palermo, Italy.
---


DON WILSON INTERVIEW
2012
CLICK HERE
---
OLDER DRAGON NEWS BELOW

WEDNESDAY, MAY 9th, 2007, AT 3:40 PM, PT
Enter... 'The Dragon'
Video's Kickboxing King is Real Champ!
Don Wilson Fights His Way To The Top Of The Action Heap.
Special To IKF
The license plate on his Mercedes reads 1 DRAGUN. A ceramic dragon sits atop a TV set in his home. White Dragon, a style of kickboxing, gave Don ''The Dragon'' Wilson his nickname and made him an 11 time Kickboxing World Champion. But his athletic career didn't bring him the Benz. Breathing white-hot fire at the video store did.
With over 30 martial-arts movies under his belt-including his upcoming movie, The Last Sentinel, Wilson is a small-screen superstar. ''I'm at the top of the bottom,'' he says, smiling. The Japanese-American Florida native stands a lean six feet, 190 pounds-not the overpumped body you might expect of a lethal weapon. Combine that physique with boyish handsomeness, at 52 he looks 30,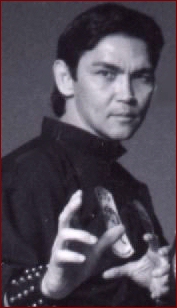 and it adds up to a strange kind of action hero. ''(In my movies) I'm the good guy. I don't drink, smoke, swear, do drugs, and I don't have explicit sex scenes,'' he says. ''Parents know, when they rent my movies, that there are good guys and bad guys, and the bad guys lose.''
This, he believes, is the reason the average height of fans at his autograph signings is four feet. ''These films tend to be followed by a specific, loyal audience that we can access directly through video,'' says Mike Elliott, who, as production head of schlockmeister Roger Corman's Concorde Pictures, has overseen Wilson's Bloodfist movies. ''(Concorde puts) out 30 pictures a year, but Don's films alone could keep the company running in profits.''
In 1987, Corman discovered Wilson in a karate magazine and gave him a call. ''I read for Roger,'' Wilson remembers. ''He sat back, stared at me, and said, 'You're gonna be a big movie star.' '' Two days later, Wilson signed a deal and began working for scale (about $1,200 a week). In 1994, Wilson earned well over $1 million and you can multiply that quite a few times for what he makes today.
As well as acting in his films, Don has co-produced over 20 of his films. He has mutual approval over almost every creative aspect of film making.
Things weren't always so, well, kicky. Wilson arrived in L.A. in 1985, pulled into a Holiday Inn, and spent a month reading books about acting. Hollywood, however, was unimpressed. ''There's not much call for six-foot Asian actors with Southern accents,'' says Wilson. One La Choy Chinese-food commercial and one stint as Thug No. 1 on General Hospital later, Wilson met his video destiny. The actor has mixed feelings when he's referred to as the next Jean-Claude Van Damme. He'd love to follow in the Belgian's big-screen footsteps. But in the ring, forget it. ''He was a member of the Belgian national team. That's like being part of the Bahamian football league,'' explains Wilson. ''If we boxed, it would be like Stallone fighting Tyson.'' Wilson of course would be the Tyson....
Re-Enter the Dragon
At 45 years of age, (Right) Wilson stepped back into the ring to fight for the vacant IKF Pro, FCR Cruiserweight World Title on May 15th, 1999 in Lowell, Massachusetts, USA against Dick Kimber for what is still this day, the highest kickboxing purse EVER paid, $150,000.00 and some additional training expenses. Kimber swore to everyone that he'd have the fight over before the fifth round. However when the Dragon unloaded on Kimber in round three, Kimber dropped to the mat and referee Dan Stell counted him out on the floor, a count that went into the round break. Kimber never stood during the count and to this date, Kimber never fought again. It had been over eight years since Don last entered the ring, but his trademark sidekick was stronger than ever. Wilson picked up the IKF Cruiserweight World Title for his efforts and Kimber kept his promise when this one was over in round 3. In 2001, having never been challenged for his title, Wilson Voluntarily Retired it to move down to the Light Heavyweight Division.
Over his career Wilson fought and defeated many Great fighters such as James Warring, Demetrius Edwards, Maurice Smith, Dennis Downey, Dennis Alexio, Branimir Cikatic, Mike Winkeljohn, Herb Thompson, Greg Smith, Muhammed Ashraf Tai, Panya Sornnoi, Pongdienoi Prasobchai, Rob Salazar, and a very controversial Draw against Jean-Yves Theriault which many thought Wilson clearly won.
Don's fight record was 71 wins, 5 losses with 47 knockouts along with winning 14 titles. Here is a breakdown of his accomplishments as a fighter.
Wilson's Titles

2000, ISKA North American Cruiserweight Title
1999, IKF Cruiserweight World Champion (190 lbs.)
1989, PKO Light-Heavyweight World Champion (170 lbs)
1988, ISKA Cruiserweight World Champion (182 lbs)
1984, STAR Super Light-Heavyweight World Champion (184 lbs)
1984, WKA Super Light-Heavyweight World Champion (184 lbs)
1983, STAR Cruiserweight World Champion (184 lbs)
1983,WKA Cruiserweight World Champion (190 lbs)
1983, KICK Light-Heavyweight World Champion (175 lbs)
1982, WKC Light-Heavyweight World Champion (175 lbs)
1980, STAR Light-Heavyweight World Champion (175 lbs)
1980, WKA Light-Heavyweight World Champion (175 lbs)
1979, PKA Middleweight United States Champion (170 lbs)
1978, PKA Middleweight Florida State Champion (170 lbs)

Awards

1988, STAR Fighter of the Year
1985, STAR Fighter of the Year
1984, STAR Fighter of the Year
1984, STAR Career Champion: Highest Rated Kickboxer of All Time
1984, Black Belt Hall of Fame
1984, Official Karate Hall of Fame
1983, Official Karate Magazine's Fighter of the Year
The Greatest Kickboxer Back Then?
Called "The greatest kickboxer of all time," in 1984 by the independent STAR Ranking's system, Wilson's achievements had topped those of kickboxing pioneers Joe Lewis, Bill Wallace, and Benny Urquidez. Legendary "King of the Bs" movie producer Roger Corman, who virtually launched the career of Jack Nicholson, was simultaneously planning a kickboxing movie, and he wanted to cast actual kickfighting champions. As Corman researched potential leads, all signs pointed to Don.
The Van Damme Challenge
Jean-Claude Van Damme whos real name is Jean-Claude Van Varenberg (A.K.A. Frank Cujo) had been promoting himself under the title of 1980 European or World (Who knows??) Middleweight Kickboxing Champion, a credit which actually belonged to a fighter named Bill "Superfoot" Wallace. No evidence has ever been found to substantiate that claim. However, Van Damme was a successful karate tournament competitor. For the dignity of the sport, Corman and Wilson challenged the well-known movie personality to a $100,000 winner-take-all bout but Van Damme declined the challenge which was what "The Dragon" always expected. As Wilson maintained, "Really, it'd be like Tyson fighting Stallone. I have no desire to hurt the guy."
Don't forget to watch Don's most recent movie, The Last Sentinel, on the Sci Fi Network on May 12 at 9:PM (ET), 8:PM Central Time. For additional info click Here. To see the trailer of the movie click Here. For more info on Don, go to www.DonTheDragonWilson.com
---

FRIDAY, MAY 4th, 2007, AT 2:40 PM, PT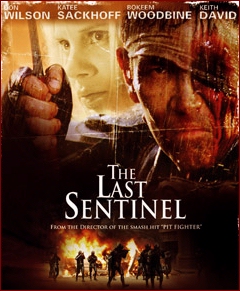 Former IKF World Champ
Don "The Dragon" Wilson
Still In The Spotlight!
The Dragon's Next Movie Will Air On The
Sci Fi Network!
Former IKF Pro World Champion Don "The Dragon" Wilson is still in the spotlights! Wilson has completed the filming of yet another movie, The Last Sentinel, and it will premier on the Sci Fi Network on May 12 at 9:PM (ET), 8:PM Central Time. For additional info click Here. To see the trailer of the movie click Here.
We spoke to Don today and he explained to us that "Although there is some Martial Arts in the film, this is not my usual Martial Arts style film. This is a Science Fiction film with tons of Explosive Action. My next project is called the Samaritan and it will have a lot of Martial Arts in it." explained Don.
Here is a breakdown of the Movie...
The last of the legendary 700th, the last of the warriors, our last hope... The Last Sentinel. It's defences crippled, mankind has been slaughtered to the brink of extinction by the drone police. Tallis is the last of the last, after his unit was destroyed in the final terrible battle of the last great war. Living a life of survival, he is only ever one step ahead of the creation humankind hoped would bring peace on Earth, the Drone. When Tallis crosses paths with a young freedom fighter known only as "The Girl" his world changes. Tallis finds his reason to fight again, but, this time he'll wage outright war! Set against a back ground of mythic proportions, with a spectacular cast of characters, "The Last Sentinel" is the story of a hero of ancient principals, of a poet warrior of the classic type.
---
WEDNESDAY, December 28th, 2005, AT 1:30 PM, PT
DRAGON
TV!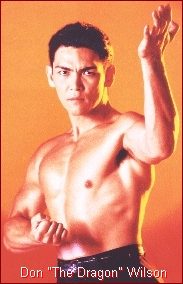 For those of you who haven't seen any movies that 11 time Kickboxing World Champion Don "The Dragon" Wilson (Right) has starred in, now is your chance. Showtime Extreme, Showtime Family Zone, Spike TV and Starz Edge has been showing many of the Dragon Movies over the last several months.
On January 3rd, January 17th, January 21st and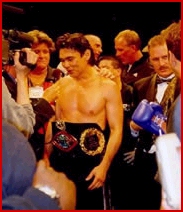 January 26th Showtime Extreme will be showing The Capitol Conspiracy (aka The Prophet )
On January 26th, Spike TV will show Bloodfist VII: Manhunt, the Wilson flick that also has Stephen "The Fight Professor" Quadros (MMA & Kickboxing commentator - For more info click Here and Here.) in it. and on January 27th Spike TV will show Bloodfist VIII: Hard Way Out.
On January 2 and the 31st Starz Edge will be showing Cyber-Tracker (With Richard Norton more info click Here)
On December 28th and 29th Showtime Family Zone will be showing Hollywood Safari (With John Savage )
On December 31st Showtime Extreme will be showing Ring of Fire III: Lion Strike. And finally, on January 2, 3, 6, 8, 10, 14, 16, 19, 20, 24 & 28th Showtime Family Zone and Showtime #2 will be showing Magic Kid (aka Ninja Dragon & Tiger Kid)
To see The Dragon's upcoming TV schedule with show times and dates Click HERE!
Wilson's kickboxing record stands at 71-5-2 with 47 knockouts. We say, that it "Stands" because Don has never said he has officially retired. In fact, Don has said that if the money were offered, he would fight anywhere, any time, even at the age of 46. Wilson still holds the record as the highest paid kickboxer in the world, a $150,000 purse on the IKF Sanctioned Mass Destruction (Left) when he won his IKF Professional World Title.
To read more about Don Wilson go to his website at www.DonTheDragonWilson.com
---
SUNDAY, December 12th, 2004, AT 6:45 PM, PT
Van Damme Wants To ... Fight?
Here's some news that may make you raise an eyebrow or two. We recently read that the 44-year-old Jean Claude Van Damme has told members of the Pakistan press that he wants to jump into the Kickboxing ring. Many have said that the man who made the word "KICKBOXING" famous with his film "Kickboxer" (Left) has never fought as an actual Kickboxer before while others say he was actually a Belgium Champion. According to sources he was a member of karate Team Belgium, and eventually won the European Professional Karate Association's middleweight championship. However, what we never confirmed was if the title was a "Point Karate" title or a "Kickboxing" title. We have yet to confirm what the real story is. What we can confirm is that whether he fought or not, his movie brought great exposure to the sport itself.
Van Damme told the Realitatea Romanesca newspaper that he was planning to make a return to fight competitions and get this, not just any competition, he wants to win the K-1 World Title. "I am planning to go back to fighting next year when I am 45." Said Van Damme. "I gave up fighting a long time ago because it offers no perspectives and there are people who do not respect their art. But now I want to fight again to prove something to myself. I'd be the first actor to fight in K-1 and also the oldest competitor."
Oldest competitor? Well, maybe in K-1, but not in the sport. Don "The Dragon" Wilson (Right) holds that title having fought last at age 45 on March 17th, 2000 when he defeated Dewey Cooper in Las Vegas, Nevada by a 10 round decision. But lets talk about which Movie Star is The REAL Kickboxing Champion...
Wilson was surly a dominate force in kickboxing as the undisputed world champion, fighting anyone, under any rules, and he defeated the best champions in their own hometowns, while they were in their prime. His impressive career record consists of 71 wins, 5 loses, 2 draws with 47 wins by knockout, and 6 by kick-knockout, and he was also the first kung-fu practitioner to become a World Kickboxing champion. In 1996 he was named the Greatest Competitor of All Time by Kickside magazine of Europe. Wilson won a total of 11 "REAL" Kickboxing "WORLD" Titles in 3 weight divisions.
Wilson fought and beat the best. He was the only person to have defeated former multi time World Champion Dennis Alexio having done so in 1984 on March 29 in Hollywood, Florida with a 12 round decision. Later that same year on December 18th he fought to a controversial draw which many feel he won against another superstar of the sport, "The Iceman", Jean-Yves Theriault in Montreal, Canada. On September 12th in 1987 he knocked out Branimir Cikatic in the 7th round in Orlando Florida. He also defeated Maurice Smith back on May 21, 1984 by decision. At 44 years of age (9-10-54) Wilson won his IKF World Title (Right) on May 15th, 1999 in Lowell, Massachusetts, USA, when he defeated Dick Kimber of Lynn, Massachusetts, USA. At the end of the 3rd round Wilson came alive and exploded with a flurry that eventually knocked Kimber to the floor motionless. Referee Dan Stell counted Kimber out on the floor, a count that went into the round break. Kimber never stood during the count.
There is no question who Wilson is, but we have a better idea. Why not make this a "REAL STAR" Battle? Movie Star Vs Movie Star! Why not match up Wilson and Van Damme together. Have a "Winners Purse" where only the Winner gets paid. A winner take all match. This is not such a far-out idea. These two are basically in the same weightclass (Light Heavyweight - 172.1 lbs. - 179 lbs.). Van Damme is 5-foot-9, 180 lbs. while Wilson is 6', 179 lbs. But heck, if Van Damme says he has "Pumped-Up" and is weighing more towards a K-1 weight he could always go a few rounds with the 189 lb. "Wonderboy!" Stephen Thompson... (Left).
Either way, this just might be a bout worth a PPV fee.
Any takers?
---
SATURDAY, July 20th, 2002, AT 2:10 PM, PT
"THE DRAGON"
Continues To
WIN!
Don "The Dragon" Wilson holds a record that could last for a long time in the sport of Kickboxing. He holds the record for the highest fighters purse ever paid to a Professional Kickboxer, $150,000.00. That was May 14th, 1999 in Lowell MA, USA and he was paid this fee to dismantle 3 Time World Champion Dick Kimber on his way to winning the vacant IKF Pro Full Contact Rules World Cruiserweight (186.1 lbs - 195 lbs. or 84.6 kg - 88.6 kg) Title. (After fight picture at right)
Last year Wilson retired his IKF World Title but not because he didn't want it or because he didn't "Want" to defend it. Wilson retired the title because he simply couldn't keep his weight up to defend it. So last year Wilson respectfully retired his IKF World Title on his own and moved down into the Light Heavyweight (172.1 lbs. - 179 lbs. or 78.2 kg - 81.3 kg) rankings where he feels much stronger and more comfortable.
Last night at age 47, The Dragon entered the ring again. Although the opponent was no big named fighter, Wilson continued his undefeated comeback since winning his IKF World Title back in 1999 with his 3rd victory in 3 tries (2 wins by KO/TKO and 1 by decision). Wilson faced off against unranked pro kickboxer Eddie Butcher of Baltimore, MA, USA. Fighting sluggish for the first 5 rounds, Wilson picked it up in round 6 and continued to build momentum until he landed an overhand right that put an end to Butcher.
In Wilson's other bout since his 1999 comeback he defeated Dewey Cooper at the MGM Grand in Las Vegas, Nevada. Wilson and Cooper went at it for ten rounds and in the end, Wilson won a close decision.
Prior to his IKF World Title win in May of 1999, Wilson's last fight was January 12, 1991 in Anaheim, CA, USA when he defeated Ghalib Carmichael in a 11 round decision.
Wilson fight career started in 1974 in Orlando, FL, USA. Some of the well known names he has defeated in his career include Maurice Smith, James Warring, Dennis Alexio, Bronko Cikatic and Mike Winkeljohn. His most controversial bout ended in a draw to Jean-Yves Theriault, a fight many at ringside thought Wilson won.
By the time Wilson hung up the gloves in 1991, he had won 11 World Titles, in 3 different weight classes under 6 different sanctioning organizations. He was world champion for 11 straight years, defeating 12 other world champions, 12 number-one contenders and 15 National champions on four continents. He thoroughly dominated kickboxing as the undisputed world champion, fighting anyone, under any rules, and he defeated the best champions in their own hometowns, while they were in their prime. As of today, his fight record stands at an impressive 72 Wins, 5 Losses, 2 Draws, 48 Knockouts, and 6 Kick-Knockouts.
In addition to his outstanding fight career, Wilson has starred in 32 movies and worked with many actors such as Chris Penn, Chuck Norris, Andrew Dice Clay and many more. His movies have always been in the top 5 rentals at the largest video rental chain in North America, Blockbuster Video. He's very well known in the world of Kickboxing but even more of a celebrity in the world of Martial Arts.
In all, Wilson has lived the dream of nearly every kickboxer. He's a multi time World Champion and Movie Star with a Wonderful Family and Business. However all these things don't make him a Champion in the book of life. What makes Wilson a Champion in the book of life is his charm, respect and humbleness for everyone he meets on any day in any place under any circumstance.
Wilson has become more than a Ring Champion, he's "THE" Definition of a Champion IN and OUT of the Ring and in the Art of LIFE!
Congratulations on yet ANOTHER Win Dragon!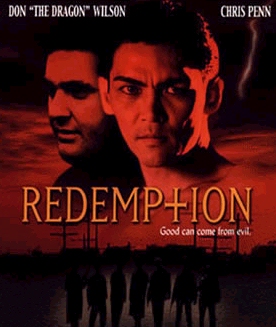 ---
WEDNESDAY, August 21st, 2002, AT 9:30 AM, PT
MASS DESTRUCTION!
Now Available To Help Pay Fight Purses
It was billed to be "The Greatest Night In Kickboxing" and for most part, maybe it was. It headlined in the PPV Viewers Guide as "Mass Destruction" and featured 5 Pro IKF World Titles and 1 Pro IKF U.S. Title and was without a doubt a great night of Kickboxing. Only a few things kept it from being "The Greatest."
One of them was the marketing of the event by the promoters ( Phil Malonson (R) ). Instead of calling it "KICKBOXING" and featuring WHO was fighting on the event, in the PPV schedule they elected to just call it "Mass Destruction" instead. Of course, few knew what Mass Destruction was and the PPV numbers were terrible, (as has been with nearly every Kickboxing PPV event in the history of the sport due to poor marketing & advertising)
However, the balls dropped with other people on this event as well such as the Viewers Choice PPV People themselves who somehow failed to place all the "Photo" ads into the PPV Viewers Guide the week of the event. Their response... a simple "Sorry..." This of course didn't help in the viewership numbers either. However, Mass Destruction will best be remembered for just one thing. Not the titles won or the fighters on it but the failure of Promoter Phil Malonson to fulfill the financial obligations in paying the fighters purses. It marked a changing point in the IKF where now we demand ALL Pro Fighter Purses to be paid directly to the IKF BEFORE the Fight starts or to the overseeing State Athletic Commission.
The idea for this event had come from 2 people (Dick Kimber and one of his associates) but as the date drew closer, one of the main partners pulled out of the event taking much needed funds with him. Enter a man named Phil Malonson who didn't know anything about the sport of kickboxing let alone who fighters like Rick Roufus or Don Wilson were. Malonson was asked to step in prior to the other partner leaving as a financial backer for the event. Malonson had put in a lot of money prior to fight time which included paying out the highest fight purse in kickboxing history, $150,000.00 to Don Wilson.
Malonson (who we stress, knew nothing of the promotional business before this event) was told by his associates that the event ticket sales that night would provide the money needed to pay all the remaining event purses (Remaining purse amounts vary from verification between $150,000.00 to over $200,000.00) and the million or so he would make off the PPV would pay him back and pay all the other event expenses as well. However in the end, Malonson was left with only a few thousand dollars which he paid out to a couple of fighters and a major debt.
Since the event, Malonson has been working with the IKF to create a way to make good on all those fight purses. Everyone else involved with the event has jumped ship, leaving Malonson as the only one to pay all the event debts. Unlike the others involved, Malonson's been in constant contact with the IKF ever since the event.
A little over a year ago Malonson teamed up with Victor Theriault (Seen interviewing Rick Roufus at left and Don Wilson at Right) of Vic Theriault Productions in Canada. Theriault was an essential part of Mass Destruction being in the right place at the right time. The day of Production, the PPV Production Coordinator quit on the spot. Because of this, instead of being a part of the "On Air" commentating crew for part of the event as well as doing other scheduled IKF duties, IKF President Steve Fossum instead had to team up with the remaining PPV Production crew in getting several pre-event projects completed such as fighters names and stats for the on air graphics, camera positioning, audio placement checks and a host of other things.
When Fossum saw Theriault at the event (Knowing him from a previous event) he asked him if he could be their "On Air" interviewer which he agreed to do. Theriault matched up well and made a dual Theriault team as his World Kickboxing Champion brother Jean-Yves Theriault was teamed up with lead commentator Phil Stone at Ringside.
When Theriault and Malonson got together the two put together a finished product video of the event. Last year it went into release in Canada and just recently, the video has been put on the USA Market. "The proceeds of the video will go into paying all the fighters back." said Malonson in a phone interview today. "I'm the only one left here who's still trying to make good on this event."



The video features 4 of the 5 IKF Pro World Titles
Rick Roufus Vs Stan Longinidis, Don Wilson Vs Dick Kimber, Mike Labree Vs Kevin Rosier and Paul Biafore Vs Bernard Robinson
and as an extra bonus, it also includes
Jean-Yves Theriault vs Reed.
The final production is 118 minutes of kickboxing action and at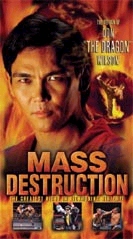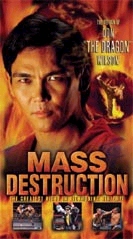 ONLY $8.49 for VHS and $12.99 DVD
You can't beat the price for the action!
To order the video go to the Lions Gate site by clicking
HERE
Or call 1 866 397-9455.
The IKF does Not Receive Any Portion of Fees from the sales of this video.
---
SATURDAY, May 13th, 2000, AT 9:15 AM
Is It Really An
Officially Sanctioned
IKF EVENT?
This is a special notice to inform everyone and anyone around the world that there have been some promoters around the world using the IKF letters and name without the permission of the IKF. In the last 3 months, we have become aware of several Kickboxing Promotions that have illegally used the letters IKF on their event posters, fliers and programs. We would like to remind you all that if an event advertised as an IKF Sanctioned event is not located on our UPCOMING EVENTS page at this link HERE, it "IS NOT" an IKF Sanctioned event.
We know of other organizations sanctioning events AFTER they happen. Such the case for example as when Don Wilson years ago lost one of his World Titles. The promoter of the event had sanctioned his event with a small organization and booked Mr. Wilson to fight one of his fighters for the unknown organizations World Title. The week before the bout, Wilson came down with the flu but was still forced, by his contract, to fight on the event. In the bout, Wilson lost, but knew he didn't hurt his career since he didn't put up his World Title. A few days later, the sanctioning body called and told him that he lost his World Title in the bout. Obviously shocked, Wilson responded saying "The event wasn't even sanctioned by you guys!" Their response was, "The promoter paid the sanction fees for a World Title after the event." Result, Wilson lost his World Title. You can be assured the IKF would not do such a thing. Officially sanctioned IKF events are ONLY approved and sanctioned BEFORE they happen. NEVER AFTER.
We have also found trainers, gym owners and promoters SELLING IKF Clothing with the IKF LOGO on them. We would like to inform everyone that the ONLY place IKF clothing can be purchased is from the IKF Headquarters. Some of these promotions we have discovered that are now facing legal action include;
Durban, South Africa, March 26th, 2000
Any Past Events in Uganda
Additional events in various parts of Canada, USA & some in Europe as well.
In addition, if some of you are wondering IF an event in the past was sanctioned by the IKF, you can find such information on our news pages that post ALL Past IKF Events for everyone to see. If ANY of you know of any promoters illegally using the IKF letters without approval of the IKF, please inform us here at the IKF Headquarter directly by phone at (916) 663-2467.
With the assurance of our UPDATED web pages, we can assure the credibility of ALL TRUE, Officially Sanctioned IKF Events around the world right here. Thank you.
---
MONDAY, May 17th, 1999, AT 5:40 PM
On May 15th, 1999 in Lowell, Massachusetts, USA at 45 years of age,
11 Time Kickboxing WORLD Champion
Don "The Dragon" Wilson
stepped back into the ring to fight for the vacant IKF Pro FCR Cruiserweight World Title against Dick Kimber for what is still this day, the highest kickboxing purse ever paid, $150,000.00 and some additional training expenses.

Kimber swore to everyone that he'd have the fight over before the fifth round. However when the Dragon unloaded on Kimber in round three, Kimber dropped to the mat and referee Dan Stell counted him out on the floor.

Kimber never stood during the count and to this date, Kimber never fought again. Having never been challenged for his title, Wilson voluntarily retired it several years later.


READ ALL ABOUT THIS NIGHT BELOW...
IKF
MASS DESTRUCTION
IS TOPS!
A RINGSIDE Sponsored Event - www.ringside.com
Lowell, Massachusetts, USA. Pick up the phone...Hang up the phone... Pick up the phone...Hang up the phone... you get the idea... That seems to be all that is happening here at the IKF World Headquarters today where our phones have not been idle since we got into the office earlier today. Kickboxing fans, fighters, trainers and press around North America and the World all seem to be "BUZZIN" about the "Greatest Kickboxing Event Ever...MASS DESTRUCTION -I-!"
The event was "LIVE" on PPV & Viewers Choice throughout North America and proved to be one of, if not the greatest nights of kickboxing ever. The Promoters are already making plans for the next event tentatively scheduled for September 10th of this year. Tsongas Arena in Lowell Massachusetts, USA was the venue for the May 14th event which hosted a packed house to 5 IKF World Title Bouts and 1 IKF US Woman's Title Bout. Well known fight Commentator Phil Stone handled the Main Commentating while Past World Champion Kickboxer, Jean Yves Theriault was the voice for the color commentary. Due to PPV time restrains though, only 4 of the bouts were televised in full.
The night started out with an "Electrifying" Middleweight Full Contact Rules World Title Bout between Tommy Kimber of Salem, Mass, USA (16-1 with 10 KO's) and 4 time World Champion Curtis Bush of Virginia Beach Virginia, USA (42-9-2 with 30 KO's). This was an exciting bout with both fighters opening the show with a BANG! In the end, Kimber won the vacant IKF Pro Full Contact Rules Middleweight title by unanimous decision, 100-85 on 2 judges cards and 100-86 on the other. After the fight, the well known Bush announced his retirement. Bush won 4 World titles during his time and although he lost this bout, he has nothing to prove to anyone. He will ALWAYS be remembered as a GREAT Champion both in and out of the ring. We are sure to see more of Mr. Bush in the future as an official as well as fight trainer and more important, as a big part of the IKF World Team.
With only a few days left before the event, another sanctioning body tried to be a part of the event without respectfully consulting with the IKF first. This was something that was agreed to between the 2 organizations when the other sanctioning body tried to "Backdoor" the IKF on an event last year featuring IKF World Champion Dennis Alexio in Sacramento, CA, USA. Alexio was outraged that the other organization was involved and not "JUST" the IKF.
However, on the Mass event this last weekend, when the IKF made the final decision NOT to co-sanction with the other organization due to the way they tried to push into the event, the other organization obviously didn't take it well. Rather than act professional, the other organizations commissioner who was a "Guest" at the event went around to several fighters "In their locker rooms before their fights" badmouthing the IKF. What class...and to think... he's a guest... He then forced himself to sit at ringside and went out of his way to cause even more problems with the event causing delays with his "Petty" complaints to the State Commission at ringside.
"There is a lot more to this story than everyone knows. said IKF President Steve Fossum. We made a promise and I shook hands with one of their owners back when they pulled this stunt in May of 1998 to NEVER try such a disrespectful stunt again, and they broke that promise. THEY Crossed a line and it's clear that we were in the right, AGAIN. What happened to Trust and Honor in this sport...? Their own commissioner showed us NONE! He hurt his entire organization by his actions both BEFORE, DURING and worse yet, AFTER a GREAT event! His only interest was to get the video of the event to make money with it for his organization, NOT help the promoters and the fighters. Especially when we heard he wanted 4 times the sanctioning fees we charged the promoter to sanction only 1 or 2 titles on the event. In addition, having the nerve, saying several fighters were not good enough for title shots. I was ashamed at him and shocked that he tried get a large amount of money from the promoters and his attempt to destroy these fighters opportunities for his own personal financial satisfaction. Some of these organizations better stop and look at who's leading them and it will explain why the IKF is surpassing them all." (There "WILL" be a Full story of this individuals actions in regards to this event on our "OPINIONS" page very soon... What a story!!)
Due to these delays, the original fight schedule for the first 2 bouts had to be changed. The second bout of the evening, the Woman's bout for example was scheduled for 10 rounds but was shortened to 6 so the match could fit into any TV time at all. It featured the IKF Full Contact Rules Woman's United States Title between Kellie Morse of Brookfield, Mass, USA (6-0 with 2 KO's) against Christina Rondeau of Woodsocket, Rhode Island, USA (8-2-1 with 2 KO's) This was a rematch between the 2 from an earlier non IKF event which had saw the ringside physician stop the bout due to excessive bleeding of Rondeau's nose. Also a problem in the bout was that Morse's corner would not wear the required "PANTS" for the Full Contact Rules bout. They had said they only had "Shorts". Instead of cancelling the bout, the shorts were accepted at the last minute in the dressing room. However, Morse entered the ring "IN PANTS" which she later took off before the fight started.
The bout was a back and forth war that saw each fighter exchanging blow after blow. In the end, two judges saw it for Morse, 60-54, 58-56 and another for Rondeau 58-56 giving Morse a "Split" decision win for the IKF Pro Woman's Full Contact Rules United States Title. Due to the shorter rounds, and the issue with the "Shorts vs Pants" this bout will be rematched at a later date so get ready for #3 ladies!!!
To begin the LIVE PPV show was the bout for the vacant IKF Pro Full Contact Rules Super Heavyweight title which has received a lot of response from all over the country. Nearly everyone we have talked to over the phone as well as at the event or those we have received e-mail from have all said this was a "GREAT WAR!!!" For years, many promoters have tried to make this match happen between Kevin Rosier of Buffalo, New York, USA (36-5 with 36 KO's) and Mike Labree of Roscoe, Illinois, USA (50-2 with 42 KO's). With promises coming from many promoters around North America, not to mention the broken promises by all the various organizations to both these fighters, both were very grateful for the opportunity and showed great respect and sportsmanship for each other before, during and after the bout. This is a fight that "SHOULD" have happened long ago, but better late than never. LaBree and rosier went toe to toe for 9 rounds exchanging blow after blow. This was a fight with all heart from both fighters. Rosier missed his kicks in 4 rounds (3,7,8 & 9) but he just kept taking everything LaBree threw at him, as did LaBree of Rosiers. At 26 seconds into round 10, LaBree caught Rosier with a short left to the head and Rosier went down to his knees. At that point, referee Jon Schorle put a stop to the bout even though it appeared that Rosier was more tired than hurt. Rosier respectfully accepted Schorle's decision as a professional, which goes to show everyone how TRULY PROFESSIONAL both Rosier and LaBree are. This bout saw two "Great Warriors" in the ring with more heart than you can EVER ask for. With the way everyone has responded to the bout, it looks like a rematch may be in the works. We'll keep you posted on it. GREAT FIGHT GUYS!!!
The next featured PPV bout was probably more desired than the main event as IKF world champion Rick Roufus of Ventura, CA, USA (51-4 with 36KO's) faced off against challenger Stan Longinidis of Boxhill, Victoria, Australia. This bout was originally scheduled to be for the vacant IKF International Rules "Super" Heavyweight Title. However, both Roufus and Longinidis both weighed in UNDER the Super Heavyweight Limit of 215 so instead the bout was a defense of Roufus' International Rules Heavyweight Title. This bout proved to be everything everyone "WANTED" it to be. With the worries of a quick KO by either fighter, some were afraid their PPV money would not be worth it. So wrong they were. Everyone wanted to see this one go some rounds and in response, well lets just say everyone got their monies worth. Roufus looked better than he EVER has in any of his past leg kick bouts mixing up both low and high kicks with great hand combinations. One of Roufus' high kicks dropped Longinidis in the 5th round but he quickly stood up before the count. Roufus answered all the critics who thought he wasn't a serious threat in the leg kick division as he blasted away on Longinidis round after round with both hand and feet combinations. As round 9 ended and Longinidis made his way back to his corner where it was discovered that Longinidis had suffered a broken ankle which obviously hurt his ability to move from Roufus. Longinidis informed the ringside physician that he could not continue and at that point, the bout was stopped by the ringside physician and referee Danny Stell. After the 9 rounds, Roufus was ahead on all 3 judges cards, 89-81, 86-83 and 88-81. With the win, Roufus retained his International Rules World Heavyweight Title and proved that his new trainers have clearly made him a force to be respected in the leg kick division. Look for Roufus to make some noise in his upcoming K-1 fights as well as on other IKF events.
With the way all the other fights excited the crowd, the main event had a lot of pressure on it to meet the expectations of everyone. The return of Don "The Dragon" Wilson to the ring though would not be without controversy, at least in the payment department. Kimber had agreed to get paid from the PPV income since he was an actual "Partner" in the promotional corporation. (Contract on file here at the IKF Office) However, just hours before the event, Kimber threatened to pull out of the bout unless he was given an additional $30,000 in addition to the already $20,000 he was paid to secure the bout rather than wait, as agreed for the PPV income. (Wilson was paid in full up front $150,000 and will rec. a great percentage of the PPV) During negotiations prior to the event starting, the other promotional partners decided that all they could do was to pay Kimber his money just to save the event. Money that was planned to be available for nearly all of the undercard bout fighters. A FULL story with all the Confirmed Facts will appear soon on the opinion page... But enough of that... On to the fight...
If you didn't see this fight LIVE on PPV, you better watch it when it re-runs over the next few days or buy it when it comes out on video because this is a fight and an entire show that every kickboxing fan should have in their personal video library. The build-up and ring entries of both Kimber and Wilson was no less than any big World Wide Boxing Event. Everything was in place for what was to be the making of kickboxing history! When the bell rang, you could cut the air with a knife as everyone felt....."THIS IS IT!"
Kimber came out quick as expected and scored quickly as well with hand combinations landing several strong uppercuts and spinning backhands in the first 2 rounds. However, Wilson proved to everyone he could still take a punch and weathered what storms came his way by Kimber. Wilson soon established his range and begin to score some great shots on Kimber. Nearing the end of the 3rd round, Wilson came alive and found his mark as he exploded with a flurry that eventually knocked Kimber to the floor motionless. As Dan Stell counted Kimber out on the floor, there was some confusion from many viewers as to what happened next. All night, due to the crowd noise, the referees had trouble hearing the round bell. Knowing this, with Stell counting over Kimber directly in front of IKF President Steve Fossum, Fossum informed Stell that the round had ended. However, again, due to the crowd noise, Stell, misunderstood Fossum's announcement and thought he was saying that for some reason, Kimber could return to his corner. Quickly realizing what had taken place, Fossum informed Stell that Kimber "WAS" counted out since Kimber never stood during the entire count. Spectators and viewers were a little confused since they never saw Stell wave the fight over until both fighters were sitting in their corners. "The call was correct by Stell", says IKF President Steve Fossum, "I blame myself for any misunderstandings. I was just doing as we were already doing in the previous bouts due to the arena noise." When Stell finally did wave the bout over, Wilson's corner went wild. Kimber and his trainers never protested as it was obvious that Kimber was not able to continue. After just 3 rounds of fighting, Don "The Dragon" Wilson came back after a 10 year retirement from kickboxing to not just squeak out with a win, but to win by a strong KO. In doing so, Wilson captures the vacant IKF Pro Full Contact Rules World Cruiserweight title and improves to a total of 70 victories with 47 KO's in his career. There was talk after the bout of Wilson facing Rick Roufus, but this is highly unlikely due to such a vast weight difference, but we won't count it out yet. After the Wilson fight, there was still another truly EXPLOSIVE match!
Bernard "Swiftkick" Robinson of Pittsburgh, PA, USA (43-6 with 31 KO's) faced off against Paul Biafore of Missaga, Ontario, Canada (29-3-1 with 15 KO's) This was probably the fastest paced bout of the night. These were CLEARLY the BEST 2 Welterweights going toe to toe to find a World Champion. In round 4, Biafore turned up the juice as he landed several strong head kicks to Robinson combined with great hand combinations to stop Robinson at the end of the 4th round. Although he lost, Robinson was so impressive we are sure to see him in the future on other IKF events and possibly fighting for another IKF title. In winning, Biafore captures the vacant IKF Pro Full Contact Rules Welterweight World Title.
As we have already said, the promoters hope to have another night of Live PPV IKF World Championship Kickboxing on September 10th. This event was one of the greatest Live Kickboxing Events EVER and sets a standard to GREAT, LIVE Kickboxing shows. But as great as it was, the promoters hope to make the next MASS DESTRUCTION II event even better than this one. And in saying that... WOW... That will be quite an event... Welcome to the Future of Great Kickboxing Events Everyone! Welcome to Kickboxing, IKF STYLE.....!!
---
FRIDAY, December 11th, 1998, AT 4:15 AM
Rick Roufus vs Stan Longinidis!
As if the Don "The Dragon" Wilson vs Dick "The Destroyer" Kimber title fight wasn't enough to force you to tune in April 10th, 1999, now we can confirm that Rick "The Jet" Roufus will meet Stan "The Man" Longinidis. Roufus will defend his IKF Pro IR Heavyweight Title. Apparently, talks with Dennis Alexio stalled even though it was rumored that Alexio was offered $150,000.00 for the match which would have been Alexio's biggest payday ever. Apparently Alexio said no due to terms of the event, NOT the money and NOT the opponent. It seems that Alexio didn't want to be a co-main event and well, who can blame him. We would think the reasons would be obvious.
The event is scheduled for Tsongas Arena in Lowell Massachusetts, USA and will be promoted by Revolution Productions. for more info, you can contact Rick Broider at Revolution Productions at 781-592-9063. Along with the 4 above, several other fighters are scheduled to meet on various events to determine who will fight for the Vacant IKF World Super Heavyweight Full Contact Rules Title. They include Kevin Rosier, Mike Labree, Anthony Elmore, Grant Barker, Dennis Lane, Derek Panza, Chris Ballard, Stewert Green, Jim Mullen and possibly others to be determined.
---
FRIDAY, November 20th, 1998, AT 6:45 PM
More Big Names Added To
IKF
Wilson - Kimber
Event
Kevin Rosier vs Mike Labree?
It seems confirmed that these two will fight for the vacant IKF World Super Heavyweight Full Contact Rules title on the Don "The Dragon" Wilson vs Dick "The Destroyer" Kimber event coming in April, 1999. All that may stop these two from meeting would be a loss in their preliminary bouts before the events. Rosier hopes to face Anthony Elmore sometime in January and LaBree's preliminary opponent has yet to be named. The winners of the paliminary bouts will meet on the Wilson-Kimber event in April 10th, 1999 in Massachuttes, USA.
The PPV event also plans to feature Rick Roufus as well. There were plans to have Rick meet Dennis Alexio but this meeting doesn't seem likely. According to sources, Alexio wants more than the 6 figures he was offered him which would have been Alexio's biggest payday ever. It is possible, Roufus may face off against Stan Longinidis on the event instead. More details soon.
---
TUESDAY, November 10th, 1998, AT 11:55 PM
IKF
Wilson vs Kimber
Card Could Feature
Rick Roufus & Alexio
As Well!
For the first time in 8 years, on March 27, 1999, Don "The Dragon" Wilson will enter the fighting ring for real against Dick "The Destroyer" Kimber for the vacant IKF World Cruiserweight Title. The promoters of the event, Revolution Productions are now stating that Dennis Alexio may face Rick Roufus on the card as well for either Alexio's IKF World Full Contact Rules title or the vacant IKF World Heavyweight Full Contact Rules Title.
The event will be featured on pay-per-view as well. Concerns and questions though about the match-up centered around Alexio who apparently does not want to fight on the card as a semi-main event. His desires are valid since he has been fighting several times a year with his most recent bout being in Sacramento, CA, USA on May 1st of this year defending his IKF World Full Contact rules title. However, the fact is, is that this event was designed for Wilson first. Maybe Alexio won't headline, but he could have the biggest payday of his career if he says yes to the deal. On the other side of the ring, Roufus' desire to fight in K-1 USA in February may delay signing as well. Rick's brother Duke Roufus has also voiced interest to fight on the same K-1 card. Duke being the more skilled leg kicker of the 2 Roufus brothers is a 3 Time World Champion. He hopes to add number 4 around his waist December 5th when he fights for the vacantIKF World Muay Thai title in Milwaukee, Wisconsin, USA against Dimitri Stepanov of Minsk, Belarus.
The Alexio vs Rick Roufus match-up is probably one of the last great heavyweight full contact rules (Above the waist) bouts everyone really "WANTS" to see. Oh sure, there are still many great Super Heavyweight Full Contact Rules Fighters out there, but no 2 are better matched than these 2 together in the ring. Roufus has wanted Alexio ever since Roufus was a Cruiserweight at only 185 lbs. After bulking up for K-1, Roufus knows that the time is right for these 2 great fighters to meet. The promoters will do everything possible to make this a reality. The money is there this time and all they need are the 2 signatures. Well keep everyone informed as we know more.
---
TUESDAY, October 27th, 1998, AT 1:00 PM
Wilson Comeback Bout vs Kimber
Alexio & Roufus "MIGHT" be Part of it as Well.
Many of you have e-mailed the IKF asking if the IKF is still confirmed to sanction the comeback bout of Don "The Dragon" Wilson against Dick "The Destroyer" Kimber. Apparently there was a rumor going around that another sanctioning organization was going to sanction Mr. Wilson's comeback bout in April instead. The IKF would like to confirm that this is only a rumor. The IKF will be the "ONLY" sanctioning organization for the event scheduled for March 27th, 1999 at the Tsongas Arena, in Lowell Massachusetts, USA . It will "NOT" be co-sanctioned with any other organization either. The IKF would also like to add that there is talk of the long awaited Rick Roufus vs Dennis Alexio match-up on this event as well. Both Roufus and Alexio hold IKF Pro World titles. If the two agree to terms, the next decision will be what rules the bout will be fought under. International Rules which Roufus seems to like most and holds his World Title in or Full Contact Rules where Alexio holds his World Title. It seems both will be weighing in the 210 to 220 pound range. Other "Possible" fighters on the card include IKF Pro North American Full Contact Rules Champion Eric Regan and San Shou & Draka sesation Cung Le. For more event information you can contact Mr. Rick Broider of Revolution Productions at (781) 592-9063 or by e-mail by clicking HERE.
---
THURSDAY, October 1st, 1998, AT 10:30 PM
IKF
Will Sanction
Wilson's Comeback Bout
It's a confirmed done deal. Don "The Dragon" Wilson "WILL fight for REAL! Rick Broider Revolution Productions Inc. and other members of their Promotional Company have chosen to join forces with the IKF in Promoting several MAJOR televised kickboxing events for 1999. Their plan is to bring about global standardization of rules via major marketing power, corporate longevity planning and by allocating the proper marketing resources to ensure the complete success and longevity of Kickboxing in the Mainstream Market. Wilson has signed the dotted line and accepted a deposit to fight Dick "The Destroyer" Kimber as the Main Event on the show scheduled for March 27th, 1999 at the Tsongas Arena in Lowell Massachusetts, USA. The event will be a Televised PPV event. This event will be broadcasted not just Domestically but Internationally on Pay Per View, with possible post fight broadcasts on HBO, USA, or TNT. Revolution Productions is also assembling a very exciting undercard where there will be possible 2 more World Titles on the line and at least two IKF US titles. For more info, you can contact Mr. Rick Broider of Revolution Productions at 781-592-9063 or e-mail by clicking HERE
---
June, 1997

DON WILSON NEWS...

Rumor has it that Past World Kickboxing Champion Don "The Dragon" Wilson will fight again soon. It's heard that Wilson will fight either Alexio or Roufus in a full contact rules (above the waist kicks) match in New York later this year or early 1998. Keep in mind that although our sources are VERY credible, additional facts cannot be added at this time due to negotiations. Wilson is the only kickboxer to defeat Alexio, but it was in a leg kick match.











IKF HOME - IKF NEWS - IKF EVENTS - IKF RANKINGS - IKF SANCTIONING - JOINING - IKF RULES & REGULATIONS - MERCHANDISE - ISCF-MMA
---