IKF Promoters and Event Coordinators,
The Art of Kickboxing Promotions can assist you in promoting your Kickboxing and Boxing events. The Art of Kickboxing Promotions is owned and operated by Johnny Davis a two time World Kickboxing champion and Author of the training manual "The Art of Kickboxing."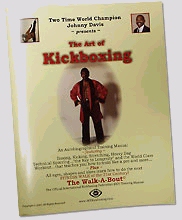 Davis has obtained valuable experience in marketing, writing, and public speaking. As a former, Karate / Kickboxing gym owner, Promoter and Marketing Director, he brings a vast amount of experience to each event to make it successful! He has promoted events for the past 22 years on the East and West Coast - from South Carolina to San Jose, California and Las Vegas, Nevada to name a few… You are invited to take advantage of Johnny Davis' enormous experience in marketing and promotions to give your event the edge needed to be successful and profitable! The Art of Kickboxing (AK) Promotions and Consulting Services include;
Promoting Events

Full Contact Kickboxing and Boxing: Johnny Davis has promoted and assisted Kickboxing promoters with events across the United States. For example, Davis, partnered with world champion Sam Montgomery and promoted several events in the Bay Area in the mid 1990's. He has also assisted with promoting the largest amateur Kickboxing tournament in the United States, the International Kickboxing Federation (IKF) Nationals…just to name a few. Davis can assist you in promoting Kickboxing / Boxing events in your area. Using your local resources, AK Promotions can come to your town and bring exciting IKF Kickboxing entertainment to your local Casino, Auditorium, Event Center or Sports Bar. For more information call (916)780-7483, Cell (916)205-4762 or by e-mail at johnnyd@netwiz.net
Point Kickboxing© IKF Point Kickboxing is one of the fastest growing sports and tournament competitions in the martial arts. Its fun and exciting for the beginner and the advance Kickboxer. The entire match is based on points - not knockouts, which gives the participants an opportunity to enhance their skills. A Davis design, Point Kickboxing can be a great money maker for your gym as well as offer your students a great outlet to safely practice their art against diverse competition. From start to finish, Johnny Davis can walk you through the process of promoting your very own IKF Point Kickboxing Tournament. Point Kickboxing Seminars are also available to assist other forms of martial arts to convert or, add Point Kickboxing to their classes. To promote a Point Kickboxing Tournament in your city or for seminars, contact Johnny Davis' office at (916)780-7483, Cell (916)205-4762 or by e-mail at johnnyd@netwiz.net

Media Contact

Press Releases: Press Releases are vital to informing the media and the general public about your event. AK Promotions will create a custom PSA for your event. Additionally, we can forward it to the your local media (via fax or e-mail) on IKF Letterhead or letterhead of your choice.
Press Conferences: Press Conferences are a great way to give the general public and the media a chance to meet directly with the participants. AK Promotions will work with you to arrange a local Press Conference which includes: contacting the local media; Venue setup; Design and layout of Press Conference program; Invite local dignitaries etc.

Demonstrations

Public Exhibitions are very successful in showing the public what they will witness at your event. Its important that your demos are organized and fluent and highlights important features of the sport. Davis extensive background in organizing demonstrations will be a major plus in exciting spectators to attend your event! Demos also work well at Press Conferences.

Interviews

Davis has conducted many interviews regarding the sport of Kickboxing. As part of the services offered at AK Promotions, he will assist your event with interviews for TV, Radio and Print Media to assure that vital information regarding your event is mentioned during the interview process as well as educate the general public on the sport of Kickboxing, Boxing and general martial fitness.

Commentary

Davis has worked as a commentator for televised events as well as for Web and Radio broadcasting. His high energy commentary not only energizes the audience but his knowledge and ability to articulate the specifics of the sport educates and captivates them!

Ring Announcing

While working in the Retail world for over 13 years, Johnny's energetic and enthusiastic 'Wheel and Deal' Intercom sales were always one of the highlights for many stores during the holiday season. Being raised in South Carolina, he became known as the "Mouth of the South!" Davis' ability to electrify the crowds will set the stage for your event as well as give it a "tasteful flare" of entertainment.

Master of Ceremony

As a MC for many talent shows and civic programs, Johnny's ability to excite crowds and keep their attention is an art form.

Judging

As author of the essay "Judging…Getting the Point," Johnny has an eye for accurate and fair scoring for Kickboxing and Boxing Events He is committed to rendering decisions as though it was he in the ring being judged.

Personal Martial Fitness Trainer

Fighter assistance to enhance Kickboxing or Boxing Skills - A two time world champion kick boxer and trainer of several champions, Davis can assist you or your fighter to become even more effective. He has a true gift for the sport of Kickboxing and those that have had the opportunity to witness his seminars, classes or personal training skills all seem to have the same conclusion…impressive!
Walk-A-Bout©

Walking with Boxing for fitness. This hot new fitness program is one destined to take the world by storm. Johnny designed the program to assist those who have trouble participating in regular aerobics. More importantly, the Walk-A-Bout© was designed to give walkers the total body workout they have desired for many years.

Kickbox-A-Robics©

This exciting program was designed by Johnny in 1993. He taught packed classes weekly in the Bay Area for a successful four years at 24 Hour Fitness as well as taught Master Classes at other area fitness clubs. Davis' program offers realistic Kickboxing moves that targets and conditions specific and hard to get areas better than regular aerobics. His classes are full of energy and Kickboxing techniques synchronized to the Hottest aerobic sounds that gets you in total body conditioning in record time! Call for more information on-going classes, instructor seminars and, or special Introductory Classes.
Please Note: The Art of Kickboxing Promotions charges fees for all services listed. Call or e-mail Johnny Davis at (916)780-7483 or by e-mail at johnnyd@netwiz.net
For More Info about Mr. Davis, or to Return to the Johnny Davis Page, Click HERE!