Joe Lewis
Joe Lewis was diagnosed with brain cancer on July 15, 2012 and underwent surgery on July 18, 2012.
Sadly, he passed away at 10:45 AM on Friday, August 31st, 2012, surrounded by family and friends. He was 68 years old.
Known As The Father of American Kickboxing
Martial arts legend and Pioneer Joe Lewis lost a long fight with brain cancer at 10:45 AM on Friday, August 31st, 2012 in Virginia, surrounded by family and friends.
Dubbed the "Muhammad Ali" of Sport Karate & Kickboxing, Joe won more titles in his 17-year fighting career than any other tournament fighter.
Unsatisfied with the level of realism in karate, he went on to become the father of American kickboxing.
Joe was born on March 7, 1944, in North Carolina. He eventually joined the Marines and was stationed in Okinawa.
It was while he was there that 18-year-old Lewis began studying shorin-ryu karate under
Eizo Shimabukuro, Seiyu Oyata, Chinsaku Kinjo and John Korab, receiving his black belt in seven months.
He later went on to study with Bruce Lee, Sugar Ray Robinson, and other greats.
As a fighter, Lewis amassed other important first...
First World Professional Karate Championships title holder, first U.S. Heavyweight Kickboxing Champion,
and in 1974, the first Professional Karate Association Heavyweight full-contact Karate Champion.
The Black Belt Hall of Fame inducted Joe Lewis as the 1974 Karate Player of the Year.
Yet to Lewis, his greatest accolade was being chosen in 1983 by his peers as the "Greatest Karate Fighter of All Time."


Rest in Peach Master Joe, you are one of God's Champions now...
---
"Joe Lewis was twice voted as the Greatest Fighter in the History of Karate.
He is one of the few true superstars of the martial arts and is widely acclaimed as one of the most influential martial artists of all time."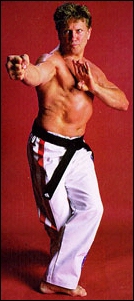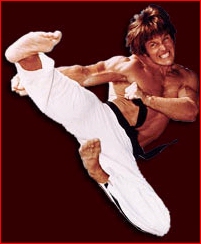 In his era as a heavyweight World Champion fighter and martial artist, Joe Lewis has done it first and done it best. Of the millions of people who have participated in the martial arts since their inception in the United States in 1948, only a few have had a measurable impact with the general public...and Joe Lewis, the retired World Heavyweight Karate Champion from Wilmington is one of them.
Dubbed the "Muhammed Ali of his sport," Lewis is to Karate what Arnold Schwarzeneger is to body building. In a career that spanned 17 years, he won more titles in his era , set more records and instituted more innovations than anyone in the history of Sport Karate.
Lewis was a World Champion in both Karate and Full Contact style Kickboxing (World Heavyweight Kickboxing Champion, World Heavyweight Karate Champion, and United States National Black Belt Kata Champion.) who's fighting career spanned 17 years. He won in his era more titles, set more records and instituted more innovations than anyone in the history of Sport Karate.
He began his training in Okinawa studying with three instructors, Eizo Shimabuku, Kinjo Chinsaku and Seiyu Oyata and he also studied with the Bruce Lee. He received his Black Belt in Shorin Ryu and studied several different styles. He never believed in "style" to him they were all the same..."punching and kicking." Lewis was a member of the first combat unit in Vietnam, 8th Marine Brigade, 1965. One of the first Americans to teach Hand to Hand Combat in Vietnam working with Division Recon.
Lewis has been inducted into 13 various Halls of Fame to include the Black Belt Hall of Fame as "Fighter of the year" and "Instructor of the year, 1986". His greatest accolade, however, came in 1983 when in a Karate Illustrated survey of America's top fighters, he was chosen by his peers as "The Greatest Karate Fighter of All Time."
In 1984 he turned his talents and energies to a professional teaching career where he has taught as many as 140 seminars in 80 cities in 8 countries (1987) in addition to making personal appearances at tournaments and other martial arts functions and charity benefits. In 1985 American Karate considered Joe Lewis "a Living Legend."
He began studying for an acting career in 1970 and went on to star in 4 action-adventure films, "Jaguar Lives," "Force Five," "Death Cage" and "Mr. X." He has appeared in several TV series and was the guest on numerous talk shows, such as Joey Bishop, Johnny Carson, Dinah Shore and the Merv Griffin Show.
Earned his black belt in a remarkable seven months as a Marine in Okinawa. The average time span is three to four years.


Won the U.S. National Championships in forms, weapons and fighting with 22 months of his first karate class. Most students are lucky to be brown belts at 22 months.


Was first World Heavyweight Kickboxing Champion.


World Heavyweight Karate Champion. Combined with his kickboxing title, Lewis was the first of only two people to hold world titles in two different fighting sports.


Voted by a poll of peers as the Greatest Karate Fighter in History, not just once but twice! Once in America and once in Europe. Voters included World Champions Chuck Norris, Bill "Superfoot" Wallace and Jeff "DC Bomber" Smith.


Twice Voted to Black Belt magazine's Hall of Fame as the 1975 Fighter of the Year and the 1986 Co-Instructor of the Year. This is an honored recognition of Joe's transition from fearless fighter to gifted teacher.


Recognized as the Father of American Kickboxing.


Action star of the silver screen in Jaguar Lives! and Force Five.


Voted to over a dozen Hall of Fames including being the first recipient of the prestigious NAPMA Lifetime Achievement Award.


First World Champion to be awarded a 10th Degree Grand Master Ranking, symbolically, it was Lewis' "Ph.D." in martial arts.


Among his accomplishments are his Library of over 25 Instructional Videos/DVD's, some of which include:

Joe Lewis Fighting Systems


How to Control Distance


How to Control the Firing Line


How to Critique Sparring


How to Set Up Your Attack


How to Spar


How to Use Broken Rhythm Attacks


Tactical Footwork


Deceptive Penetration


The Art of Inside Fighting


Footwork


What Bruce Lee Taught Me



He also wrote several books that included;

Force: Five


Greatest Karate Fighter Of All Time


How to Master


Joe Lewis Combat Kickboxing


Joe Lewis Footwork
---
LEWIS NEVER LOST HIS TITLE...
So What REALLY Happened...?
It was sometime in 1975 or 76 when Bill Wallace invited Joe Lewis to a press conference in Beverly Hills having to do with one of his upcoming fights. Wallace and Lewis were sitting at a table and Don Quine came over and leaned forward on the table with a smile and said with arrogance to Lewis, "You are no longer the Heavyweight Champion. We just took your title away from you; we made some new 'bylaws' and agreed to remove you from our heavyweight title and there's nothing you can do about it."
He smile at Lewis and walked away as Lewis sat quietly, not saying a word. That's how Joe Lewis lost his title---not in the ring!!!
The PKA had stripped Lewis months earlier without his knowledge. (Lot's of class shown for the one who started this sport in this country.) After that incident, the PKA had a run off to determine the new champion. However, there was plenty of other "Unethical" things that took place back then with the PKA and their leadership. The Quines originally made the fighters sign contracts in the locker room just as they were dressing to go out and fight on the night of the first and original World Championships in Los Angeles. Of course that's not how it was supposed to be done but the fighters had no choice but to sign a couple of hours before they left the locker-room to fight.
Back then they could do whatever they pleased since there was no athletic commission watching them. They created the titles, promoted the fights, managed the fighters, sanctioned the fights, and matchmade each bout without any physicals....all this as a single party... -try that illegal nonsense today.
Joe Lewis had a fight with a fighter named Ross Scott in Atlantic City. The fight was a 7 round non title bout with only one rule which was entered by Glenn Keeney... again in the locker rooms just before the fighters walked out to fight. He wanted the six kick per round rule which they gave him. In the bout, Lewis dislocated his right shoulder five times, but kept fighting. Onlookers say he was not in shape in those days but at that time, Ross was still not yet in Lewis' class. Lewis lost the fight because he was not getting in six kicks per round....and, it was a bit hard to fight with just one arm.
Muhammad Ali had six of his scouts watching ringside. After the bout they came into Lewis' dressing room and told him, "Mr. Lewis, you beat that boy, but we don't understand why they gave him the fight. We don't understand these kickboxing rules." They shook their heads and left and said they would call Lewis in a week to see if he could fight Kareem Allah in three weeks on Don King's Pay for View Show. When they called Lewis told them his shoulder was still injured and to use Jeff Smith, so they did. Don King didn't like Jeff's performance or lack of presence in the ring and dropped all the upcoming kickboxing events he had scheduled on his next two events with Ali.
TO ADD
Other details of this story can be read at en.wikipedia.org and Here.
Info on Ross Scott can be found by clicking Here.
Ross Scott held 3 Kickboxing World Titles, 7 Full Contact Karate World Championships as well the PKC Kickboxing European Champion and French Championship. Kickboxing titles held by Ross Scott were from the PKA, WPKA, WKA and PKC.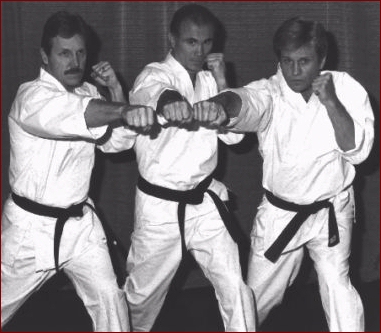 Joe Lewis was the Founder of the
Joe Lewis Fighting Systems Organization
With members in Greece, Germany, Italy, England, United Kingdom, Canada, Australia and the United States..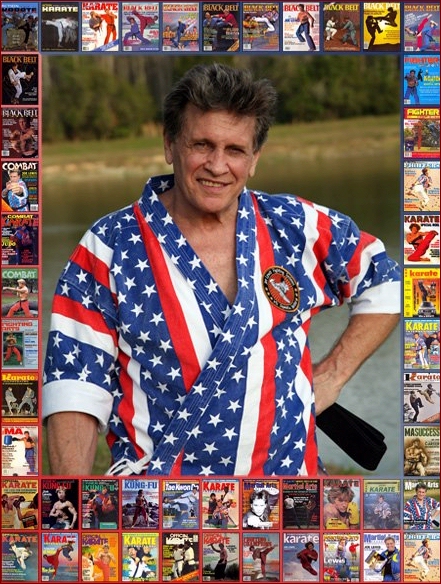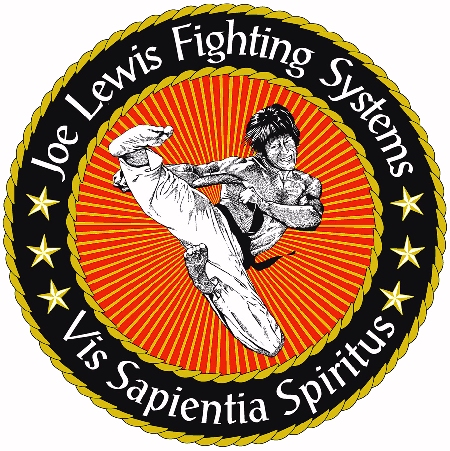 For Mr. Lewis' Website Go To
JoeLewisFightingSystems.com