--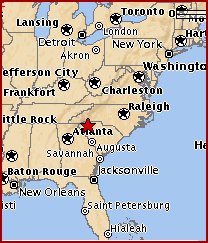 From: Steve Fossum, IKF President
Ray Thompson, Event Promoter & President Of Ironspirit Promotions, Inc.
Trainers, Competitors, And Officials
Competing In And/Or Participating In
The 2003 IKF North American Amateur "Full Contact Rules" Kickboxing Championships.
Vital Information
For Fight Camps And Those Officiating In This Event.
Thank you very much for your interest and participation in the first ever, IKF NORTH AMERICAN AMATEUR "FULL CONTACT RULES" KICKBOXING CHAMPIONSHIPS. The 2003 North American Championship Tournament will be held once again in South Carolina in November. In order to make things go smoothly for everyone involved, we have provide all fight camps and officials with some logistical information below.
EVENT DATE:

Fighter Check-In & Registration:
Fight Day:
LOCATION OF EVENT

This years IKF North American Championships will be held at the Palmetto Expo Center, Greenville, South Carolina, USA
HOST HOTEL INFO

The HOST HOTEL for this years IKF North American Championships will be the La Quinta Inn & Suites. Room rates are $49/night for two double beds, $59/night for King Exec. and $85/night for two room suite. These prices include breakfast each day. Shuttle to and from the airport as well as to and from the venue is also included in the price.
Booking Instructions:
TICKET INFORMATION TICKET PRICES:

$17.50 For ALL - First Come - First Serve for best seating.
CORNER/FIGHTER EVENT PASSES - BADGES

Each fight camp (not each fighter) will be issued three "corner" badges to enter the event at a cost of $5.00 each. Trainers are required to purchase their badges at the MANDATORY Friday night rules meeting. Each fighter will also receive a "fighter" badge with their photo on it which is covered by your registration fee. This badge has been made for you at IKF Headquarters.

PHOTOS: Fighters who did not send in a Photo with their registration will be charged $10 for their photo to be taken and Fighter ID Badge to be made at the event.
SCHEDULE OF EVENTS

FRIDAY, NOVEMBER 14th

5:30 - 7:PM: Fighters Check-In, Weigh-ins & Pre-fight Dr.'s checkup.
7:00 PM: Fighter rules meeting. ALL FIGHTERS and CORNERMEN MUST BE PRESENT AT THIS MEETINGS!

SATURDAY, NOVEMBER 15th

8:00 AM: Doors open for fighters and trainers to prepare for their bouts
9:00 AM: Doors open for spectators.
9:30 AM: First fight begins. ALL FIGHTERS MUST BE READY TO FIGHT.

FIGHTERS MUST REMAIN ON PREMISES.

5:30 PM: All preliminary bouts end. (that's the plan anyway)
7:00 PM: 2003 IKF North American Championship title bouts begin.
FIGHTER BRACKETS

A fighter bracket will be posted at the venue for your inspection. The fights will be numbered to give you an idea of when your fight will occur. Fight camps need to make sure their fighters are within the specified weight classes for the weigh-in on Friday night. IF YOU WOULD LIKE TO ENTER THE RING TO PARTICULAR MUSIC, PLEASE MAKE A CD, LABEL IT WITH YOUR NAME, AND GIVE IT TO THE D.J./RING ANNOUNCER WHEN YOU ARRIVE. (NIGHT TIME EVENT ONLY) THE IKF WILL NOT TOLERATE ANY MUSIC THAT HAS PROFANITY OR VULGAR LYRICS. IF THIS DOES HAPPEN, THE APPROPRIATE SANCTIONS WILL BE ADMINISTERED. IKF EVENTS ARE FAMILY-ORIENTED EVENTS.
IKF REGISTRATION

All fighters are required to register with the IKF prior to competing in a IKF sanctioned tournament. The registration fee is $45 and must be paid to the IKF prior to the event. All fighters are also required to complete registration forms for the IKF to ensure proper information for the rankings. THIS MUST BE DONE A.S.A.P.!!!!! To Register, CLICK HERE!
CONTACTS

In case you need to reach anyone concerning this event, here are the people you can contact: Upstate Karate, Inc. – Ray or Gloria Thompson at (864) 967-3930, Cell (864) 505-4237, e-mail- tetsushin2@aol.com.
TRAVEL EXPENSES

Since this is a TOURNAMENT and not a General Event, all fighters are required to pay their own travel expenses. We suggest each fighter to seek SPONSORS to pay for their travel expenses and in return, list these sponsors on fight clothing, warm up robes, cornermens jackets trainer T-shirts, hats or other areas you feel you can offer your sponsor exposure. The Promoter of this event will negotiate special rates with hotels and restaurants in the event area to attain special discount rates for the incoming fighters and trainers. We appreciate your work in this MUCH NEEDED AREA.
SHUTTLE SERVICE

Provided by La Quinta Inn & Suites.
Thank you for your interest in this event and your commitment to helping the IKF legitimize the "TITLES" of the sport of kickboxing. We are looking forward to making this a great night of IKF Championship kickboxing!
Sincerely,
Steve Fossum IKF President
Ray Thompson
President Iron Spirit Promotions, Inc.