---


SATURDAY, May 3rd, 2003, AT 10:20 AM, PST
There's A New BEAST!
Former IKF USA National Champion
Carter Williams
Wins K-1 USA!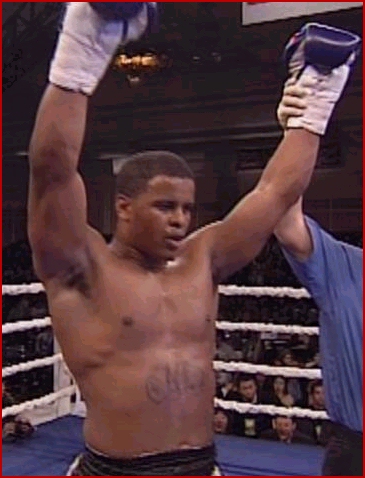 It was like watching the Ultimate BEAST go after his pray, having no thought of fear, defeat or failure in his eyes, fresh out of the gate, Williams eyes focused on Roufus like a Lion on a hunk of meat on a stick. Only 9 seconds into the first round, he landed a right hand followed by a left leg round kick to Roufus' head that knocked Roufus down. After the 8 count Williams went on the attack again. Then the shocking unthinkable happened. At 2:03 of the first, Williams landed a right hand that KO'ed "The Jet!" At 2:20, referee Jon Schorle waived it of and all we and many others had to say was "Oh My GOD!" See for yourself by Clicking HERE!


RUNDOWN OF THE NIGHTS ACTION...
Las Vegas, Nevada, USA: Well known ring announcer Michael Buffer of Marina Del Ray, California, USA started the night out with the introductions and when he was done, we were ready to go. (To read more about Mr. Buffer go to www.bufferzone.com)
BOUT 1: International Rules, 3x3, Middleweight
Brian Warren (Rancho Cucamonga, California, USA, 5'11", 27, 165, 1-1/0, Shark Tank) defeated Santino Defranco (Scottsdale, Arizona, USA, 5'10", 20, 156, 11-6/1, Arizona Combat Sports) by TKO at 1:49 of round 2 due to 3 knockdown rule. Defranco took a beating on his left leg and looked like he didn't know how to defend any leg kicks since he didn't properly check any of Warren's right leg kicks. Warren had won round 1 on all 3 judges cards 10-9.
BOUT 2: Full Contact Rules, 5x2, Super Middleweight
Brian Schwartz (Foster City, California, USA, 6'3", 29, 1720 12-0/8, Golden State Tae Kwon Do) defeated Adrian Foster (Phoenix, Arizona, USA, 6'3", 26, 168, 10-3/3, Team Phoenix) by TKO at 1:26 of round 1. Foster was no match at all for Schwartz. Schwartz as usual had excellent kicks, especially his side kicks which he scored with often on Foster.
BOUT 3: MuayThai Rules, 3x3, Bantamweight
Melanie Kohler (Salt Lake City, Utah, USA, 5'6", 21, 120, 1-0/0, Walt Bayless Combat Jiu-Jitsu) defeated La Tasha Marzolla (Las Vegas, Nevada, USA, 5'6", 23, 118, 1-0/0, Master Toddy's Muay Thai) by TKO when Marzolla's corner choose not to answer the bell for the second round. Marzolla took a severe beating from Kohler's right hand which she had no defense for. All judges gave round 1 to Kohler. Oddly though, one judge actually scored it 10-9-5. Man we hate that half point scoring system!
BOUT 4: K-1 Rules, Light Heavyweight
Blake Lirette (Canada, 5'11", 24, 172, 13-1/5, Champions Martial Arts Academy) defeated Heath Harris (San Diego, California, USA, 6'1, 173) by KO at :29 seconds into round 2 with a great spinning side kick that caught Harris just below the ribs. The ring announcer announced Harris' record as 29 wins with only 1 loss and 28 wins by KO, but we know his record as 1-4 as a pro and 14-5 with 14 KO's as an amateur. Harris was a last second fill in who replaced Kit Cope who was injured in a car accident this week. Harris took a very hard groin kick in round 1 but seemed to have won round 1 easily on our cards. However on the judges cards, one judge actually had it for Lirette 10-9.5 while the other two judges had Harris winning 10-9. Have we mentioned yet that we hate that half point scoring!
---
BOUT 5: 3 X 3 Heavyweight
Carter Williams (Modesto, California, USA, 6', 22, 235, 30-5/22, Team Voodoo USA, Gene & Cat Fields) faced off against last years K-1 USA Champion, Michael McDonald (Canada, 5'11", 38, 217, 40-13/14, Independent). In our opinion, round 1 and 2 seemed very even. In round 2, Williams looked like he scored more but it wouldn't be a surprise to see a judge score it 10-10. On the judges cards two of them gave Williams round 1, 10-9.5 while the other gave it to McDonald 10-9.5.
For round 2, all 3 judges gave it to Williams. Two scored it 10-9.5 while the third had it 10-9. Round 3 is where the ghost of endurance showed it's face to Williams. McDonald scored on several good shots and what would seem to sway the judges more towards him was that Williams got tired. He seemed slow and tired and had a look on his face of, "What can I do to hurt this guy?" This continued through the round and round 3 was easily McDonald's on the judges cards. All three of them this time scored it 10-9.5. Would the ghost of endurance came back to haunt Williams again? Not so, it was a surprise upset as Williams took McDonald by split decision, 29.5-28.5 Williams, 29.5-29 McDonald, 29.5-29, Williams. The new kid at K-1 dodged his ghost and had beat the Champion! If he didn't win again from here forward he had made plenty of us not only proud but also believe even more that this former IKF USA National Champion was for real! However, little did we know, Williams would not be content to finish before the final, let alone that. Have we mentioned yet that we hate that half point scoring!!!
BOUT 6: 3 X 3 Heavyweight
Yusuke Fujimoto (Japan, 5'10", 27, 225, 10-4/6, Monster Factory) and Dewey Cooper (Las Vegas, Nevada, USA, 6'1", 28, 202, 27-4-1/17, One Kicks) Referee Cecil Peoples must have been expecting a phone call in round 1 since he had it snapped to his belt. Good thing he took it off for the rest of the fight. Fujimoto seemed to win the round, that is if not for Cooper knocking Fujimoto down in round 1. However it was more of Fujimoto's power coming into Coopers punch as he bounced off the ropes. We agreed and so did two of the judges who scored it for Cooper 10-9 while the third scored it for Cooper 10-8.
In round 2, Cooper's left arm took a beating from Fujimoto's right leg and it looked to easily be Fujimoto's round as Cooper didn't land anything of any power. The judges agreed as all 3 scored it for Fujimoto 10-9. Will Cooperhope his surprise knockdown in round 1 be enough math to give him the draw or maybe even a win? Who knows, but what we did know was he needed to get busy!
In round 3, although Cooper came with more this round, he took an even worse beating from both of Fujimoto's hands and legs. Again all three judges agreed and two gave it to Fujimoto 10-9.5 while the third gave it to him 10-9. Fujimoto takes the majority decision win, 28-28, 29-28.5, and 29-28.5. Have we mentioned yet how much we hate that half point scoring system!!! Come on, either you think the guy won the round or he didn't, lose this "Sorta won, sorta lost scoring!"
BOUT 7: 3 X 3 Heavyweight
Referee Nelson Hamilton must have been planning to write something during the bout since he came into the ring with a pen in his pocket. Someone check these guys before they get in the ring! Eduardo Morais (Campo Grande, Brazil, 6'2", 23, 227, 18-1/11, Champions Factory) thought he had a chance as a surprise pick for this first installment of K-1 USA but Rick Roufus (Milwaukee, Wisconsin, USA, 5'11", 36, 210, 57-6/38, Independent) introduced him to his BIG LEFT HAND as he knocked him down twice in the round! According to K-1 rules, after Roufus knocked Morais down the second time, the bout should have been over. However referee Hamilton made a mistake and allowed the bout to continue. Good thing for judge Cecil Peoples who was frantically waving his hands to stop the fight which the time keeper finally did. Roufus by TKO due to 2 knockdown rule. Good thing for Morais he didn't have to get that third one! He was out on his feet after the second!
BOUT 8: 3 X 3 Heavyweight
Although they announced it as only an 15 lb weight difference, this looked more like 30 to 40 as little David, Giuseppe DeNatale (Winnipeg, Manitoba, Canada, 6', 29, 207, 18-6/16, Duke Roufus) faced off against the Big MO, Goliath, Maurice Smith (Seattle, Washington, USA, 6'1", 41, 222, 62-8-4/45, Maurice Smith Kickboxing). DeNatale was clearly the smallest of the tournament at 207 lbs but he's been here before in Milwaukee in 2002. Only this was, this wasn't Wisconsin or Kansas for that matter. This was Las Vegas and David doesn't live here. At least not on this night anyway.
Round one seemed like the speed of the Utah Jazz basketball team, or a well known speed for MO! It was quiet, slow and boring doing just enough to win 10-9.5 on two judges cards and 10-9 on the other.
Smith came out on fire in round 2 but the fire only lasted about 20 seconds and we were back to that slow game again. But again, it was enough to win all three judges cards 10-9.
In round 3, Smith came out strong again and it looked like he wanted to end it quick. But David (DeNatale) stood up to the storm as we have seen him do before. In fact, DeNatale even hurt Big Mo with one shot... One. Smith hit DeNatale low and after the pause, the two embraced and DeNatale kissed Smith on the ear. Big Mo wasn't laughing as he exploded on DeNatale as if to say, "Don't insult me!" Round 3 was all Smith who took the round 10-9.5on all the judges cards and the win by unanimous decision, 30-27.5, 30-28, 29.5-28.5. Have we mentioned yet how much we hate that half point scoring system!!! Either you won or you didn't!
Tournament Alternate Jeff Ford (Kansas City, Missouri, USA, 6'2", 32, 248, 28-7/19, Combat Sports Fitness Academy) was here but not needed. Makes us wonder, Ford being from the USA, why wasn't he in the 8 man tournament? Sources told us that K-1 had to have a Japanese fighter in the tournament to sell it to Japan PPV. OK, so why didn't Ford take the spot of the Brazilian fighter? No comment.
---
Super Fight

Bout 9: San Shou, 4x2, Light Heavyweight
In San Shou you don't have to throw to win but when IKF Pro San Shou World Champion Cung Le (San Jose, California, USA, 5'10", 30, 180, 38-3/26, Cung Le's) throws, it's purely entertainment for us all. Le scored 8 points in round 1 on opponent Scott Sheeley (Bellefontaine, Ohio, USA, 5'11", 35, 180, 28-8/12, Sheeley's Iron Tigers) and won the round on all 3 judges cards. We were surprised to see the half point scoring system here as well as 2 judges scored it 10-8 and the third 10-8.5.
In round 2 both Le and Sheeley looked to pick it up but when Le's shin slammed into Sheeley's forehead it started to bleed badly. It didn't phase Le other than make him go after Sheeley like a wild animal that smells blood. Le pressed the throws more but in the end it was his hands and his feet that forced referee Jon Schorlee to give Le the TKO win when he stopped the bout at 1:15 of round 2. Win for Cung Le? What's new...!
---
K-1 Tournament Semi Finals
BOUT 10: 3 X 3 Heavyweight
Carter Williams Vs Yusuke Fujimoto: Round 1 was all Williams as he pressed Fujimoto and scored a knockdown with a front kick. The judges agreed with two scoring it 10-8 and the third 10-8.5. 8.5? Whatever! Although Williams scored with some good shots, that ghost of endurance showed his face again. Will Williams wind last another round? The look on his face said one thing and only one thing... Bring It ON!
Round 2 brought more action by both and endurance seemed to slow them both down. Whoever wins still has one more fight so they better take a breath or need a little luck with a shot! The luck came Williams way as he landed a left leg to Fujimoto's face when he tried to duck what he thought was going to be a Williams head kick. It was the knockdown Williams needed to gain motivation. He had momentum but did he have the wind? It was William's hands that did the damage for the second. Is there a new BEAST in the house? Williams looked extremely winded and kept his hands far too low but Fujimoto could never take advantage of it. Williams wins by TKO at 2:26 of round 2, due to the K-1, 2 knockdown rule.
BOUT 11: 3 X 3 Heavyweight
Rick "The Jet" RoufusVs Maurice Smith: Nothing new here, a slow starting Smith vs a Jet that knew he had to take off quick. Roufus easily took round 1, 10-9 on all three judges cards.
In round 2, "The Jet dropped a BOMB" as Roufus lands that wicked left again he kept landing on Eduardo Morais in his first bout. Smith took a standing 8 and "THE JET ROARED ON! Roufus won the round 10-8 on two of the three judges cards but who was the judge that scored it 10-8.5? Was he crazy?
In round 3, Roufus continued to dominate with confidence throwing a fancy jump spin kick that would make the Matrix movie proud. If Roufus doesn't take this one, shoot us! No need to dodge a bullet here, Roufus took round 3, 10-9.5 but who's the judge that gave round three to Smith 10-9.5? Must be the crazy one. Roufus, despite the crazy judge takes this one easily by unanimous decision, 30-26.5, 30-26.5 and 29.5-27.5. Have we mentioned yet how much we "STILL" hate that half point scoring system!!!
---
Super Fight - Flex Fight

BOUT 12: Heavyweight - 5x3 - K-1 Rules
Gary Goodridge (Canada, 6'2", 37, 235, 27-15-1/13, Ultimate Thai Boxing) Vs Mark Hunt (New Zealand, 5'10", 29, 282, 27-11-1/13, Liverpool Kickboxing). Not to be insulting in any way but this was just two big guys in a "Slugfest!"... Yes, "SLUG", meaning where were the kicks? Those who complained about the LaBree vs Rosier fight PPV back on the 1999 Mass Destruction event had to easily agree, this was far worse! At least LaBree and Rosier knew how to kick and did.
Wasn't this a kickboxing bout? By the end of this one we could have counted all the kicks on "ONE" hand. We felt sorry for the K-1 promoters who thought like all of us did, "What a great fight this will be!" We felt for the KICKBOXING fans as well, but the boxing fans were either loving it or laughing at what was being called kickboxing. Although these guys proved they could not only hit hard but take a big hit as well, we all wanted kickboxing and all we saw was a boxing bash! We thought it was a coin toss, maybe because for the lack of kickboxing action but the judges saw it more clearly. Mark Hunt won it by unanimous decision, 50-45.5, 49-45.5 and 49.5-46.
---
K-1 Final

BOUT 13: 3 X 3 Heavyweight
Carter Williams Vs Rick Roufus: What could be better for us here at the IKF. Neither way would we lose. We were proud to have two IKF Champions in the main event! Roufus, a current IKF Pro IR World Champion and Williams a previous (2001) IKF USA National Amateur Champion. As we said, either way we were proud for both who made it to the final tonight!
Roufus seemed to end his last bout strong and still fresh. It seemed to many that the K-1 title that eluded him last year was his to win this year. On the other side of the ring was the new kid! He had everything to gain and nothing to lose against a fighter he had respected greatly for his power and skill as he fought his way to tonight. In question for many was still Williams wind. Would the ghost of endurance past continue to haunt him or would he scare the Ghost away himself? Well, can you say Booo!
One thing was for sure. This was the FINAL! The Championship bout! Whatever they had left was sure to hang out here. At this point if endurance was a worry for Williams he knew he had to Shoot "The Jet" down Quick!
Let the Beast Loose! Williams came out of the corner and exploded on Roufus and scored a knockdown. After Roufus came to his feet referee Jon Schorle finished the 8 count but when the action went on Roufus still looked a little groggy. Still he managed to score some on Williams but it wasn't the Roufus we know. Then without warning Williams shot a missile at "The JET" and brought him down! A solid right hand square on Roufus' jaw and he was on his back! Referee Schorle started the count but quickly put a stop to his efforts. This one was over at 2:20 of the 1st round and all we could say was
"Oh My GOD!
We have a NEW BEAST!
---


ADDED AFTER TOURNAMENT
SUNDAY, May 4th, 2003, AT 11:40 PM, PST
See Williams' K-1 KO Win Yourself !

It was like watching the Ultimate BEAST go after his pray, having no thought of fear, defeat or failure in his eyes. Fresh out of the gate, Williams eyes focused on Roufus like a Lion on a hunk of meat on a stick. Only 9 seconds into the first round, he landed a right hand followed by a left leg round kick to Roufus' head that knocked Roufus down. After the 8 count Williams went on the attack again. Then the shocking unthinkable happened. At 2:03 of the first, Williams landed a right hand that KO'ed "The Jet!" At 2:20, referee Jon Schorle waived it of and all we and many others had to say was "Oh My GOD!"
Now you can download this dynamic attack of Carter Williams on Rick Roufus at this last Friday nights K-1 Event in Las Vegas, Nevada, USA.
To do so, Click HERE!
---


BOUT 14: 5x3
Stefan Leko (Germany, 6'2", 28, 218, 47-12-1/28, Golden Glory) defeated Great Kusatsu (Japan, 5'11", 26, 210, 20-7-1/13, Team Andy) by TKO after Kusatsu was knocked down 3 times in the round.
---
Flex Fight
BOUT 15: 3x3
Mushashi (Japan, 6'1", 30, 228, 24-18-4/9, Seido Kaikan) vs Nobuaki Kakuda (Japan, 5'9", 41, 206, 12-6-4/6, Seido Kaikan). This was suppose to be a kickboxing bout but it appeared more like an old style full contact karate bout with kei's and all. Well, according to sources, this was far from a bout of two fighters hating each other. We were told that Mushashi is Kakuda student. That didn't make Kakuda feel any better after taking a ton of shots from Mushashi in the second and third rounds. However it looked like a movie where the hero could take shot after shot and continue to get up. Wait, better yet, this was the movie Rocky all over again. Mushashi had plenty of opportunities to end Kakuda but for whatever reason, wouldn't do so. Do we dare to say this looked like a staged Rocky movie? Better not. In the end, it went to the judges for a unanimous decision, 30-23, 30-23.5 and 30-23.5, Mushashi! After the decision, Kakuda even gave a career ending speech that sounded like Rocky Balboa in Rocky 4. Oh and as we end, did we mentioned how much we "STILL" hate that half point scoring system? Well, we do...


Great Show K-1 and
GREAT JOB by Super Promoter Scott Coker for an Excellent Show!
---
---
---
TUESDAY, April 29th 2003, AT 2:00 PM, PT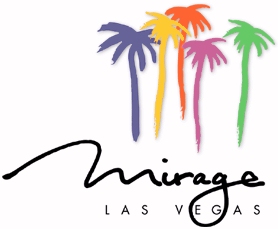 K-1 USA
RETURNS TO
LAS VEGAS NEVADA
This Friday Night
May 2nd, 2003!

Last year the pre event headline on the May K-1 USA 2002 read
"K-1 North America..... Is It McDonalds To Win... Or Lose..?"
In the end, with a little help from an injury to Rick Roufus, Michael McDonald (Right) won it all!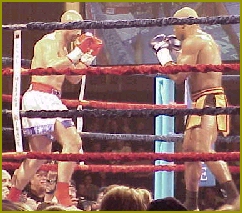 Rufus Vs Williams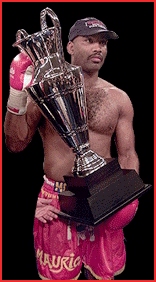 Maurice Smith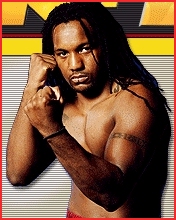 Dewey Cooper


Fields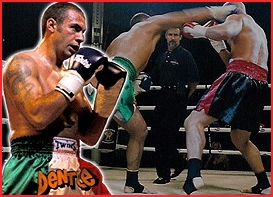 Giuseppe DeNatale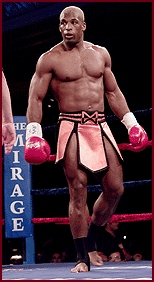 Michael McDonald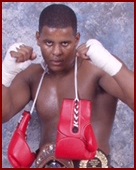 Carter Williams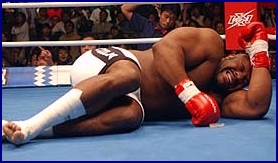 Bob Sapp


Javiar Mendez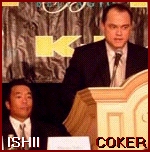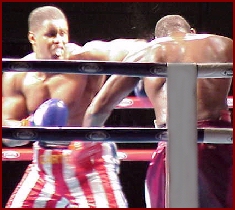 L: Carter Williams
However this year the crop of talent is different. Although Mcdonald (Nicknamed the Black Sniper!) may still have the odds according to the Las Vegas books, the competition is sure to be hungry and ready for him.
The competition to him may be a surprise in some potential match-ups, especially in his opening bout at the Mirage in Las Vegas this weekend where he will face off against a young and explosive fighter Carter Williams (Right) of Modesto, California, USA.
At last years event McDonald and IKF Pro IR World Champion Rick Roufus (Both Pictured at Left) made it to the final round for a rematch of their January 22nd, 1994 bout at Caesars Tahoe Nevada. In the 1994 bout, Rick fought and defeated a much smaller McDonald to win the IKF Full Contact Rules Light Heavyweight World Title. In that bout Rick weighed in at 179 lbs. to McDonalds 178. It was over quickly as Roufus knocked McDonald out "COLD" at only 43 seconds of the first round. It was a rematch the now number 1 IKF Ranked Heavyweight McDonald was looking forward to, especially with leg kicks this time...
However "According to sources", Roufus had slipped on the ring canvas in his second bout of the night and actually tore his ACL. Against McDonald he fought cautious due to the injury because he didn't want to risk hurting it more. In the end, he felt like he had done enough to win. However after 3 explosive rounds of action, the scores were Judge #1: 29.5 to 28.5 Roufus, Judge #2: 29.5 to 29 Roufus and Judge #3: 29.5 to 29 McDonald (Source Nevada Boxing Commission). Although it should have been a "Majority Decision Win" for Roufus, instead, it was a draw due to K-1 rules requiring you to win a tournament by 2 full points. Because of his injury, Roufus withdraw from the bout by choosing not to fight the extra 4th round, giving McDonald the win. Unfortunately Roufus lost to the rules not McDonald.
This year McDonald would like to meet Roufus again to prove to everyone that he could beat Roufus straight up. But he will need to make it through his side of the bracket first and hope Roufus does the same before such a meeting would take place. Here's how the 8 man bracket stands as of today;
The surprise here is the 2 fighters from outside North America. Yusuke Fujimoto from Japan and Eduardo Maiorino from Brazil. This tournament is suppose to feature fighters from only North America however K-1 matchmaker Javiar Mendez has probably been pulling his hair out as one has said due to bad scheduling of some of the previously matched contenders.
The featured fighter, Bob Sapp (Right on the ground) was to be the big draw for everyone at this years event. However someone in the K-1 Headquarters screwed up and matched Sapp on another K-1 event inside 45 days prior to this one. The result, a matchmakers nightmare!
At 6' 7" tall and 374 lbs, very few thought Sapp could be put down but the big hype for K-1 was stopped BIG! At the K-1 show in Omiya at Saitama Super Arena, Mirko "Cro Cop" Filipovic had little trouble in defeating Sapp at 1 minute, 26 seconds of round 1 when he clocked Sapp in the eye and dropped him, breaking Sapp's eye socket. (See story "Minus One BEAST At K-1 USA... And a TANK!" By clicking HERE)
The Japanese media billed Mirko's win over Sapp as if a normal human being had defeated Godzilla. As of March 24th, the K-1 USA tournament consisted of; Sapp, Michael McDonald, Rick Roufus, Dewey Cooper, Giuseppe DeNatale, Chad Bannon, Jefferson Silvia and Carter Williams. However, at the same event Sapp got KO'ed, Ernesto Hoost KO'ed Silva. A week later, Chad Bannon's performance was so poor at another event that K-1 matchmakers pulled him off the May card. This left K-1 USA matchmaker Javiar Mendez (Right) and the K-1 Headquarters with 3 spots to fill and in their opinion, there was no one else in North America to fill them. At least no one else that K-1 Japan wanted to see on the card.
Mendez had experience with this kind of pressure before because at last years May 2002 K-1 they lost 4 of their originally booked fighters, Maurice Smith, Duke Roufus, Thomasz Kucharzewski and Basem Balbaki. Although Balbaki and Kucharzewski were no media loss, Smith and Duke were. But Mendez made the loss a gain when he booked Duke's brother Rick Roufus for the event.
So Mendez and K-1 Japan went to work to fix the 2003 May event. Again, as before, the loss was turned into a gain as they booked K-1 veteran Maurice Smith (Left) of Seattle, Washington, USA who had said a year ago he was done with K-1. At 41 years old Smith will certainly be the elder (no offense Maurice) senior in the mix. However Smith is no stranger to winning. Smith won this very same event 2 years ago on May 5th, 2001.
Although some questioned his win and still do. After 3 rounds in the Championship Bout, It was a Majority Draw... So in a "Do or Die" extra round judges Jon Shirley of California & Jeff Mullens of Tennessee gave the round to Smith 10 to 9.5 while judge Moretti had it 10-9.5 McDonald. Few in the house saw a Smith win but the judges words stood and Smith walked out of the ring with a split decision victory.
It was the the 3rd K-1 USA Promoted by World Class Promoter Scott Coker (Right) of San Jose, CA, USA. Smith will be familiar with the surroundings because that event was also at the Mirage.
But K-1 isn't the only venue Smith has walked out of the ring a Champion. To his credit he has won kickboxing titles with the WKC (1983), WKA (1983 to 1997) ISKA (1996) and Mixed Martial Arts (NHB) Titles from BATTLECADES, EXTREME Fighting Champion III, IV and UFC XIV, XV. Over his career he has to his credit well over 60 wins and over 50 wins by KO.TKO! With that being said his first round opponent, Giuseppe DeNatale of Canada should have his hands full for a second year in a row.
The surprises came when Yusuke Fujimoto from Japan and Eduardo Maiorino from Brazil were placed in the mix. This event is suppose to feature fighters from only North America so how did they make it onto the card? Well we don't know it all but the talk on the street is they needed a Japanese fighter, Fujimoto, since the event was to be aired live in Japan. Sources say that K-1's new TV deal requested a Japanese fighter so they could boost their TV ratings. Ok, so where does Maiorino fit in? Well, we can't seem to find out so it will just be a mystery to us all for now. REGARDLESS, K-1 USA has brought 8 fighters together to via for the May Crown!
As for the other talent, Dewey Cooper (Left) of Las Vegas, Nevada, USA is on the card once again in the tournament bracket. Last May Cooper defeated Jean Claude Leuyer by unanimous decision but lost in round 2 to Rick Roufus by unanimous decision. Cooper will be matched up against Yusuke Fujimoto from Japan in round one. If he makes it past Fujimoto he will face either Williams or McDonald.
As we noted earlier, McDonald will face off against a young and explosive fighter named Carter Williams (Right - Punching) of Modesto, California, USA trained by Gene Fields (Left). Williams was the 2001 IKF USA National Amateur Super Heavyweight Champion. However, that won't impress McDonald much.
Although Williams impressed the K-1 Team on the undercard last May, McDonald probably knows little about him since he was in the locker room preparing for his next bout. At the 2002 K-1-USA May event, Williams defeated former IKF Amateur West Coast USA Champion Manuel Quesada by TKO at 1:36 of round 2. Since then Williams has been winning every time he steps into the ring in Pro Kickboxing, Boxing and MMA.
Winning is all Williams knows now. He's the youngest of all the tournament fighters at 22 years old. Over the last year he has defeated such noted fighters as Jeff Ford and Dan Lucas. In fact, since Sapp and his "Beast" nickname was dropped from the tournament the fan noise now is that there is a new "BEAST" in the house and his name is Carter Williams! It will be interesting to see how much of the "BEAST" comes to the ring Friday night.
Last year Giuseppe DeNatale (Left) got a taste of his own luck when he was defeated by McDonald by Referee stoppage due to the 2 knockdown rule. This rule was the same rule that got him past Carter Williams last year at the K-1 USA Qualifier event in Milwaukee Wisconsin. What's that saying, "Live by the sword, die by the sword."
Whatever that means, DeNatale is back again this year and better prepared. His experience of McDonald has stayed with the 29 year old and he will probably remember it for some time. "That was the worst beating I ever took in a fight. Nobody ever threw stuff at me like he did," said DeNatale.
After taking a beating from McDonald the referee stopped it with only 10 seconds remaining in the bout. The loss might not have been so bad if he was marked down for a decision loss instead of a TKO but blame that K-1, 2 knockdown rule for that. The same rule that got DeNatale past Williams in Milwaukee was the end for him last year in Vegas. Hopefully no rules will keep him out of the winners bracket this Friday night. In addition, he will need to keep a composed head and not get caught up in the awe of the crowd like he did last year and more so, his opponent this year. That's because he will face off in round one against one of the greatest fighters of all times, Maurice Smith.
DeNatale is also a former IKF Amateur Champion. He won his IKF Amateur Canadian Heavyweight Title on February 10th, 2000, in Winnipeg, Manitoba, Canada by TKO at 1:33 of the 3rd round over Ryan Graham when he landed a head kick on Graham that dropped him. He voluntarily retired the title in 2000 to turn Pro. For more on DeNatale click HERE!
UNDERCARD BOUTS
As of this press time we did not have a full undercard list. However we do know that one of the undercard bouts will be one of the most exciting of the night because, CUNG LE IS BACK!

Yes, current IKF Pro San Shou Champion Cung Le (Left) will make his long awaited return to K-1. Le will be fighting a 4 round non title bout against an opponent he's already fought before. "It's great to have the opportunity to fight again on a K-1 card," said Le who was last seen on a K-1 event in May 2000 when he defeated 3 time Shidokan Karate champion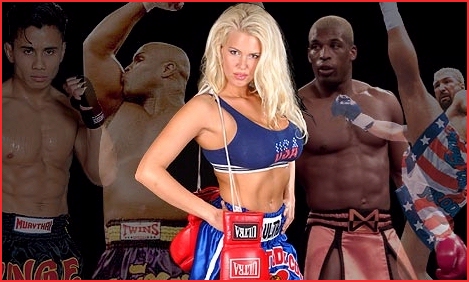 Laimon Mohamed Keita in a Superfight.
His opponent this time will be a rematch with Scott Sheeley. Four years ago, Le defeated Sheeley after successfully executing a throw that broke Sheeley's cheek bone. In our opinion, Sheeley may be not be the worst of Le's worries. The two will have a referee in the ring that knows very little about San Shou scoring and may very well make costly mistakes. With that being said, both Le and Sheeley may be fighting the referee Friday night more than each other. It will be an interesting match to watch, especially how the referee scores the throws. Expect mistakes because we can assure you, "They will Happen!" To read more about Le click HERE!
And if all these fights are not enough, you can look forward to a special feature bout with 23-year old former Playboy model La Tasha Marzolla (Right). Marzolla will make her K-1 USA debut at the 2003 event. But can she fight?
Well according to sources, on February 7th of this year the 5'6", 118-pound Marzolla scored two knockdowns on female kickboxer Nina Magsamin over the course of three, two-minute rounds before being awarded a unanimous decision victory at The Stardust Hotel and Casino in Las Vegas during an all-women's kickboxing fight card.
"I was a little nervous because it was my first fight," admitted Marzolla. "I think my adrenaline got in the way a bit, but it turned out really good anyway. I'll be more prepared for this fight mentally because I know what's gonna happen in the ring. So, it's gonna be easier for me to knock her out."
Her bout this Friday will be a rematch with Magsamin during the event's preliminary card. To read more about her see Michael Afromowitz full article by clicking HERE!
---


Tickets are now on sale at
www.k-1usa.net
Ticket prices are $30, $50, $100, $150, and $250 and can be purchased either online at the K-1 USA website (www.k-1usa.net) store or by calling The Mirage box office at (702) 791-7236.
The winner of the event will meet semi finalists from seven different countries in Las Vegas in August for the K-1 World Semi Finals and a chance to go onto the 2002 K-1 World Grand Prix at the Tokyo Dome.
---
Back To The IKF K-1 USA PAGE, Click HERE!
Back To The IKF NEWS PAGE, Click HERE!