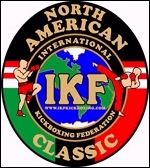 PHOTO
FEE
REMINDER
On EVERY NAC Registration Form is the MANDATORY request

"Please include a HEADSHOT PHOTO (2" x 2") of yourself."

However, many overlook this MANDATORY request part of this form.
If you do not send in a passport size HEADSHOT PHOTO for your Tournament Fighter Pass by AUGUST 12th, 2005, you will be charged a $10 Photo Fee, REGARDLESS or not if you bring your own photo to registration.
Every fighter who we do not have a photo of, will see under their name, on their registration page
- Adult Men, Adult Women, Junior Boys & Girls -
the words
NEED PHOTO
Please Mail All Photos to
PHYSICAL ADDRESS FOR FED-EX OR UPS EXPRESS
IKF - RINGSIDE GYM
9385 Old State Highway Newcastle, CA, 95658
*Rear of Building

REGULAR MAILING ADDRESS
IKF
P.O. Box 1205, Newcastle, CA, 95658
E-mailed Photos or Photos sent on disk will not be accepted due to viruses.
---
2005 Championship Finals Page
2005 Main Tournament Page - 2005 Finalist Page - 2005 Finals Page - 2005 Finals Officials - Tournament Rules
Northwest - Central West - Southwest - North Mountain - Central Mountain - South Mountain - North Central #1 - FCR - North Central #2 -MTR & IR - US Central - South Central 1 - South Central 2 - Northeast -Central East - FCR - Southeast
Canada & Alaska - Mexico - Bermuda - Greenland - Puerto Rico - Virgin Islands
FC: Full Contact Rules - IR: International / Leg Kick Rules - MT: MuayThai Rules - Junior Rules - Ages 8-17
Main USA Nationals Page - IKF Home Page
| | | | | | | |
| --- | --- | --- | --- | --- | --- | --- |
| UNITED STATES | CANADA | MEXICO | BERMUDA | GREENLAND | PUERTO RICO | VIRGIN ISLANDS |