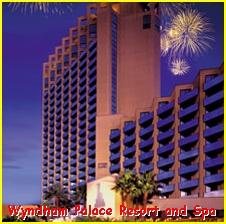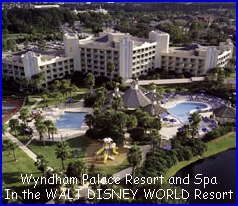 Wyndham Palace
Resort
And Spa
In the
Walt Disney World Resort
IN
Orlando
Florida
USA


---
IMPORTANT NOTICE
For Reasons of Important Contact Availability, Except for the individual Fighters who live in Florida
ALL fighters Are Required to Stay At The Host Hotel
At Registration we will be asking you for your room number and room confrimation code in case we need to contact you for bout or schedule changes. At two of our past Tournaments we had Fighters get injured in their bout and we needed to contact their parents who were not in the venue at the time of their bouts. Also at some past tournaments we had some fighters we needed to locate due to bout changes but we could not find them in the event room or in the hotel because they were at another hotel sleeping. Due to these issues causing a lot of problems, we do not want to face such issues again. This is why this is a MANDATORY RULE now for competitors.
---
It is BEST to book your rooms directly with the Hotel

Wyndham Palace Resort And Spa
In the Walt Disney World Resort in Orlando Florida USA
Hotel Direct Booking Number: (407) 827-3333
Use the Booking name "IKF Kickboxing"
Hotel Address: 1900 Buena Vista Drive
P. O. Box 22206
Lake Buena Vista, Florida 32830-2206
---
ABOUT OUR HOST HOTEL
The Host Hotel for this years 2005 IKF North American Classic is the Wyndham Palace Resort and Spa in the Walt Disney World Resort. It is connected by hallway to the venue Ballroom. It has 1,014 guest rooms and suites and is connected by hallway to the venue Ballroom. The rooms feature private balconies or patios. All rooms include mini-bars, newspaper delivery, coffee makers, voice mail and cordless phones which are standard amenities in all guest rooms. High-speed Internet access, Sony Playstation® video games and Web TV® are also available. For extra room to work and play, the Island Resort building houses over 100 spacious one- and two-bedroom suites. More than 20 suites in the resort's main tower offer ultimate VIP luxury - including panoramic views of Walt Disney World®. The hotel is located 17 miles from the airport and there is a shuttle fee unless teams choose to rent their own car or van.
The Orlando property will offer quite a bit more for those staying there also such as "3" Pools, Sauna, full Fitness Center, Steam Rooms, outdoor whirlpools, Tennis Courts, Volleyball, Basketball, Hot Tubs and Massage Therapy Center. The Orlando location also has 7 on-site restaurants to choose from which include Arthur's 27, Outback, Watercress Cafe, Laughing Kookaburra, Top of the Palace Lounge, Lobby Lounge and the Pool Snack Bar & Pool Bar.
---
IKF PARTICIPANT & GUEST ROOM RATES
Our special room rate is available to Everyone associated with our group, fighters, trainers, family, friends and fans of the Sport. The single room rates are as follows: Our special rate is only $99.00 for Single and $109 for Double. Other rates shown below. Upgrades to two room suites available upon request.
ROOM
OCCUPANCY

REGULAR ROOM
RATE

SPECIAL IKF ROOM
RATE

1

$134 - $149

*$99.00

2

$134 - $149

*$109.00

3

$143 - $159

*$119.00

4

$152 - $169

*$119.00

(*) Plus Tax - 11.5% & Resort Fee $5 (Half of the regular $10 Fee)
---
FOOD DISCOUNTS
The Hotel has agreed to provide our attendees with 15% off coupons for lunch in the Watercress Café and/or dinner in the Outback Restaurant, which can be used daily in both restaurants. The Hotel will provide IKF with these coupons and we will distribute them to the fighters and trainers in their Event Registration Package
---
Check-In & Check-Out

Check-In Time: 3:00 PM
Check-Out Time: 11:00 AM
---
ROOM BOOKING PAGE
Click Here
Please note that the dates available at our discounted rate are August 14th thru August 17th, for those who want to come in early or stay a day later.
A reminder that like last year, If you join Wyndham ByRequest (Which is FREE to join) you will get:
Free Local Calls
Free Domestic Long Distance calls
Free High Speed Internet Access
Free Beverage of your choice In Room upon Check-in
Free Welcome Snack of your choice In Room upon Check-in
DISNEY PARK TICKETS


You will see there are other links on this page as well such as
Special "DISCOUNTED" Disney Park Rates - Click Here
AIRPORT TO HOTEL
The hotel is located 17 miles from the airport and there is a $12.50 per person Shuttle Fee one way, or $25 Round Trip (Discounted for us from $29.00). We suggest Large Teams should rent a van is desired. It may cost less depending upon the number on your Team.
---

2005 Championship Finals Page
2005 Main Tournament Page - 2005 Finalist Page - 2005 Finals Page - 2005 Finals Officials - Tournament Rules
Northwest - Central West - Southwest - North Mountain - Central Mountain - South Mountain - North Central #1 - FCR - North Central #2 -MTR & IR - US Central - South Central 1 - South Central 2 - Northeast -Central East - FCR - Southeast
Canada & Alaska - Mexico - Bermuda - Greenland - Puerto Rico - Virgin Islands
FC: Full Contact Rules - IR: International / Leg Kick Rules - MT: MuayThai Rules - Junior Rules - Ages 8-17
Main USA Nationals Page - IKF Home Page
| | | | | | | |
| --- | --- | --- | --- | --- | --- | --- |
| UNITED STATES | CANADA | MEXICO | BERMUDA | GREENLAND | PUERTO RICO | VIRGIN ISLANDS |